Apple Bread– A quick and easy Fall recipe loaded with shredded apples! Spiced with cinnamon, nutmeg and vanilla, this moist apple bread is the perfect treat for any occasion!  Also check out my Snickerdoodle Bread and Brown Sugar Quick Bread.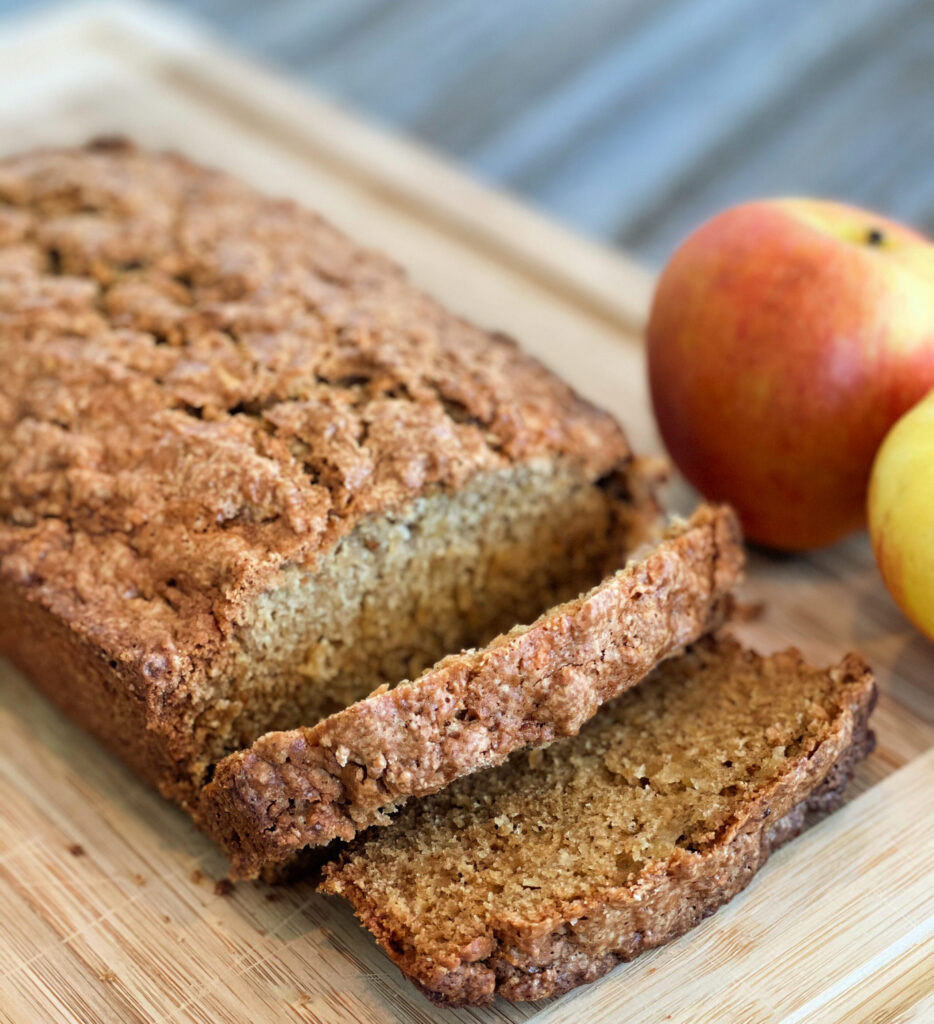 Homemade Apple Bread
If you take a look through my blog, you'll notice I have a few different Apple Bread recipes! All of them are quite tasty, but to be honest, this may just go down as my new favorite!
A few days ago, I pulled down some cookbooks from my cabinet and decided to browse through them. Cookbooks to me are one of those things I LOVE to buy and have on hand, but at the end of the day, I end up on Pinterest or simply experimenting in the kitchen.
As I was flipping through my Better Homes and Garden Cookbook, I came across a Zucchini Bread recipe that looked and sounded scrumptious! Of course, I didn't have any zucchini on hand, but when the idea looks good, I try to run with it and change it up according to what I do have on hand! So, that's how zucchini bread turned into me making apple bread, adapting the spices and quantities along the way!
One thing I will point out, the batter will be thick. Thick as in, 'I didn't have high hopes for this recipe because the batter was so thick I could barely get it off the spoon.
After a few short minutes of preparing this easy recipe, it was ready for the oven! Not only did the house smell incredible as it baked, but the end result was fabulous and the whole family enjoyed it! The only thing they won't like is when it runs out, ha!
We served it for breakfast the next morning warmed up in the microwave, with a bit of butter on top! Perfect way to start the day, right?! It's safe to say the family deemed this an amazing apple bread recipe. Seriously, this is truly the best apple bread recipe in large part due to the delicious cinnamon (and sugar)! Cinnamon sugar is a phenomenal combo! All you need are several other basic ingredients, and you'll have the best cinnamon apple bread in no time. It will also make for a favorite fall treat, but you can make it year round!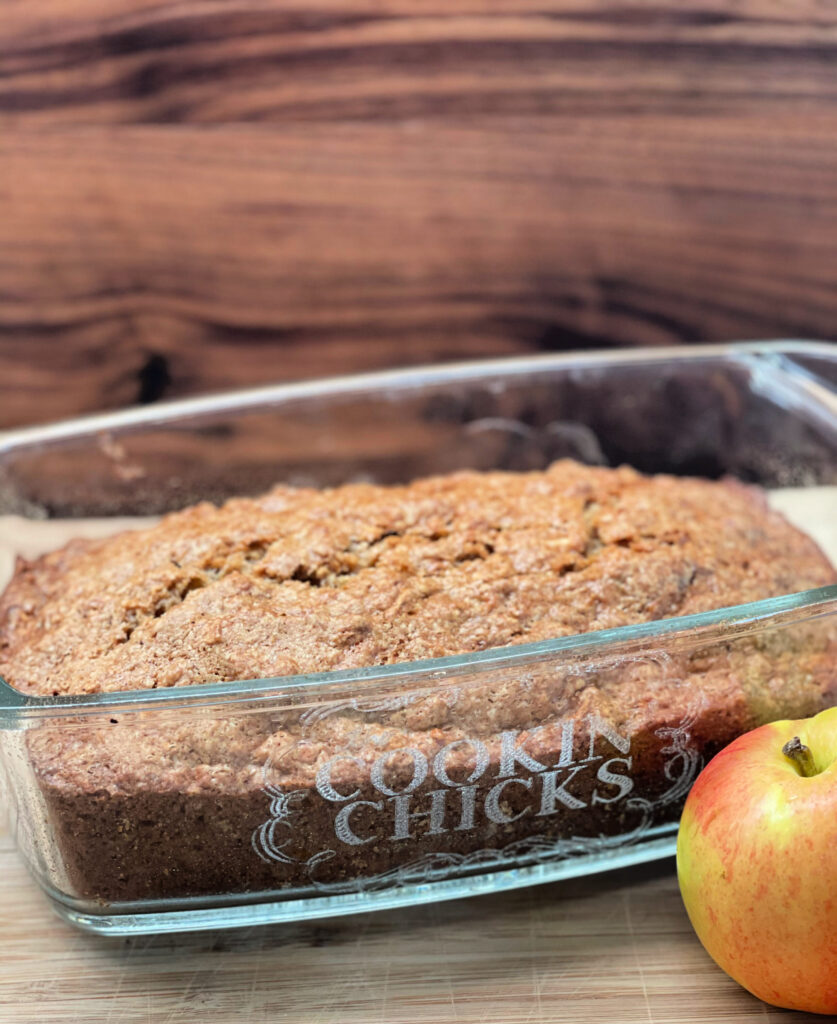 Why You'll Love this Apple Bread Recipe
Easy– people of all ages can make this simple recipe
Basic Ingredients needed– no need for fancy or crazy off the wall ingredients, in fact, you may already have them all on hand
No Yeast Needed– being a quick bread, no need to wait for the bread to rise
Makes great gift options– wrap up mini loaves and give them to family, friends, teachers, and more
Freezes perfectly– make a double batch to enjoy NOW and freeze for later!
Apple Bread Ingredients
Flour- all purpose, make sure to spoon and level the flour for accurate measuring

Cinnamon- nutmeg and cloves are great alternative spices you can use
Baking soda- this helps the bread rise
Salt- this helps balance the sweetness from the apples and sugar
Baking powder- keeps the texture light and fluffy
Nutmeg- cloves and cinnamon can be substituted, as can apple pie spice
Egg- binds everything together
White sugar- adds just the right amount of sweetness
Apple- make sure you choose a good baking apple such as Pink Lady, Gala, or Honeycrisp

Oil- Vegetable oil, avocado oil, grape seed oil, and even a lightly flavored olive oil works great in this recipe
*For exact measurements see full recipe card down below
How to make Apple Bread
Preheat the oven to 350 degrees and grease a large loaf pan.
In a medium bowl, combine the flour, cinnamon, baking soda, salt, baking powder, and nutmeg.
In a small, separate bowl, combine the egg, sugar, juicy apple pieces, and oil.
Add apple mixture into flour mixture and stir until just combined.
Spread batter into prepared bread pan (nonstick cooking spray) and place pan into preheated oven.
Bake for about 50-60 minutes, or until the toothpick comes out clean when inserted in the center.
Remove from the oven and allow to sit for about 5 minutes before removing and serving!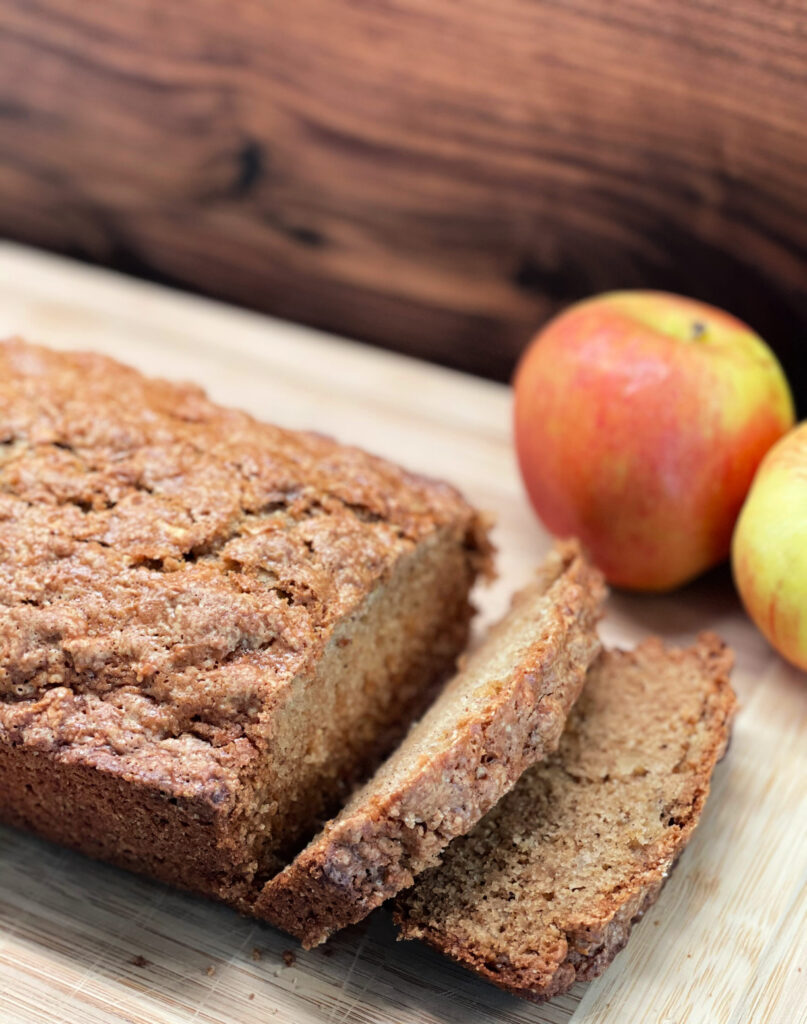 What Are the Best Apples to Use for Baking?
One of my favorite things about this delicious quick bread recipe is that you can use whichever type of apples you want. A few of your options are honey crisp apples, granny smith apples, pink lady, or red delicious! I use Granny Smith personally because overall, the flavor and texture are the best for baking. I also love sweet apples in this bread like Honeycrisp, Fuji, and Pink Lady.
Storing the Bread
Do not store the apple cinnamon bread in a refrigerator as this will remove moisture from your bread. A great way to store them is to place them in an airtight container or in a Ziploc bag (to ensure ants or pests don't have access. You can store it at room temperature for up to four days.
Apple Bread is great in the freezer for up to 3 months. When freezing the bread, make sure that you wrap it well to prevent freezer burn.
Variations
Glaze- you can combine powdered sugar and water to create a tasty glaze to drizzle on top, or you can drizzle caramel sauce over the bread
Nuts- walnuts, pecans, and candied nuts are all great additions in this bread
Crumble Topping- combine butter with brown sugar, cinnamon, and flour for a crumble to sprinkle on top prior to baking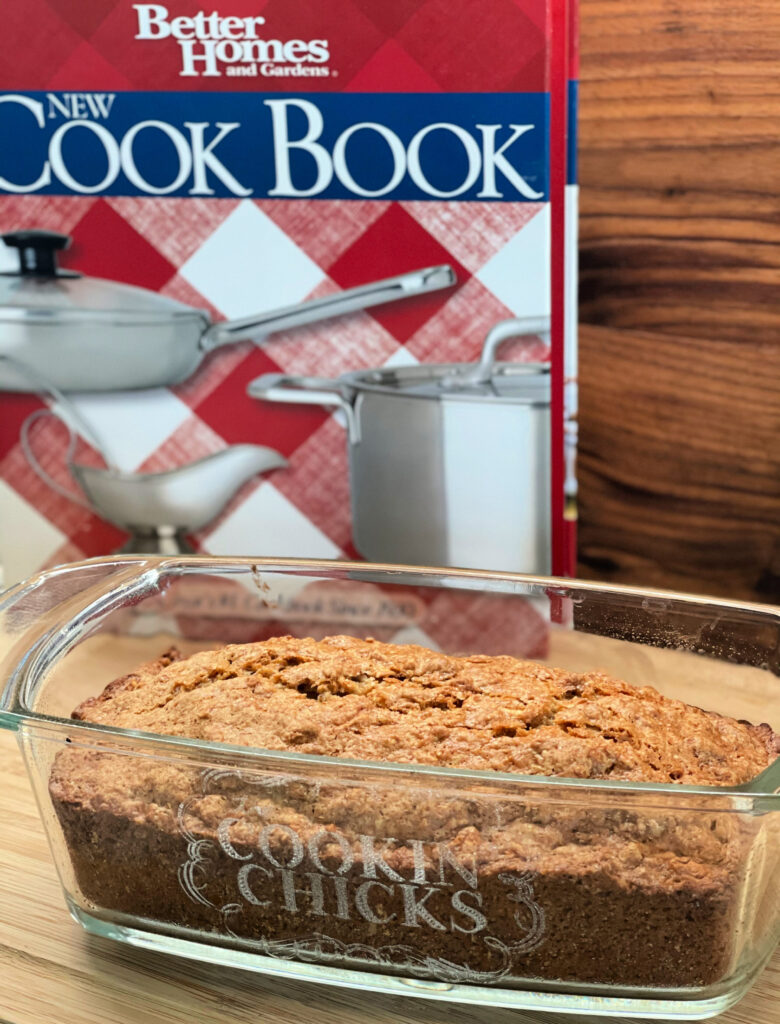 Tips for Old Fashioned Apple Bread
Don't overfill your loaf pan- 2/3 filled is perfect as it allows space to rise, but still makes a perfect sized loaf
Test bread with a toothpick- once inserted in center, if it comes out clean, its done, if it has batter, add a few minutes
Shred apples versus chopping them- this distributes the apples evenly throughout the batter
Don't over-mix- stir batter until just combined and scrape batter into pan. Over-mixing can cause the bread to be dense
Feel free to make this into one large loaf, or several mini loaves
More Apple Recipes to try
If you love apple flavor, there are more apple recipes where this came from! And they are full of so much flavor!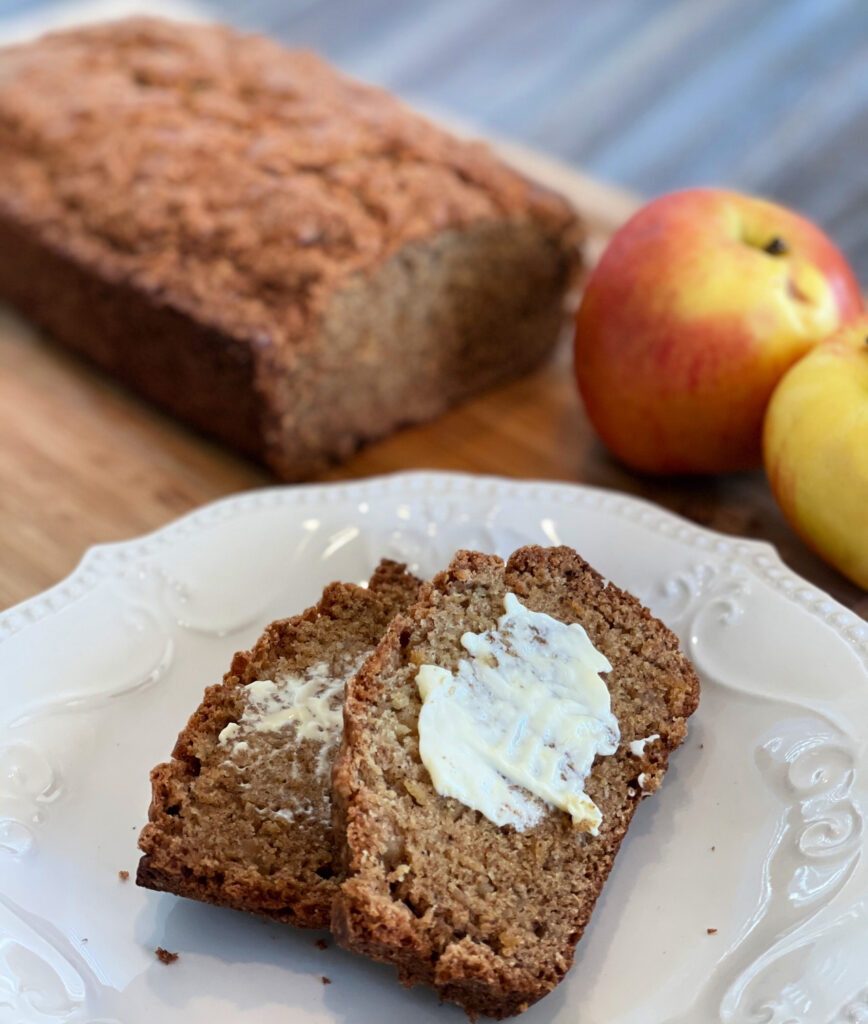 I hope you love this easy apple bread recipe! Let me know how it goes in the comments below! And don't forget to tag me over on Instagram if you've made this recipe (or any of the others) so I can see what you've cooked up! You can also use #thecookinchicks too!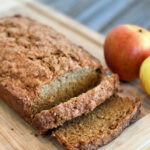 Print Recipe
Apple Bread Recipe
This Apple Bread is a moist, flavorful quick bread that makes a tasty breakfast or snack option! Enjoy now or freeze for later!
Ingredients
1 1/2

cups

flour

*all purpose

1

teaspoon

cinnamon

1/2

teaspoon

baking soda

1/2

teaspoon

salt

1/4

teaspoon

baking powder

1/2

teaspoon

nutmeg

1

egg

1

cup

sugar

1

cup

shredded, peeled apple

1/4

cup

oil
Instructions
Preheat oven to 350 degrees and grease a large loaf pan.

In a medium bowl, combine the flour, cinnamon, baking soda, salt, baking powder, and nutmeg.

In a small bowl, combine the egg, sugar, apple, and oil.

Add apple mixture into flour mixture and stir until just combined.

Spread batter into prepared pan and place pan into preheated oven.

Bake for about 50-60 minutes, or until toothpick comes out clean when inserted in center.

Remove from oven and allow to sit for about 5 minutes before removing and serving!
Nutrition
Serving:
1
slice
|
Calories:
209
kcal
|
Carbohydrates:
36
g
|
Protein:
3
g
|
Fat:
6
g
|
Saturated Fat:
1
g
|
Cholesterol:
16
mg
|
Sodium:
189
mg
|
Potassium:
40
mg
|
Fiber:
1
g
|
Sugar:
21
g
|
Vitamin A:
31
IU
|
Vitamin C:
1
mg
|
Calcium:
13
mg
|
Iron:
1
mg
Recipe updated 11/3/2022