Need a show stopping dessert to take to family gatherings? Pick up some fresh juicy peaches and bake them into a delicious cinnamon and sugar topped cobbler. This easy Southern Peach Cobbler recipe will have the whole family asking for more!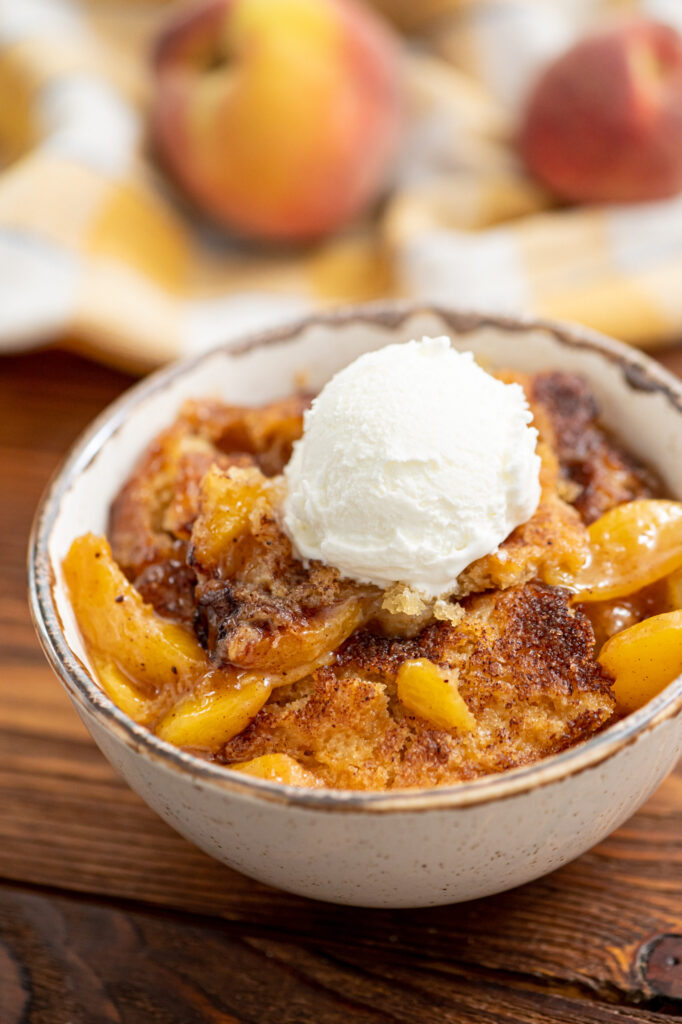 Southern Peach Cobbler Inspiration
About a week ago, my husband and I passed a stand on the side of the road selling fresh peaches. There's nothing quite like the delicious taste of sweet peaches… so we decided to pick up two big boxes. We ended up canning a ton of them and then used the remaining to make an easy southern peach cobbler recipe. When I tell you this is the best southern peach cobbler recipe, I seriously mean it. This cobbler goes down as my most favorite cobbler recipe ever! The cinnamon sugar makes it so much tastier! My parents came over yesterday for lunch and we had this as our dessert. Everyone had happy tummies, and the best part, I even sent my dad home with the leftovers since cobbler is his favorite dessert too!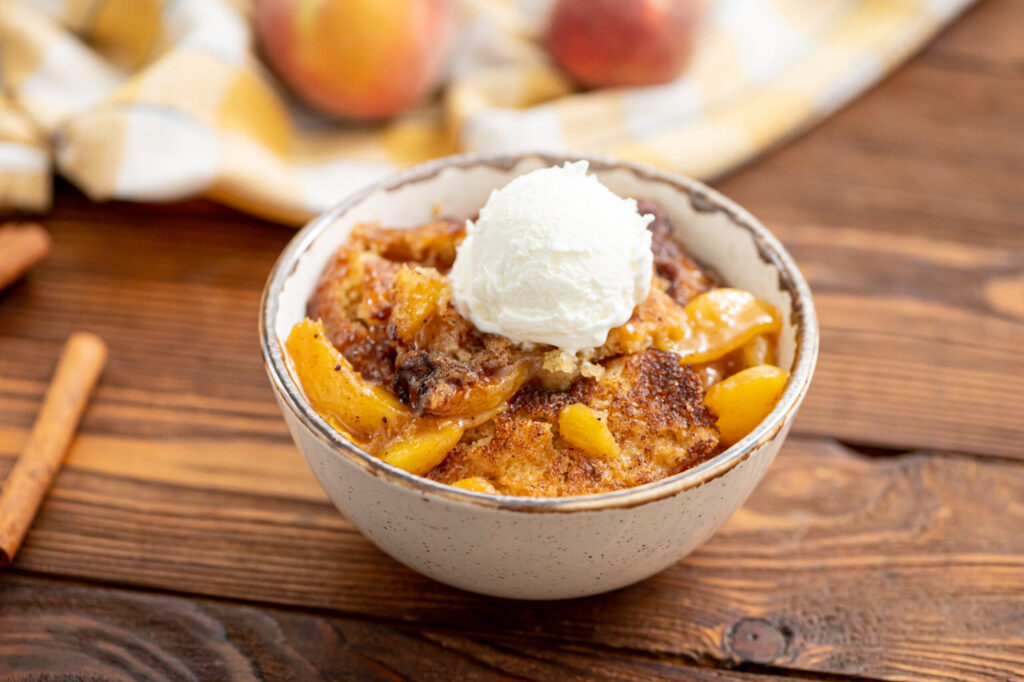 Southern Peach Cobbler Ingredients
Unsalted butter, cut into small pieces
*See exact measurements in the recipe card below.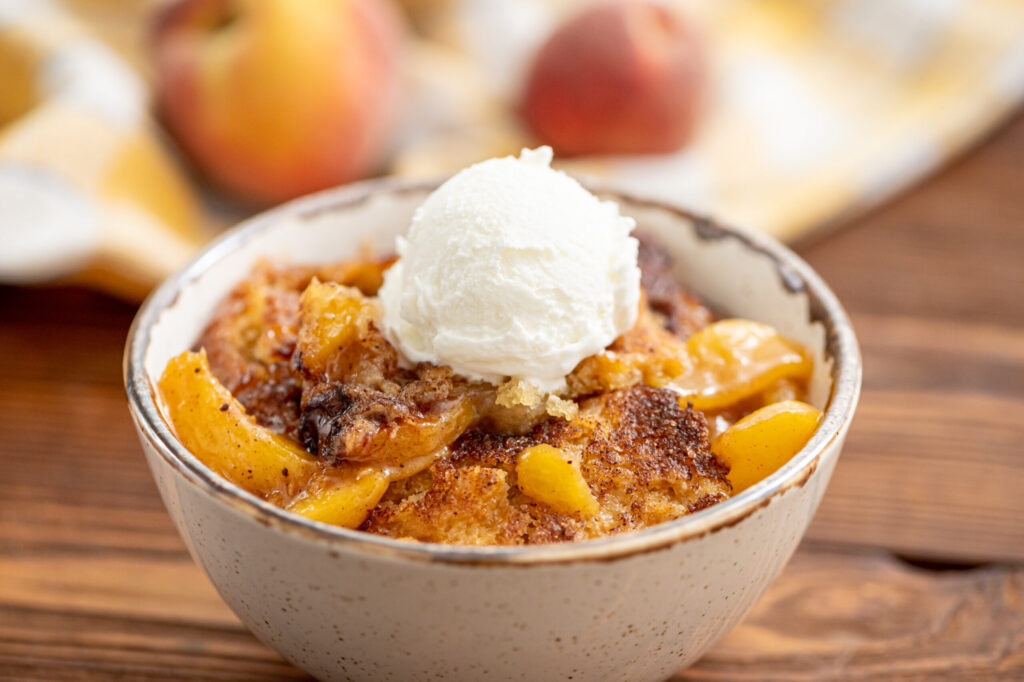 Southern Peach Cobbler Directions
Preheat the oven to 425 so you can get started on other things while it warms up.

In a

large bowl

, combine the

sliced peaches

, white sugar, brown sugar, cinnamon, nutmeg, lemon juice, and cornstarch—this is going to be your irresistible

peach cobbler filling.

Now, pour the

peach mixture

into a two-quart

baking dish

or pan and bake in the oven for 10 minutes.

In a separate,

medium bowl

, combine the flour, white sugar, brown sugar, baking powder, and salt to create the ultimate

flour mixture.

Mix in the unsalted,

melted butter

by using your hands or pastry blender. You will want the mixture to resemble coarse meal once combined.

Stir in water until thoroughly combined.

Remove the peaches from the oven and drop spoonsful of the topping on top.

In a

small bowl

, combine the white sugar and cinnamon. Sprinkle the

cinnamon mixture

on top of the peaches with the dough topping.

Next, place it back into the oven and bake for an additional 30 minutes—or until golden brown!

After it's done, serve it up warm with a

scoop of vanilla ice cream.

Although this could just be a

personal preference

, I think Ice cream makes for the perfect

cobbler topping

each and every time!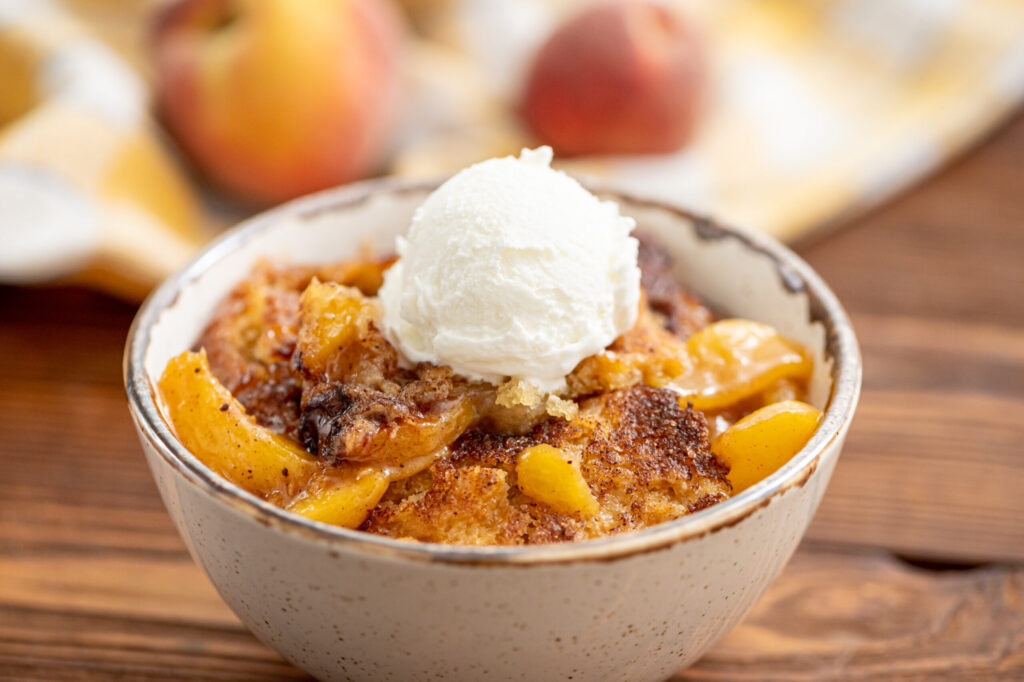 Southern Peach Cobbler Baking Tip
When placing the cobbler in the oven, I'd highly recommend putting down a cookie sheet under the pan to avoid spillage from the peaches onto your oven. Cleaning an oven is definitely not very fun and the last thing you want to do after enjoying a nice slice of pie is clean. So, work smarter and not harder. Sit back and enjoy that pie!
Other Delicious Desserts
Have a sweet tooth? Well, never fear. We've got plenty of great recipes for the next time you're yearning for some more sweet treats!
One of my favorite things is making a dish or dessert that the entire family loves—and that's exactly what this easy recipe offered. I hope you find this turns out to be the best peach cobbler recipe you've ever made too! Aside from fresh peach cobbler, do you have another favorite cobbler recipe or flavor? I'm always open to learning about more great dessert recipes! I'd love to hear more about it in the comments below!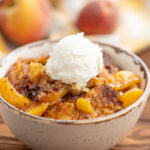 Print Recipe
Southern Peach Cobbler
Need a show stopping dessert to bring to family gatherings? This peach cobbler will do the trick!
Ingredients
8

peaches

peeled, pitted, and sliced thin

1/4

cup

white sugar

1/4

cup

brown sugar

1/2

teaspoon

ground cinnamon

1/8

teaspoon

ground nutmeg

1

teaspoon

lemon juice

2

teaspoon

cornstarch

1

cup

all-purpose flour

1/4

cup

white sugar

1/4

cup

brown sugar

1

teaspoon

baking powder

1/2

teaspoon

salt

6

tablespoon

unsalted butter

cut into small pieces

1/4

cup

boiling water

3

tablespoon

white sugar

1

teaspoon

ground cinnamon
Instructions
Preheat oven to 425 degrees.

In a large bowl, combine the peaches, white sugar, brown sugar, cinnamon, nutmeg, lemon juice, and cornstarch.

Pour mixture into a 2 quart baking pan and bake in oven for 10 minutes.

In separate bowl, combine the flour, white sugar, brown sugar, baking powder, and salt. Mix in the unsalted butter by using your hands or pastry blender. You will want the mixture to resemble coarse meal once combined.

Stir in water until just combined.

Remove peaches from oven and drop spoonfuls of the topping on top.

In small bowl, combine the white sugar and cinnamon. Sprinkle mixture on top of the peaches with dough topping.

Place back into oven and bake an additional 30 minutes, or until golden brown!

Serve warm with a scoop of vanilla ice-cream! *When placing cobbler in oven, you may want to put a cookie sheet under the pan to avoid spillage from the peaches onto your oven, 🙂
Nutrition
Calories:
211
kcal
|
Carbohydrates:
39
g
|
Protein:
2
g
|
Fat:
6
g
|
Saturated Fat:
4
g
|
Polyunsaturated Fat:
1
g
|
Monounsaturated Fat:
2
g
|
Trans Fat:
1
g
|
Cholesterol:
15
mg
|
Sodium:
149
mg
|
Potassium:
149
mg
|
Fiber:
2
g
|
Sugar:
29
g
|
Vitamin A:
502
IU
|
Vitamin C:
4
mg
|
Calcium:
37
mg
|
Iron:
1
mg