On those busy nights, when dinner is hard to get on the table, or you just don't have the energy to cook…I definitely suggest you try this simple meal. 5 ingredients only and the slow cooker does all the work. Can it get any better than that?!?!
This chicken was incredibly tender, basically melted in your mouth, and was incredibly flavorful! I served ours over pasta, but you could serve yours over rice, mashed potatoes, or even by itself!!
This was given two thumbs up by my hubby and three kiddos, so family approved!!
Enjoy!!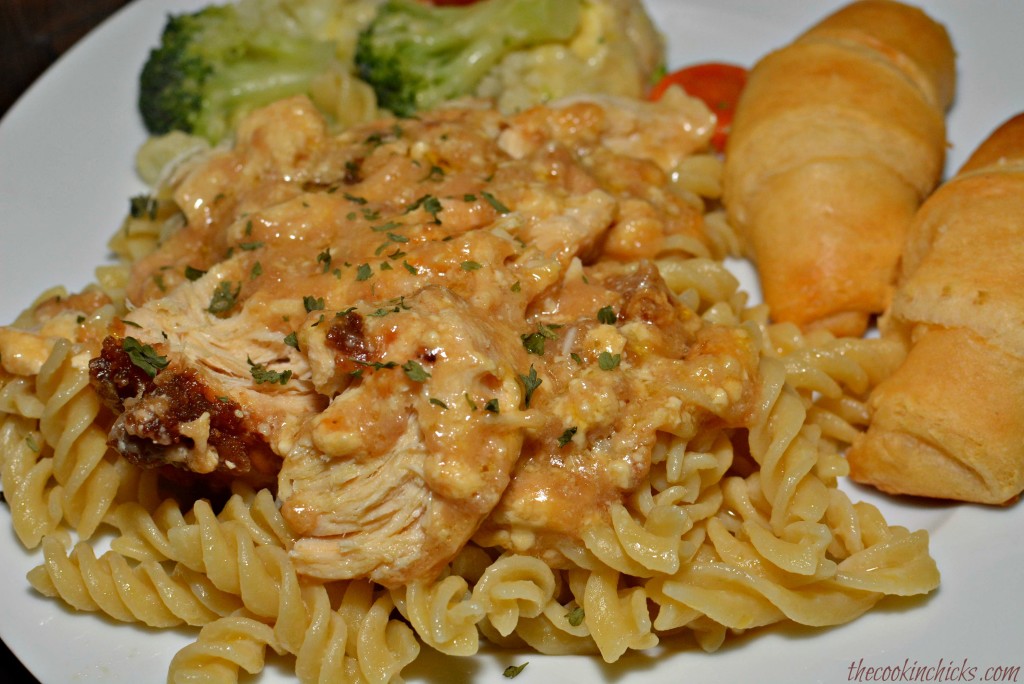 Ingredients:
1 can cream of chicken soup (10.75 oz)
1 pint sour cream
1 1/2 cups Ritz crackers, crushed
1/2 cup butter, melted
4 boneless chicken breasts, about 1 1/2 lbs
Directions:
In a small bowl, combine the chicken soup and sour cream.
In a separate bowl, combine the melted butter and Ritz crackers until combined and crumbly.
Place chicken on bottom of slow cooker (use a slow cooker liner first for easier clean up).
Pour chicken soup/sour cream mixture over top of chicken and spread.
Sprinkle crumbled Ritz mixture on top of chicken evenly.
Place lid on slow cooker and allow to cook on low for 6-8 hours, high for about 4 hours.
Once cooked, serve chicken over pasta, mashed potatoes, rice, or as is!!
Recipe adapted from: Six Sisters Stuff