Libby's Pumpkin Bread is a quick and easy bread recipe that combines all the Fall flavors into one tasty treat! Perfectly moist, sweet, and filled with just the right amount of pumpkin, this homemade bread is perfect any time of the day!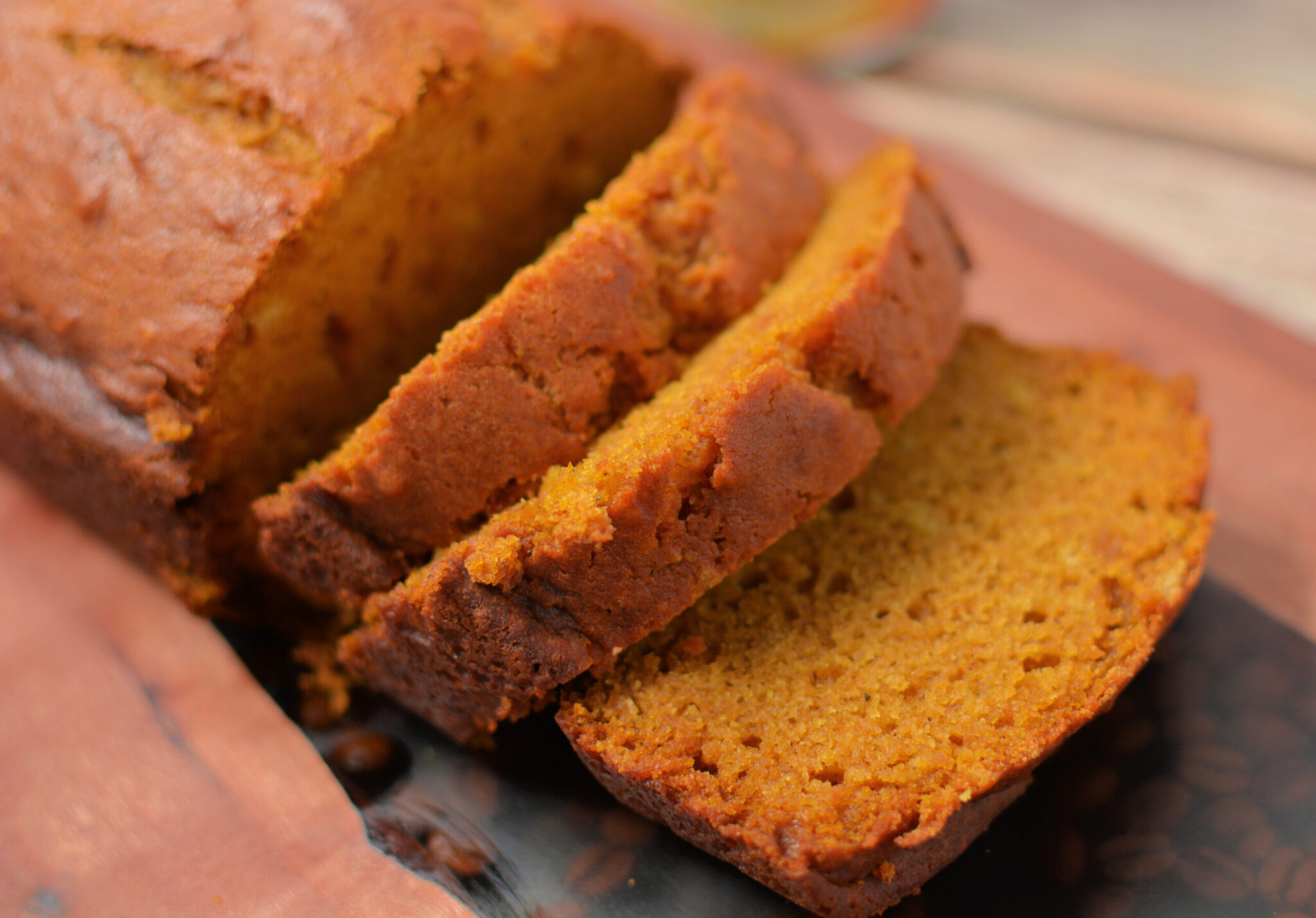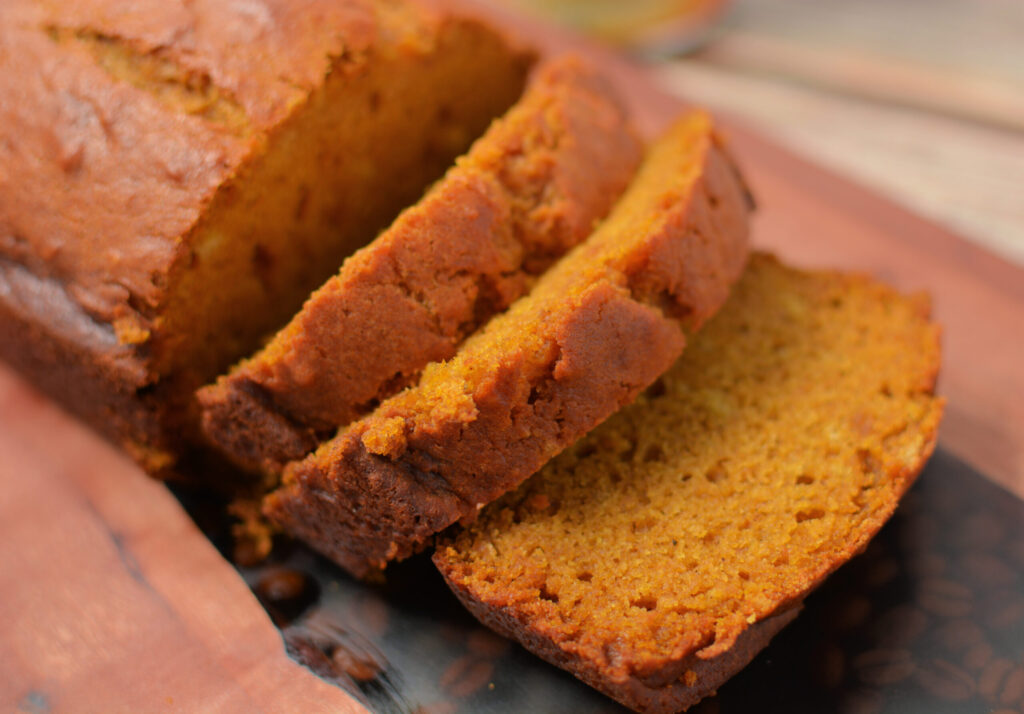 Nothing beats the taste of homemade pumpkin bread, especially once the weather turns cooler! Over the years, I have tried many versions and had many trial runs in the kitchen, but always come back to this tried and true pumpkin bread recipe! Not only is it perfectly moist, sweet, and delicious, but its incredibly easy to make and packed with all the Fall flavors!
Using only one bowl, this yummy bread is ready for the oven in under ten minutes! Make a double batch and freeze some for later, or gift a loaf to friends and family!
Libby's Pumpkin Bread Recipe
Are you a pumpkin year round lover or do you keep pumpkin to Fall time only? Personally, I love pumpkin year round, but typically find myself only making pumpkin items in the Fall. When the weather gets cooler, I tend to pull out my sweaters, stock up on pumpkin, and have lots of pumpkin filled baking days in the kitchen!
All the warm spices and pumpkin combined create an aroma in the house that just screams coziness!
Whether you choose to make this bread in one large loaf pan, mini loaf pans, or into muffins, you can't go wrong! If you're feeling wild and crazy, you can even top this bread with a cream cheese frosting and serve it as a dessert!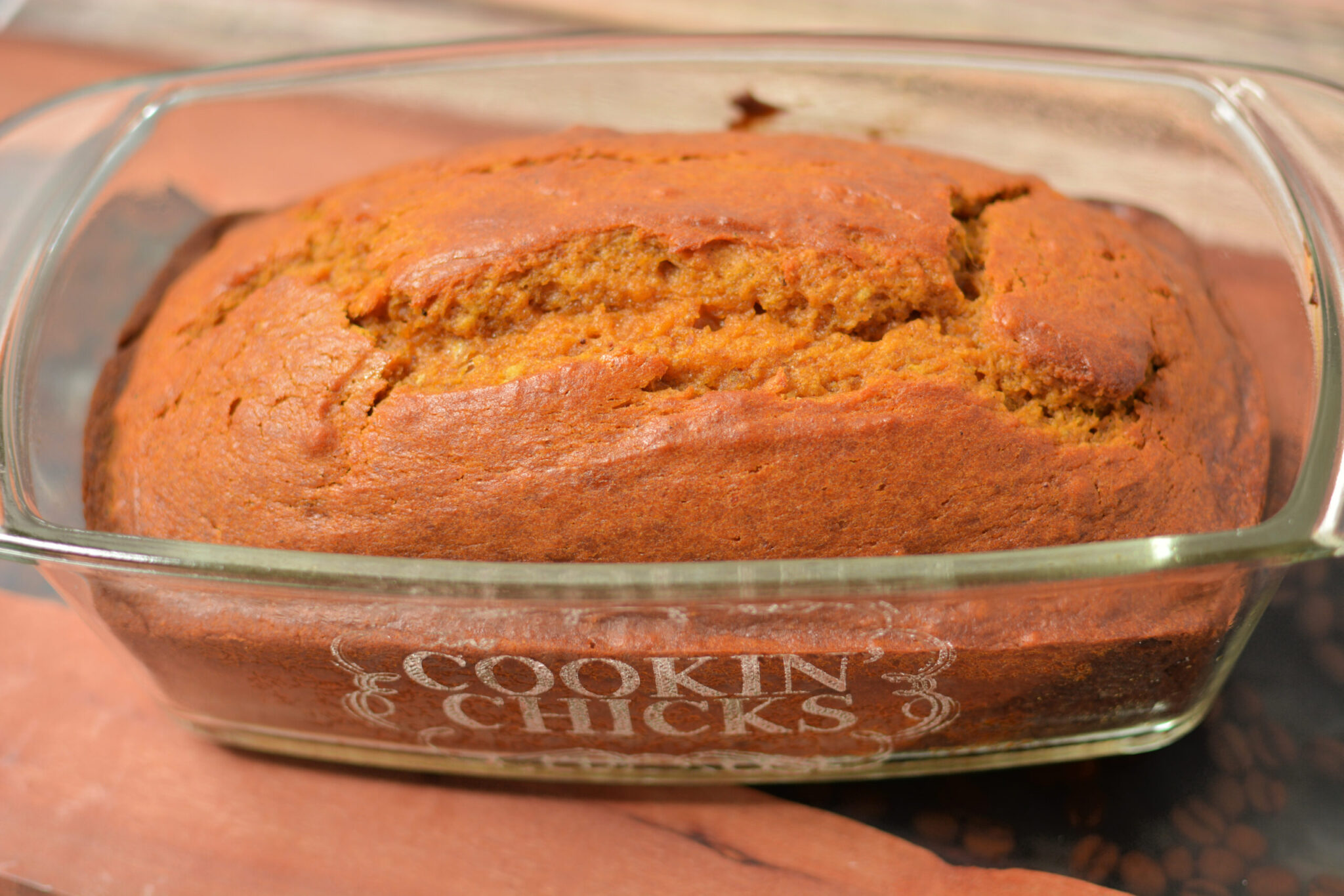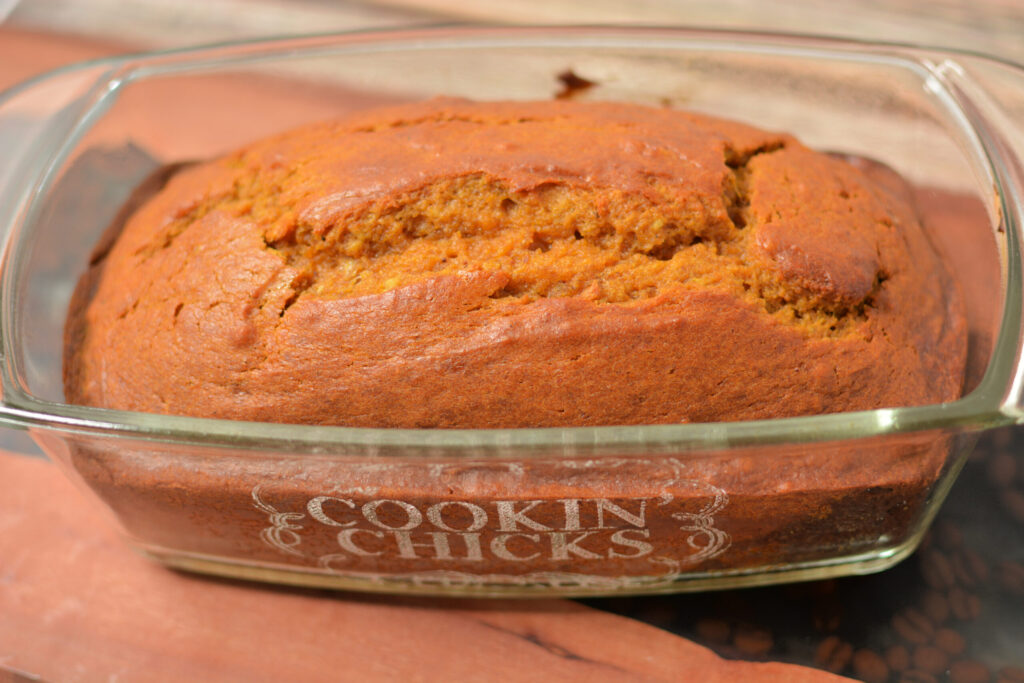 Ingredients Needed
Using easy to find ingredients, most of which are pantry and refrigerator staples, this Libby's Pumpkin Bread recipe comes together quickly. For exact ingredient amounts and step by step directions, be sure to check out the printable recipe card below.
Flour– all purpose flour, this gives the bread it's base/structure
Sugar– granulated white sugar gives the bread the perfect amount of sweetness
Baking Soda– the leavening agent that helps the bread rise, make sure it is fresh
Salt– a little goes a long way to help balance out the sweetness
Cinnamon/Nutmeg– this brings all the Fall flavor to the bread
Oil– this keeps the bread moist, I use vegetable oil
Eggs– this is the binding agent that holds everything together. Room temperature is best
Water– helps combine all the ingredients and provides additional moistness
Pumpkin– make sure you are using pumpkin puree and not pumpkin pie filling. As the recipe calls for, I highly recommend using Libby's canned pumpkin instead of other brands because it has the best consistency and flavor.
Additional Variations
Raisins– you can add about 1 cup of raisins into the batter
Nuts– add about 1/2 cup chopped nuts (Pecans or Walnuts) for additional texture into the bread
Brown Sugar– you can sprinkle about 1/4 cup on top of the bread for additional flavor and sweetness
Cream Cheese Frosting– once the bread has fully cooled, you can spread a layer of frosting on top
Chocolate Chips– 1-2 cups of chocolate chips make the perfect addition to this bread
Additional spices– ground ginger, pumpkin pie spice, and cloves are great additions into this bread.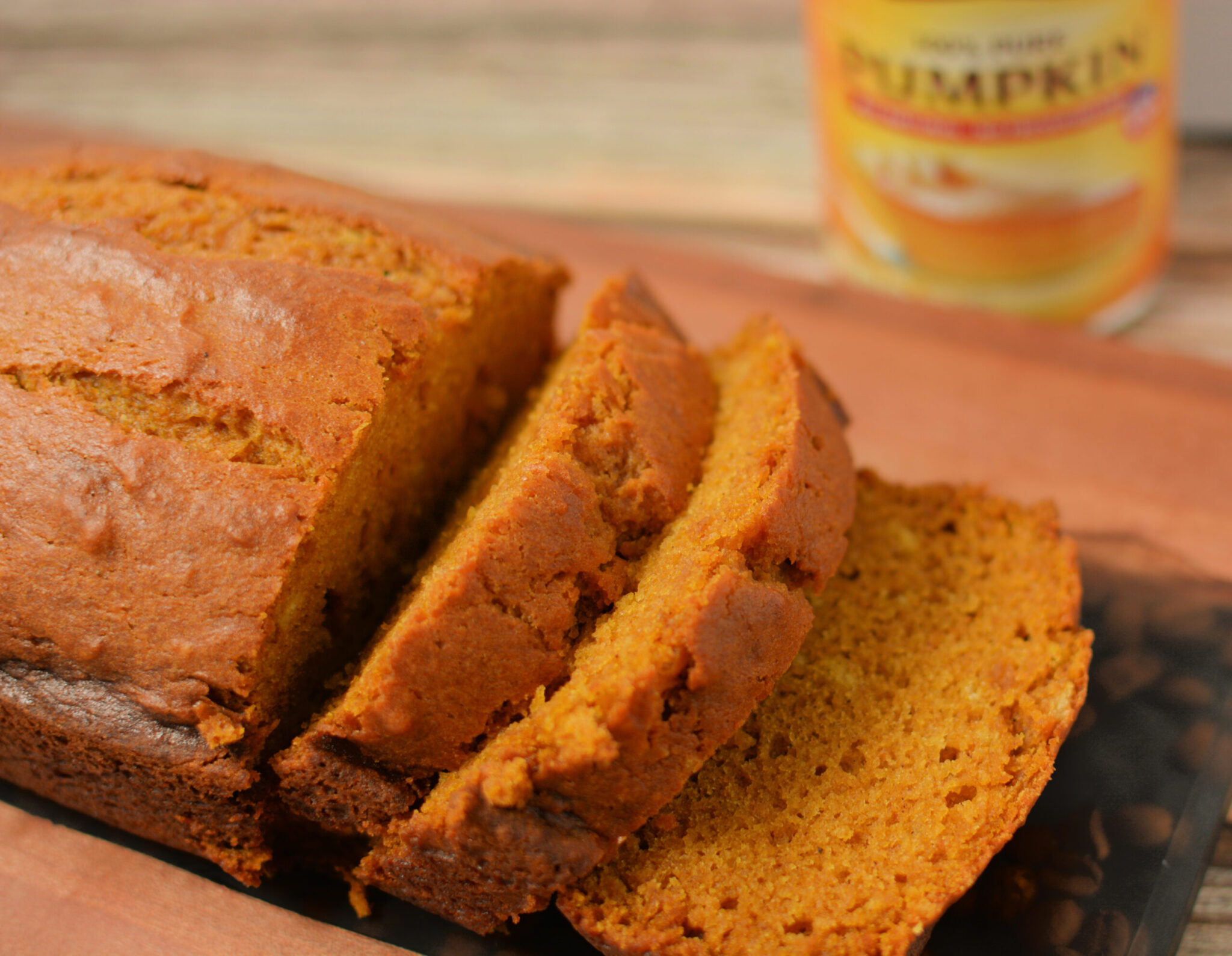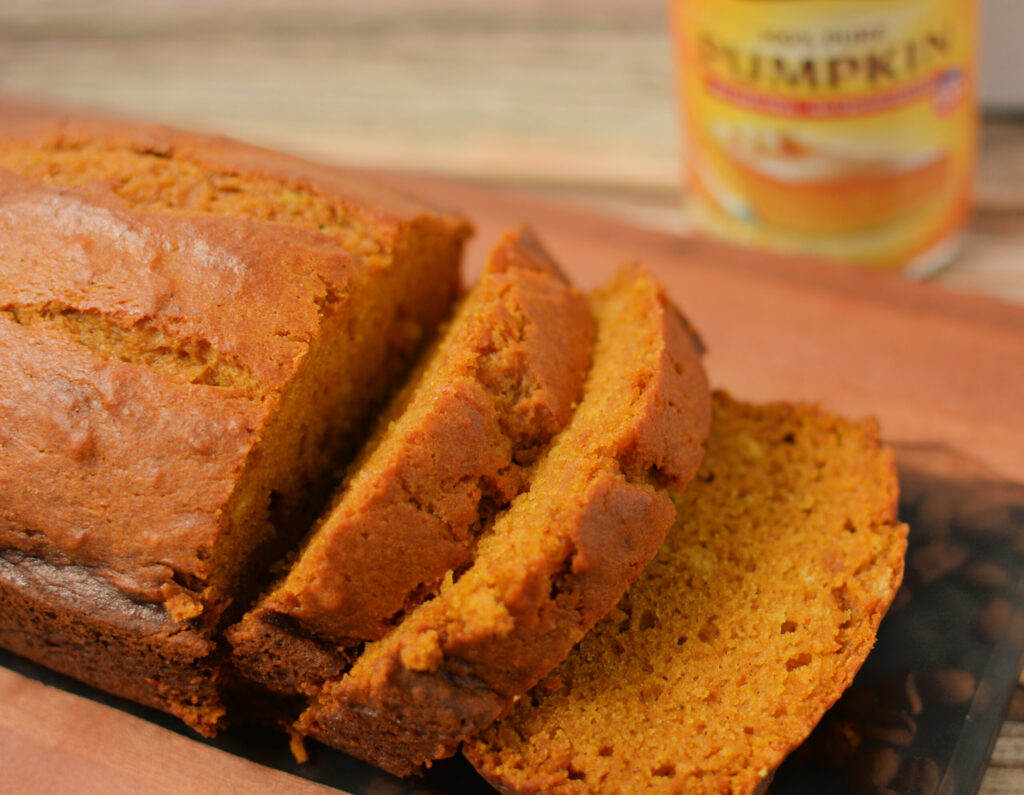 How to make Libby's Pumpkin Bread
If you are looking for a quick and moist, classic pumpkin bread recipe using simple ingredients, look no further! This bread is ready for the oven in under 10 minutes and is a family favorite!
Preheat oven to 350 degrees Fahrenheit.
In a large bowl, sift together flour, sugar, baking soda, salt, cinnamon, and nutmeg. Sifting helps prevent large clumps in your batter.
Whisk together the eggs, oil, and water into the flour mixture.
Once combined, fold in the pumpkin.
Grease 4 mini loaf pans, or 1 large loaf pan and pour batter evenly into each.
Bake in oven for about 30 minutes if using mini loaves, or about 55 minutes if using large pan.
Why is my Pumpkin Bread dry?
This is a common question I have seen through the years of testing and trying new recipes. These simple tips will help you avoid dry bread, which of course, no one wants!
Ensure accuracy on ingredient measurements: you need to have the proper balance between your dry ingredients and wet ingredients. Adding too much flour tends to cause dry bread, so when adding each and every ingredient, be sure to be accurate. Use a knife to level off flour.
Over-mixing the batter: stir until just combined. Once ingredients are combined and sides of bowl are scraped, you're good to pour into your prepared pan.
Baking Time: don't over bake the bread. Check for doneness using a toothpick. Insert the toothpick into the center of the bread and if it comes out clean, your bread is done. If it still has batter on it, add a few minutes to the bake time.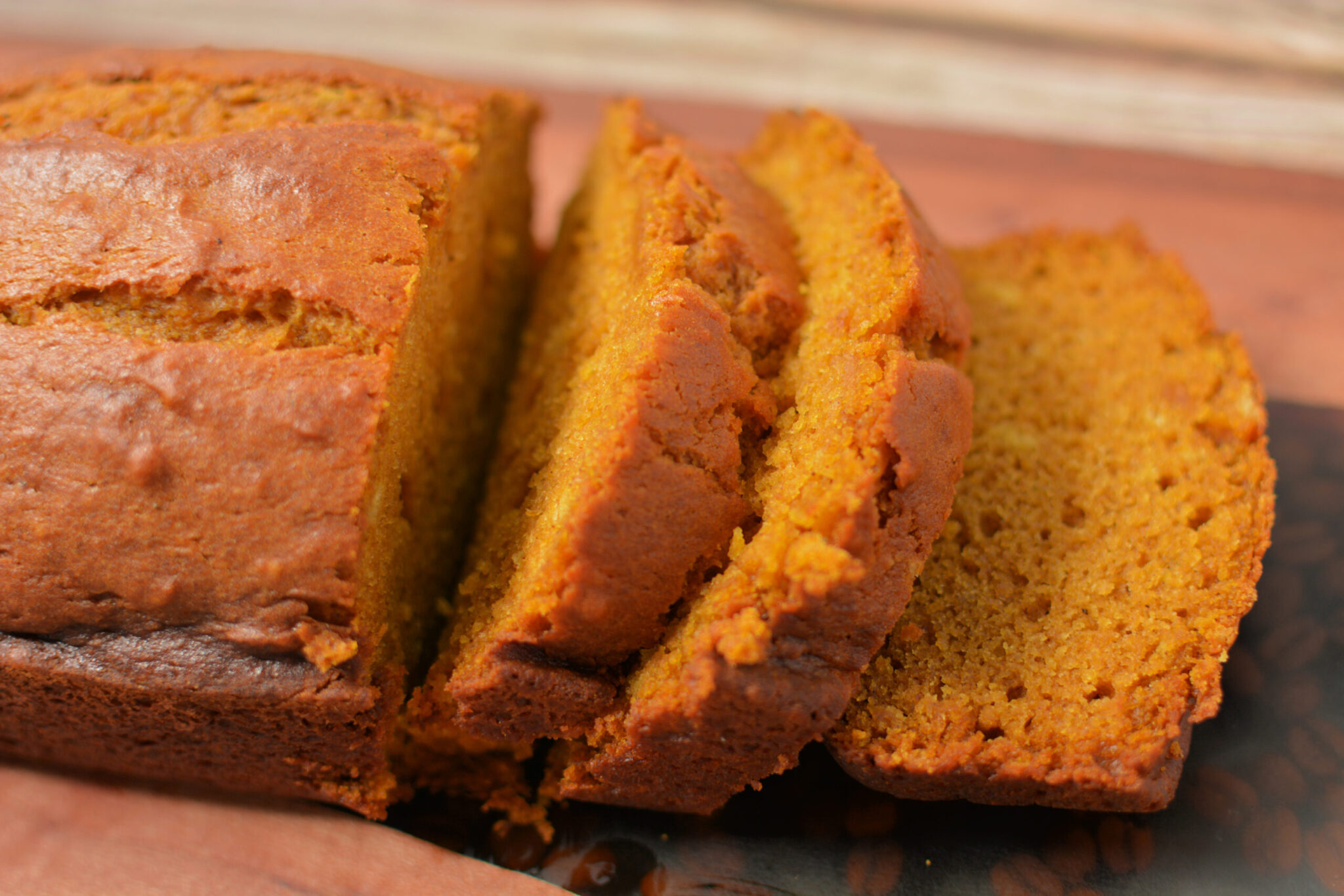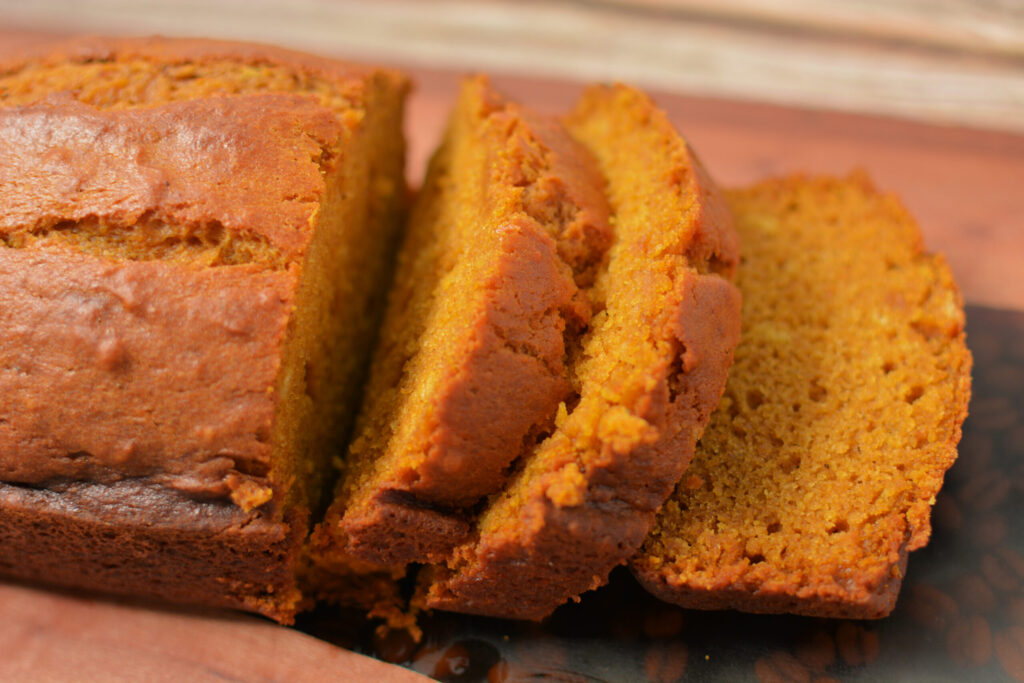 Tips for the best Pumpkin Bread
Measure your flour accurately. I can't tell you how many times I have been going too quickly in the kitchen, used a scoop and dump method only to have my bread fail. Once I learned to slow down and ensure accurate measurements, I was good to go! Now the bread turns out perfectly each time.
Allow your bread to cool completely before slicing. This helps the bread set up a bit more, making slicing it much easier.
Use room temperature eggs. These incorporate into the batter easier.
If you prefer a more sweet bread, feel free to increase sugar by 1/2 cup. Give this bread a try as written first though as my family loves it as written.
Storage Tips for the best Pumpkin Bread
Room temperature: allow to cool completely before wrapping in plastic wrap and aluminum foil for up to 4 days.
Freezer: only fully cooled, place bread into a freezer safe container or freezer bag in freezer up to 3 months.
You can cut and freeze individual slices for easier enjoyment. Pull out however many slices are needed and warm in microwave.
This bread can be enjoyed warm or at room temperature. Place a slice on a plate and microwave with some butter with your morning cup of coffee. A drizzle of honey or Maple syrup on top is also a great way to enjoy.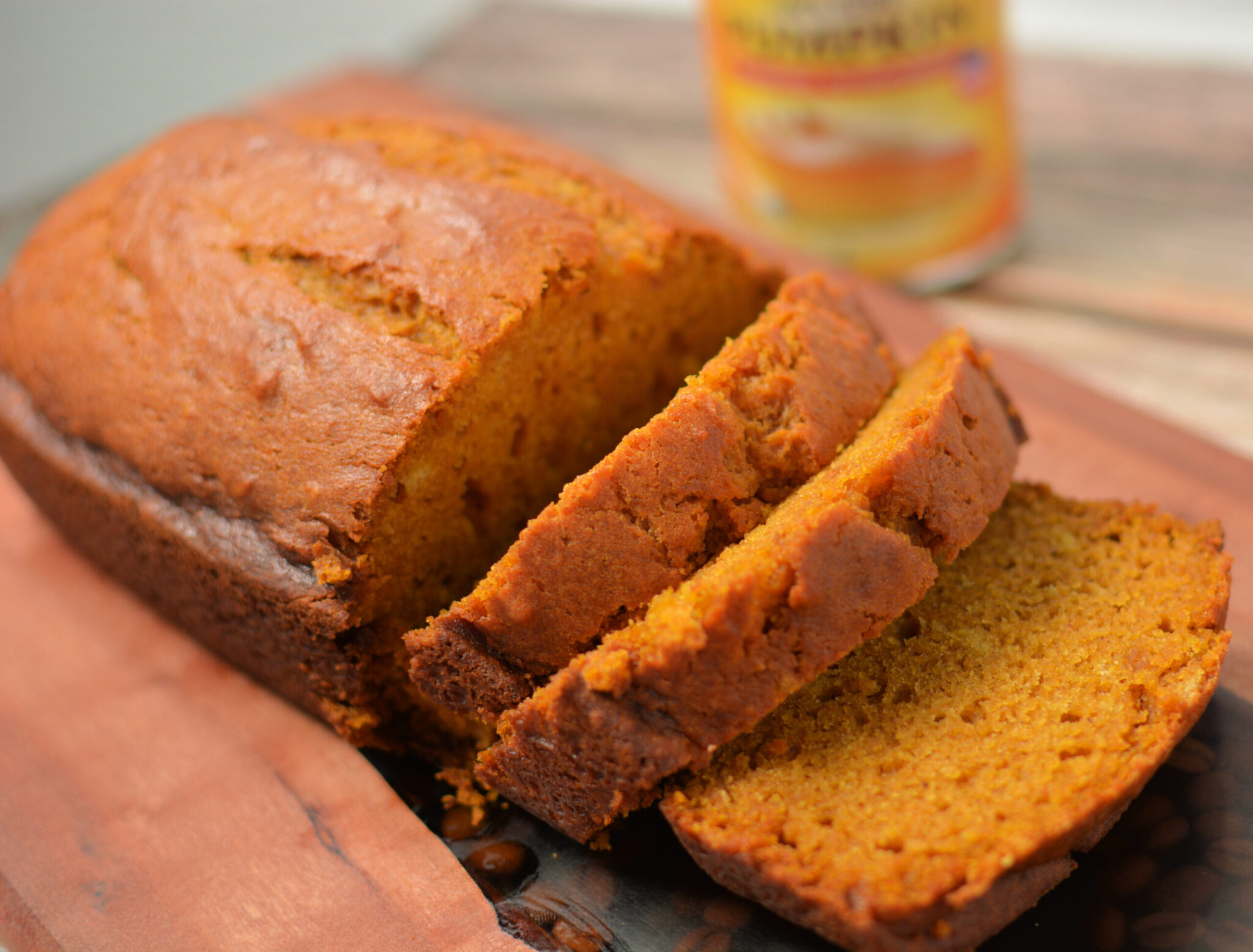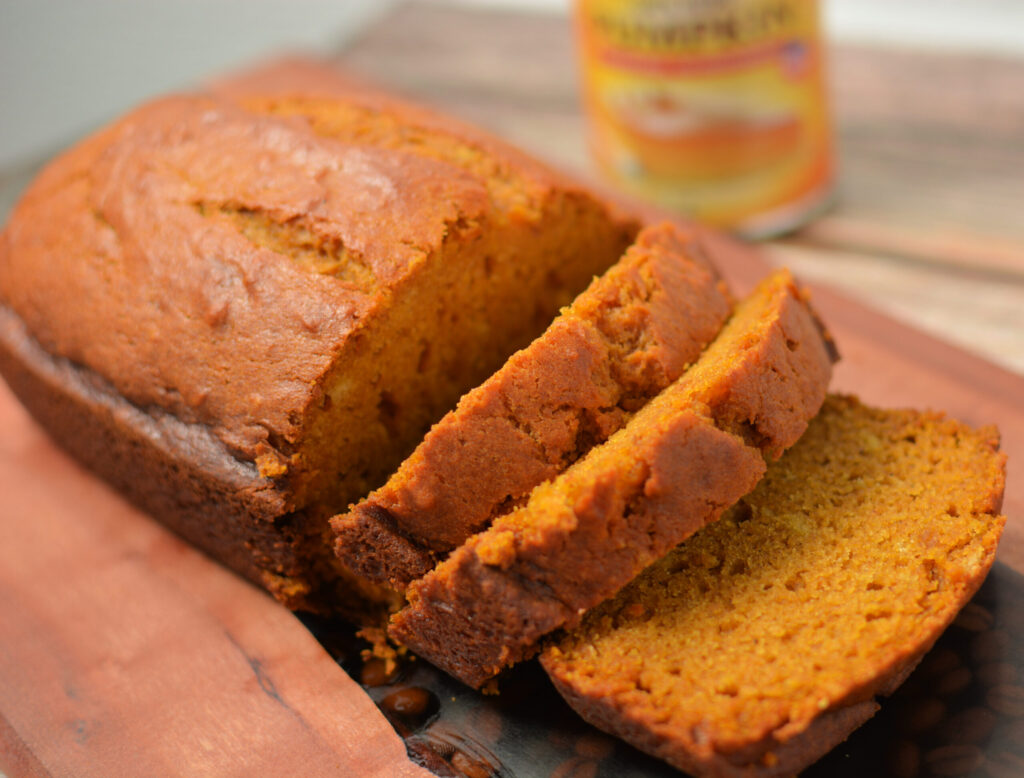 Frequently Asked Questions
Why is my bread gummy?
This means the bread wasn't cooked long enough. If this happens, simply cover the loaf with foil and place back into the oven for a bit longer. This prevents the bread from browning more and allows the heat to cook the center of the bread.
How long does Libby's pumpkin bread last?
The good thing about this bread is that it can last as long as you need it. If you plan on eating it quickly, it can be stored room temperature for 4 days, refrigerator for up to 6 days, and frozen for up to 3 months. Of course, if your family is like mine, it definitely won't last long.
Is Libby's canned pumpkin good for you?
Canned pumpkin puree is cooked pumpkin, minus the shell and seeds. It has a smooth texture and a slightly sweet taste, even without any added sugar. Benefits include supplying you with vitamins A, C and K; fiber; potassium; manganese; and more.
What kind of pumpkin does Libby's canned pumpkin use?
Libby's uses a proprietary strain of the Dickinson pumpkin variety in their product, which is also often called a Dickinson squash. On the Libby's website, it states that their product is 100 percent pumpkin.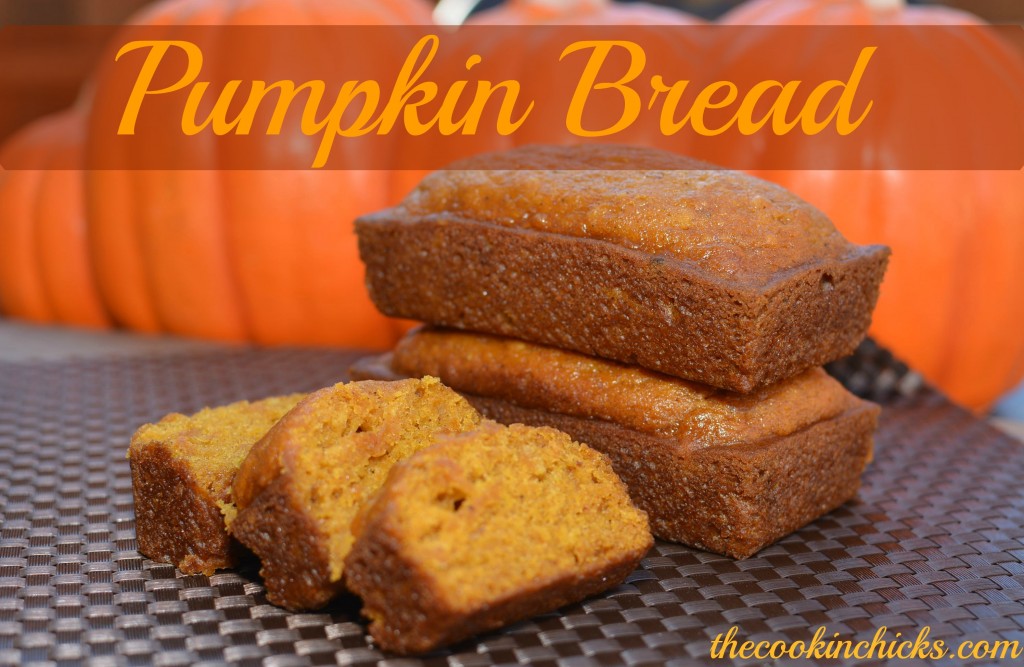 More Pumpkin Recipes you'll love
Easy Pumpkin Bars with Cream Cheese Frosting– a favorite fall dessert in our home. The combination of flavorful pumpkin and decadent cream cheese frosting is downright irresistible.
Fluffy Pumpkin Pancakes– quick to whip up and you can serve them with any topping you like.
Pumpkin Cinnamon Roll Bake– Deliciousness. Warmth. Baked goods. Fall. All of these words describe this Pumpkin Cinnamon Roll Bake, and you're going to love it even if you don't like pumpkin!
Easy Pumpkin Spice Monkey Bread– made with refrigerated cinnamon rolls, so it's quick and easy to make. Each roll is coated in pumpkin spice and then baked in a bundt.
Pumpkin Banana Bread– all the fall pumpkin spice flavors plus added sweetness from the ripe bananas.
More Quick Bread Recipes to try
Apple Fritter Bread– a sweet, soft, quick-bread filled with apples and sweet brown sugar cinnamon. A delicious treat with coffee or tea, serve this delicious apple bread warm with whipped butter.
Easy Blueberry Bread– moist quick bread stuffed full of fresh blueberries! Super easy to make and a perfect quick breakfast for busy mornings! A great way to use up those extra summer blueberries.
Brown Sugar Quick Bread– quick to prepare and the perfect morning treat! Using only 7 ingredients, most of which you probably already have on hand, this comes together in no time!
Snickerdoodle Bread–  tastes just like snickerdoodle cookies, but in a thick slice of cinnamon sugar bread with a muffin-like crumb. This beautiful quick bread recipe has swirls of sweet cinnamon on the inside that gives it a burst of flavor and is so moist and gooey.
Cinnamon Roll Quick Bread– moist and soft with a thick ribbon of cinnamon sugar swirled inside.
Libby's Pumpkin Bread is a delightful treat that captures the essence of autumn with its warm spices and moist texture. This timeless recipe has become a beloved tradition for many families, representing comfort and togetherness during the holiday season. Whether enjoyed as a breakfast staple or a festive dessert, Libby's Pumpkin Bread never fails to bring joy and nostalgia to those who taste it. So why not embrace the flavors of fall by baking this scrumptious loaf and creating your own cherished memories?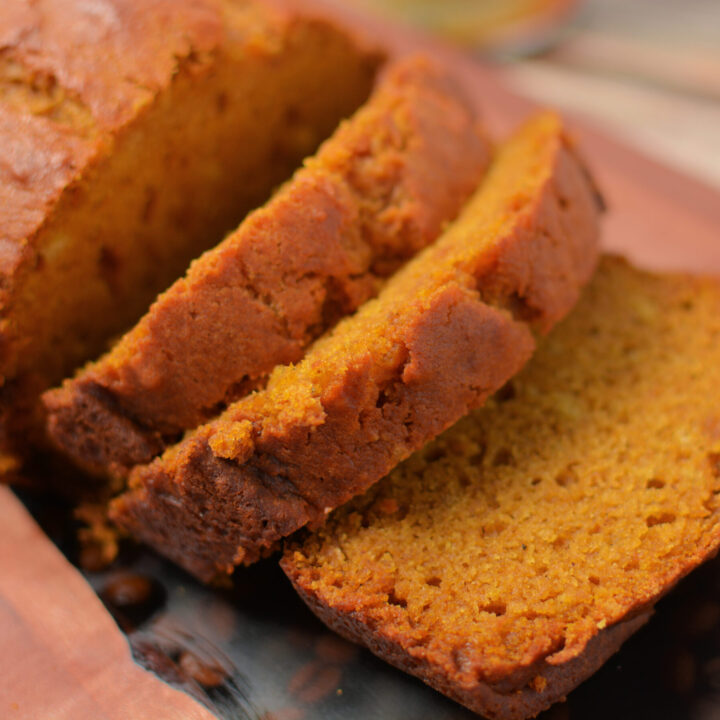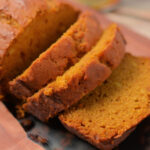 Print Recipe
Libby's Pumpkin Bread
Indulge in the cozy flavors of fall with Libby's Pumpkin Bread recipe, a deliciously moist and aromatic treat that will satisfy your seasonal cravings.
Ingredients
1 1/3

cup

flour

1

cup

sugar

1

teaspoon

baking soda

3/4

teaspoon

salt

1/2

teaspoon

ground cinnamon

1/2

teaspoon

nutmeg

1/2

cup

oil

2

eggs

1/3

cup

water

1

cup

canned pumpkin
Instructions
Preheat oven to 350 degrees.

In a medium bowl, combine the flour, sugar, baking soda, salt, cinnamon, and nutmeg.

Add in the eggs, oil, and water.

Once combined, fold in the pumpkin.

Grease 4 mini loaf pans, or 1 large loaf pan and pour batter evenly into each.

Bake in oven for about 30 minutes if using mini loaves, or about 55 minutes if using large pan.

Remove from oven and enjoy!
Nutrition
Calories:
323
kcal
|
Carbohydrates:
44
g
|
Protein:
4
g
|
Fat:
15
g
|
Saturated Fat:
1
g
|
Polyunsaturated Fat:
4
g
|
Monounsaturated Fat:
9
g
|
Trans Fat:
1
g
|
Cholesterol:
41
mg
|
Sodium:
373
mg
|
Potassium:
102
mg
|
Fiber:
2
g
|
Sugar:
26
g
|
Vitamin A:
4826
IU
|
Vitamin C:
1
mg
|
Calcium:
19
mg
|
Iron:
2
mg