These pumpkin bars are a tasty treat. They are perfect for the Fall season. The good thing about them is that the recipe makes an entire cookie sheet, so you can cut them big or small and have plenty for everyone!!
Ingredients:
4 eggs, beaten
1 (16 oz) can of pumpkin
1 1/2 cup sugar
1 cup cooking oil
2 cup flour
2 tsp baking powder
1 tsp baking soda
2 tsp ground cinnamon
Directions:
Combine eggs, pumpkin, sugar and oil in a bowl and mix well. Add in dry ingredients and mix until combined. Spread batter onto an ungreased 15x10x1 inch baking pan. Bake at 350 for about 25-30 minutes. Remove from oven and allow to cool completely. Once cool, spread cream cheese frosting on top.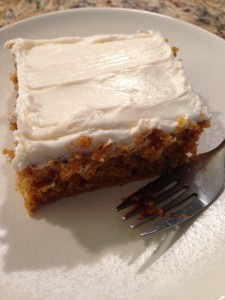 Be sure to like us on Facebook