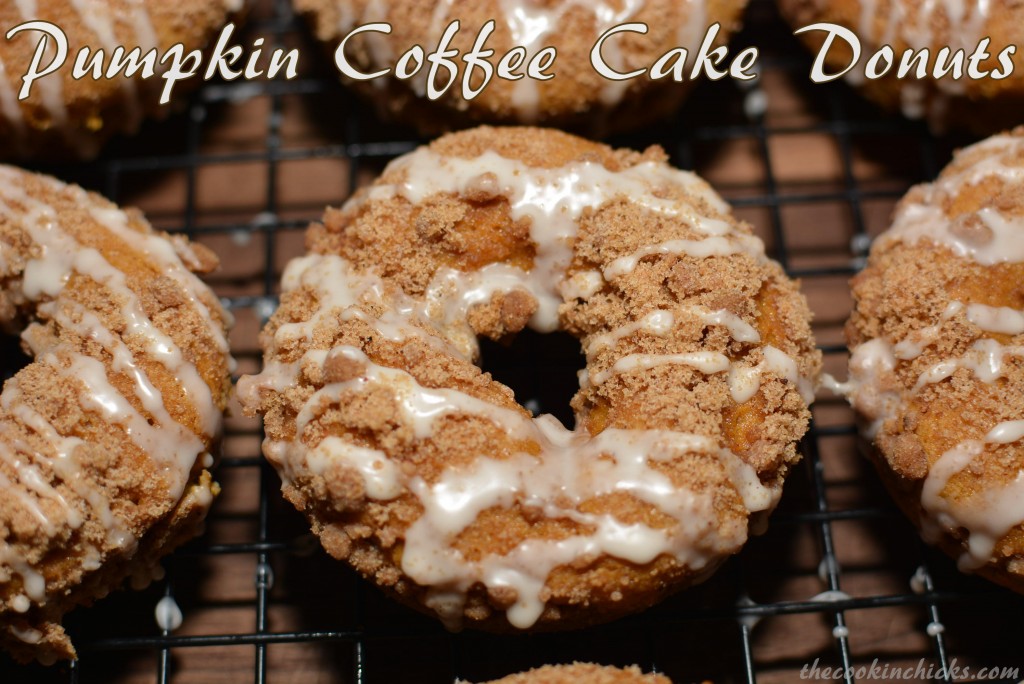 If you read through our blog, you will probably notice several baked doughnut recipes. My family is slightly obsessed with using our doughnut pan. After walking through the store last year and coming across the pan, my hubby and I both knew…..we needed that pan. Once we brought it home, the doughnut fun began. We have made pumpkin, chocolate, kahlua, cinnamon, apple, and now these pumpkin coffee cake donuts! All of them have been amazing, but these may just go down as our favorites!!! The topping was amazing and the doughnut itself was moist, fluffy, and had a perfect Fall spice flavor to it! The kids loved these and had fun helping daddy make them!! With it being October 1st today,  these are the perfect treat to make!!
Ingredients:
1 box spice cake mix
1 cup pumpkin puree
2 eggs
3 tablespoon melted butter
1/2 cup brown sugar
1/2 cup flour
1 teaspoon ground cinnamon
1/2 teaspoon nutmeg
2 tablespoon melted butter
1 cup powdered sugar
2-3 tablespoon milk
1/2 teaspoon vanilla extract
Directions:
Grease a doughnut pan and preheat oven to 350.
In a bowl, combine the spice cake mix, pumpkin puree, eggs, and butter.
In a separate bowl, combine the brown sugar, flour, ground cinnamon, and nutmeg.
Drizzle the 3 tablespoon melted butter over the brown sugar mixture and combine. This will be used as your streusel and should be crumbly.
Fill the doughnut pan with the pumpkin batter about 2/3 full.
Sprinkle the streusel mixture on top of the pumpkin batter.
Bake in the preheated oven for about 10 minutes.
Remove from oven and allow to cool for about 5 minutes prior to removing from the pan.
Once donuts are cool, combine the powdered sugar, milk, and vanilla in a small bowl.
Drizzle glaze on top of the donuts.
Enjoy!!
Recipe adapted from: Adapted Made