Oh boy! My most favorite dessert combination is chocolate peanut butter. If those two items are combined, I guarantee you it'll be a favorite of mine. BUT, when you add that AND cheesecake/brownies…..its dessert Heaven! Yes, these are pretty rich, but oh so worth it!
I decided to tackle these brownies last weekend as a special dessert for the family to enjoy. We ended up still having over half the tray left at the end of the weekend, so sent them into work with my hubby. Not only did my entire family love these, but my hubby said several of his coworkers commented how yummy they were as well!
Fudge like brownie, fluffy peanut butter cheesecake, and a chocolate topping all combined into one fabulous sweet treat!!
If you are looking for a dessert to make, definitely try this one! It is a crowd winner for sure!
Enjoy!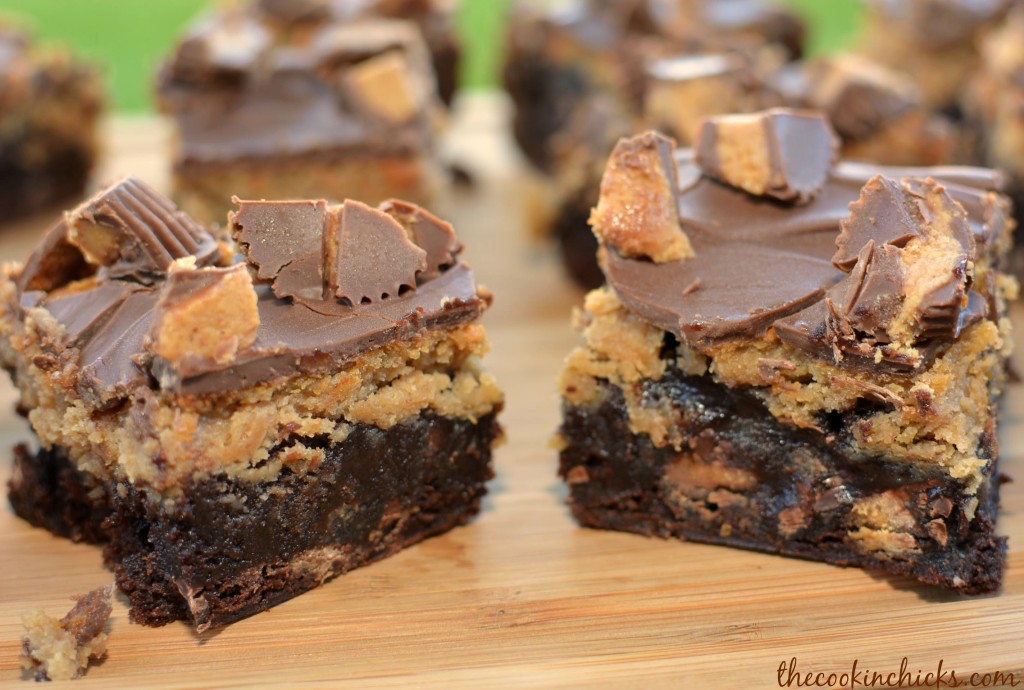 Ingredients:
Brownie
3/4 cup butter
6 oz. dark chocolate, chopped
1 cup sugar
1/2 cup brown sugar
1 1/2 teaspoon vanilla extract
3 eggs
1 cup flour
12 oz. bag mini Reese's cups, chopped, divided in 1/2
Cheesecake
8 oz. cream cheese
1/4 cup butter
1 egg
1/2 cup sugar
Pinch of salt
1/2 teaspoon vanilla extract
1 cup creamy peanut butter
Chocolate Topping
12 oz. milk chocolate chips
Directions:
Preheat oven to 350 and grease a 9 x 13 baking pan.
In a microwavable safe bowl, melt the butter and dark chocolate in 30 second increments to avoid burning.
Fold in the sugar, brown sugar, vanilla, and eggs.
Stir in the flour until fully combined.
Add in 1/2 the chopped Reese's.
Pour the mixture into the greased pan and spread evenly.
To make the cheesecake layer, cream together the butter and cream cheese until smooth.
Mix in the egg, sugar, salt, and vanilla until combined.
Fold in the peanut butter.
Spread cheesecake mixture evenly over brownie batter.
Place pan in oven for about 40 minutes, or until center is set.
Remove from oven and allow to cool for about 15 minutes.
Place pan in refrigerator for at least 1 hour.
Melt milk chocolate chips in microwavable bowl until smooth and creamy.
Spread chocolate evenly on top of cheesecake layer.
Sprinkle remaining 1/2 of chopped Reese's oven pan.
Chill in refrigerator until ready to serve!!
Recipe adapted from: The Recipe Critic