If you're in need of a tasty appetizer, snack, or quick meal option…these French Onion Beef Sliders are just the thing you need to try!!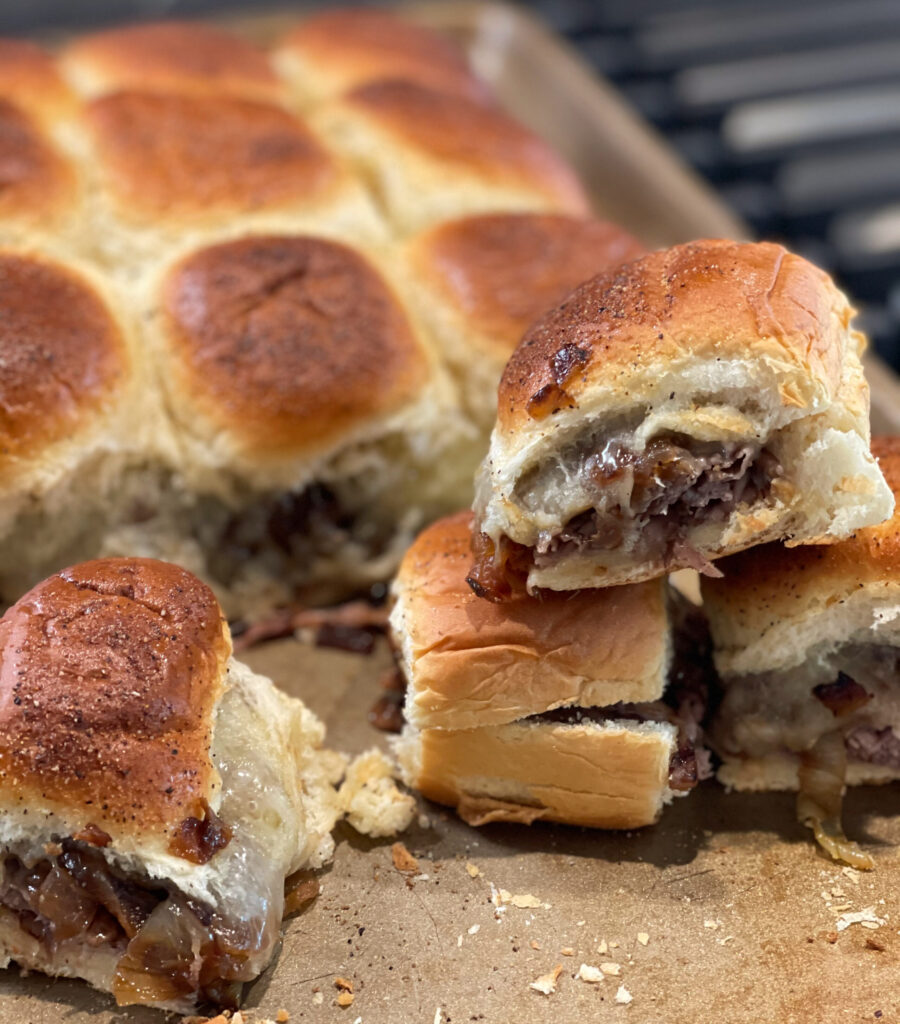 A few nights ago, I made these sliders for a quick dinner and WOW were they a hit! My hubby and I LOVE French Dip sandwiches, so I knew we would enjoy these, but I was unsure of what my kids would think. To my surprise, my kids each went back for an additional slider and loved the dinner!
Not only do these French Onion Beef Sliders make a quick and easy meal option, but they would be a great appetizer for a party/gathering!
Shaved roast beef, caramelized onions, Smoked Cheddar cheese, on an Hawaiian roll. Whats not to love about that, right?!
To change things up, you can use a grated cheese of your choosing!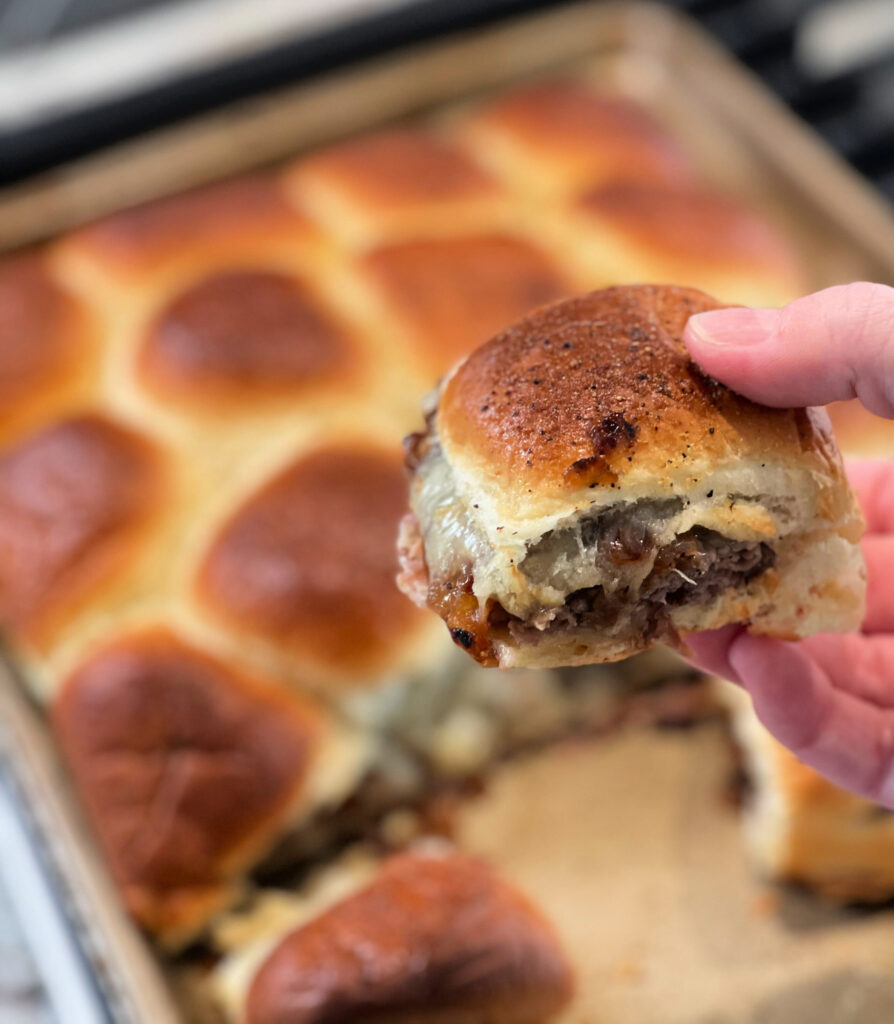 Feel free to also use your favorite seasoning on top in case you don't want to stick to onion/garlic powder! Maybe a Cajun spice to add some heat?
I bought the Hawaiian roll packages from Costco, so my package had 16 rolls in it. If you purchase from the grocery store, most of the time it comes with 12. You can make as many of these or as few as needed!
The best part is that these reheat perfectly the next day! Since we had about 4 mini sandwiches left the next day, we simply placed them in our toaster oven and a few short minutes later, these were just as delicious as day one!
Serve with some french fries, a side salad, fruit, chips, or any other dish desired to make this a full meal! Perhaps a tasty lunch, dinner, snack, or appetizer option! Have fun with these sliders and make them your own!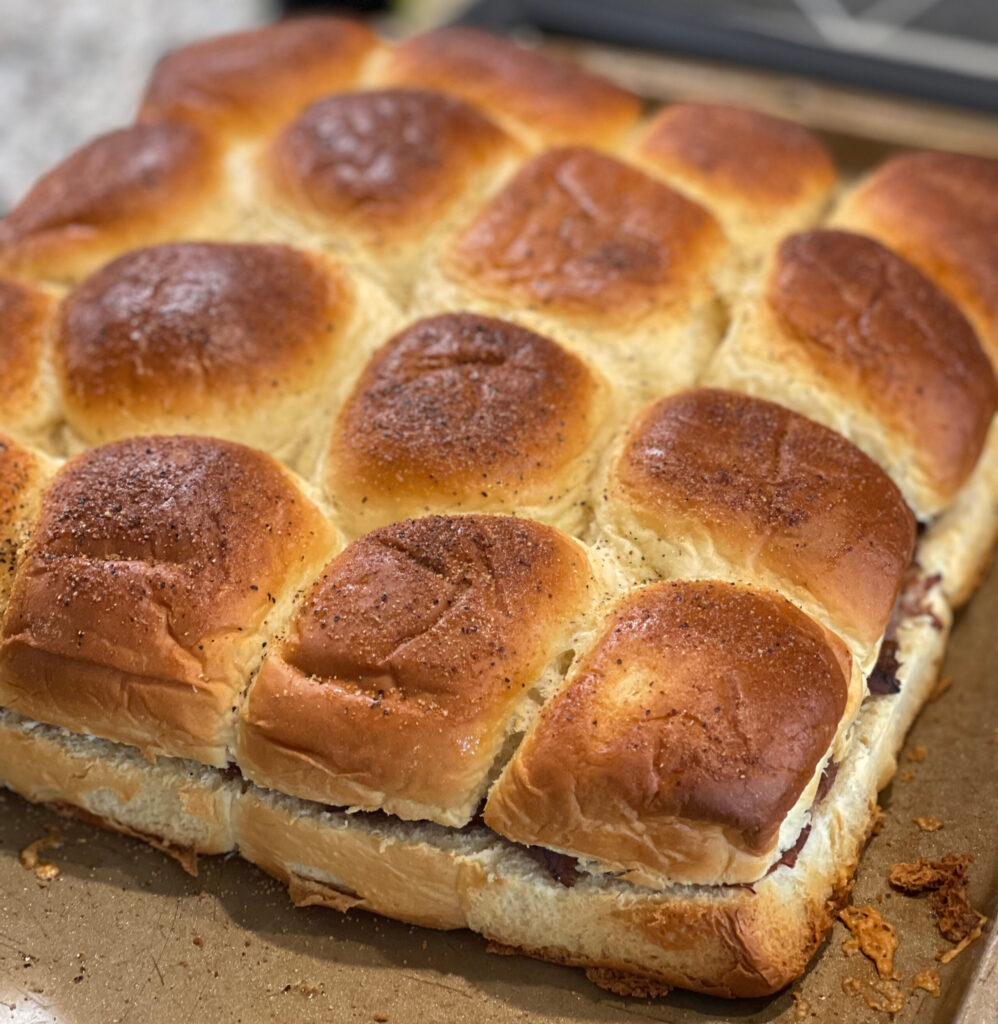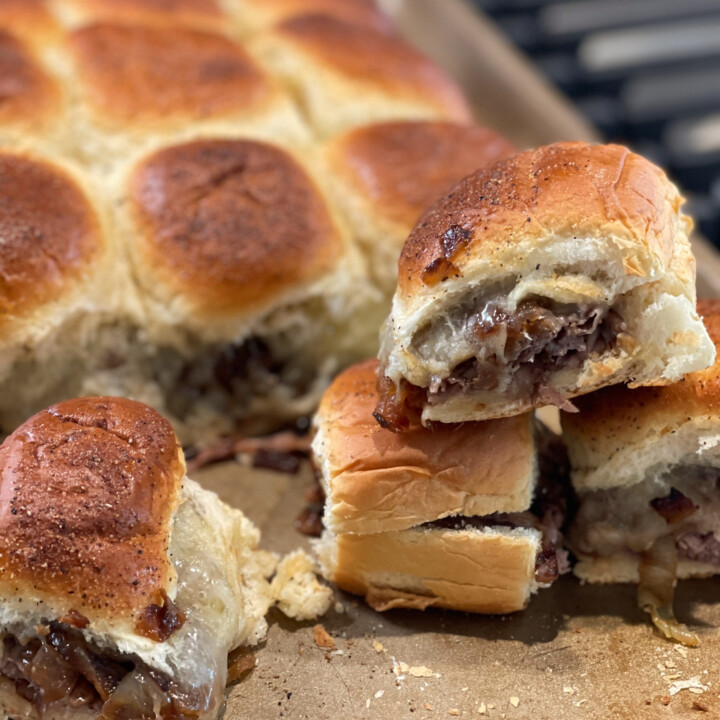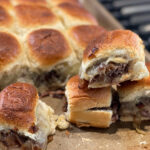 Print Recipe
French Onion Beef Sliders
If you're in need of a tasty appetizer, snack, or quick meal option...these French Onion Beef Sliders are just the thing you need to try!!
Ingredients
2

tablespoon

unsalted butter

*divided

2

sweet onions

*sliced

2

teaspoon

worcestershire sauce

12

Hawaiian sweet rolls

3/4

lb

roast beef

*shaved

8

oz

smoked cheddar cheese

*grated

1/2

teaspoon

garlic powder

1/2

teaspoon

onion powder

1/2

tsp

Chupacabra seasoning

*or seasoning of choosing
Instructions
Preheat oven to 350 degrees.

In a skillet, heat 1 tablespoon butter and add in onions.

Cook onions until browned and caramelized.

Stir in the worcestershire sauce and set aside.

Slice all the rolls in half horizontally.

Place the bottom half of the rolls onto a cookie sheet.

Top bottom half of rolls with roast beef.

Spread caramelized onions evenly over beef, followed by the grated cheese.

Place the top of rolls on top to create sandwiches.

Melt remaining 1 tablespoon butter in a small bowl and brush the butter on top of the sandwiches.

Sprinkle garlic/onion, seasoning on top of the sandwiches and cover cookie sheet lightly with aluminum foil.

Place cookie sheet into preheated oven and bake for about 15 minutes.

Remove foil and cook an additional 5 minutes.

Remove from oven and serve! Enjoy!
Nutrition
Calories:
235
kcal
|
Carbohydrates:
20
g
|
Protein:
14
g
|
Fat:
11
g
|
Saturated Fat:
7
g
|
Trans Fat:
1
g
|
Cholesterol:
51
mg
|
Sodium:
643
mg
|
Potassium:
174
mg
|
Fiber:
1
g
|
Sugar:
7
g
|
Vitamin A:
249
IU
|
Vitamin C:
16
mg
|
Calcium:
229
mg
|
Iron:
1
mg