What a long name for a cookie huh? These cookies have so much flavor, make tons, and are the perfect Christmas cookie for any goodie tray. I love chocolate moist cookies, and this recipe is just that!!! Enjoy and have a great Holiday season ahead!
Ingredients:
3/4 cup butter, softened
3/4 cup brown sugar, packed
1/4 cup sugar
1 small package Devils food instant pudding mix (or you can use chocolate)
2 eggs
1 tsp vanilla extract
1 tsp baking soda
2 1/4 cups flour
1 cup peppermint crunch baking chips or chopped up candy cane Hershey kisses
1 cup semi sweet chocolate chips
Directions:
Cream together butter and sugars. Beat in dry pudding mix. Add eggs and vanilla until thoroughly combined. Slowly pour in the baking soda and flour, mixing until just combined. Stir in peppermint chips and chocolate chips. Roll into 1″ balls and place on an ungreased baking sheet. Bake at 350 for 8-10 minutes.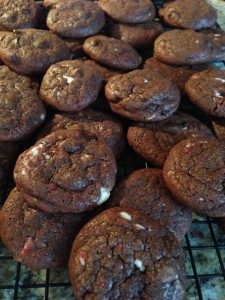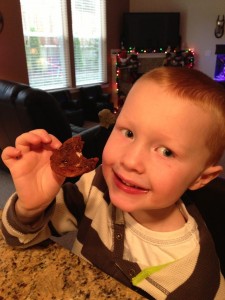 Kid approved!!!