These Chocolate Crinkle Candy Cane Blossoms take everyone's favorite Chocolate Crinkle Cookie, but add in a candy cane kiss on top! The combination will have you going back for seconds….or even thirds!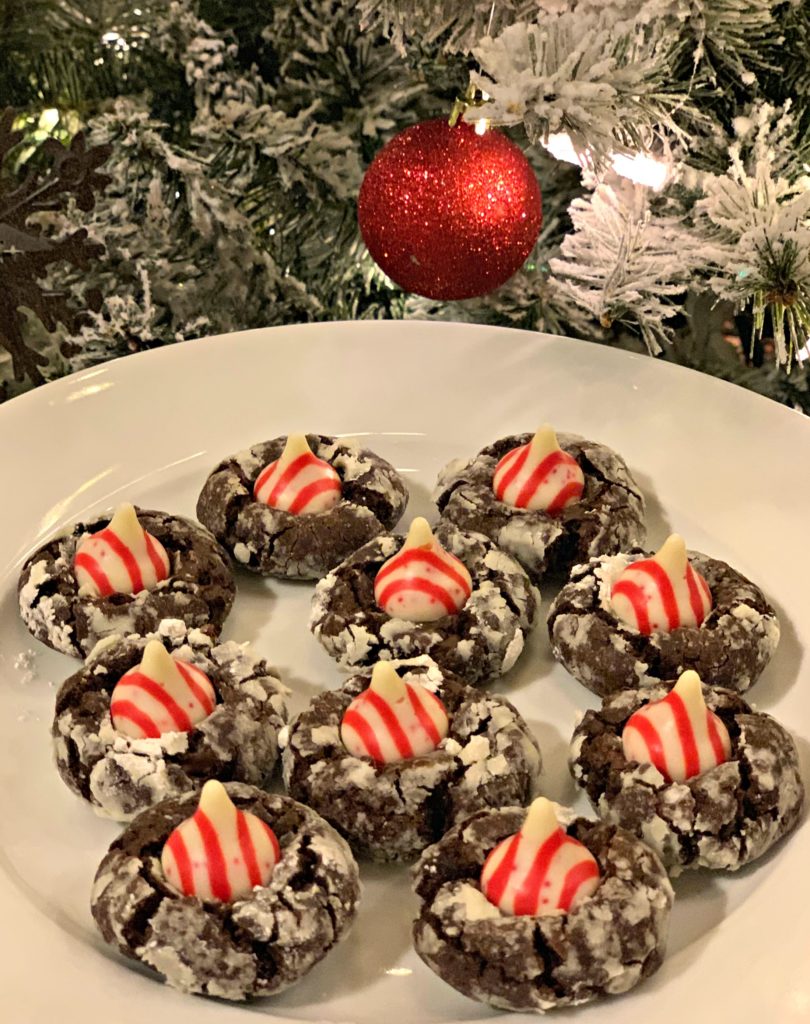 Each Christmas, I like to add a few new cookies to my goodie trays! It keeps things new, nothing becomes "boring", and it allows me to try new variations of favorites!
Each year, the two "must have" cookies requested by my hubby are the Peanut Butter Blossoms and Chocolate Crinkle Cookies. Out of all the cookies I have made throughout our marriage, those two still go down as his absolute favorite…..well, until this year that is.
Check out these other great Christmas Cookie options:
This year, I decided to combine the two cookies (minus peanut butter) into one fabulous creation. The end result? My hubby's NEW "must have" Christmas cookie.
I made a batch of these last week to stick into my freezer for Christmas day enjoyment. My hubby got home right around the time these were coming out of the oven and cooling down. I literally had to swat his hand because he wouldn't stop eating them. Quite addicting if I do say so myself!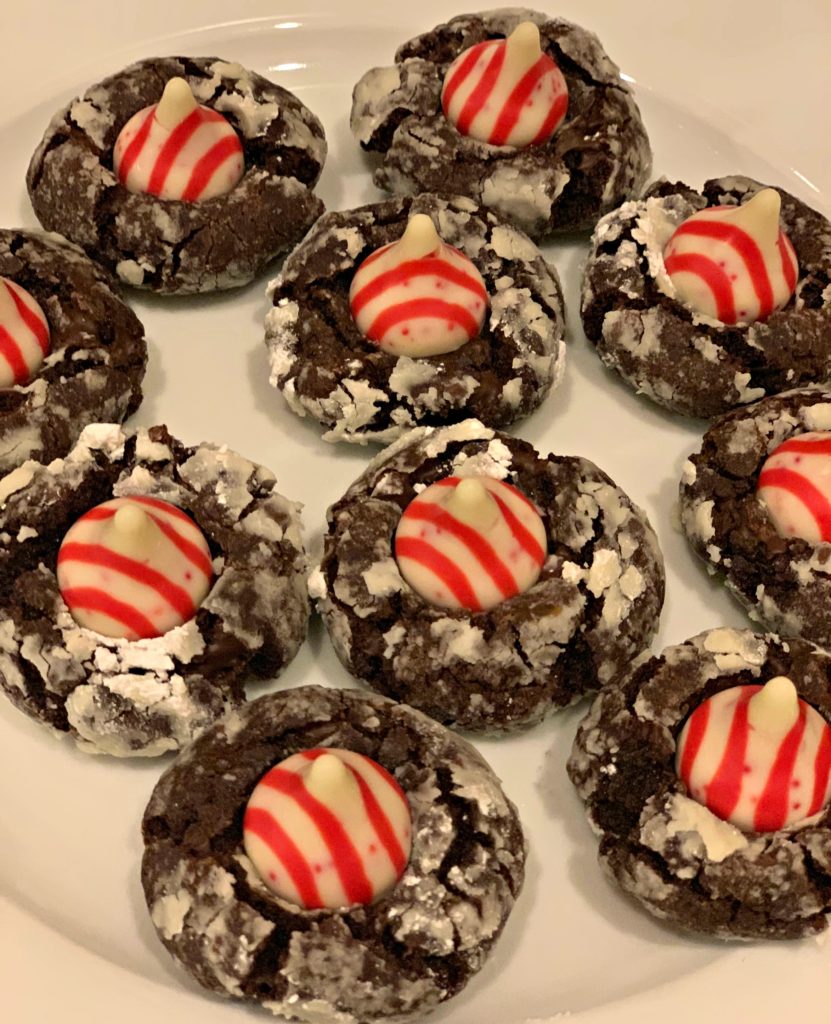 The chocolate cookie was moist and had just the right amount of chocolate chips throughout. Then, adding the candy cane kiss to the top….brought it to a whole new level.
Not only is this cookie quite festive and pretty, but its a flavorful addition to any goodie tray!
If you want to make them early and freeze them until Christmas, they freeze perfectly. Simply place in an airtight container and freeze them for up to 2 months! To thaw, simply remove from the freezer a few hours before serving!
Hope you enjoy and have a wonderful Holiday season with friends and family!
Be sure to follow me on Instagram and use the hashtag #thecookinchicks so I can see all your creations!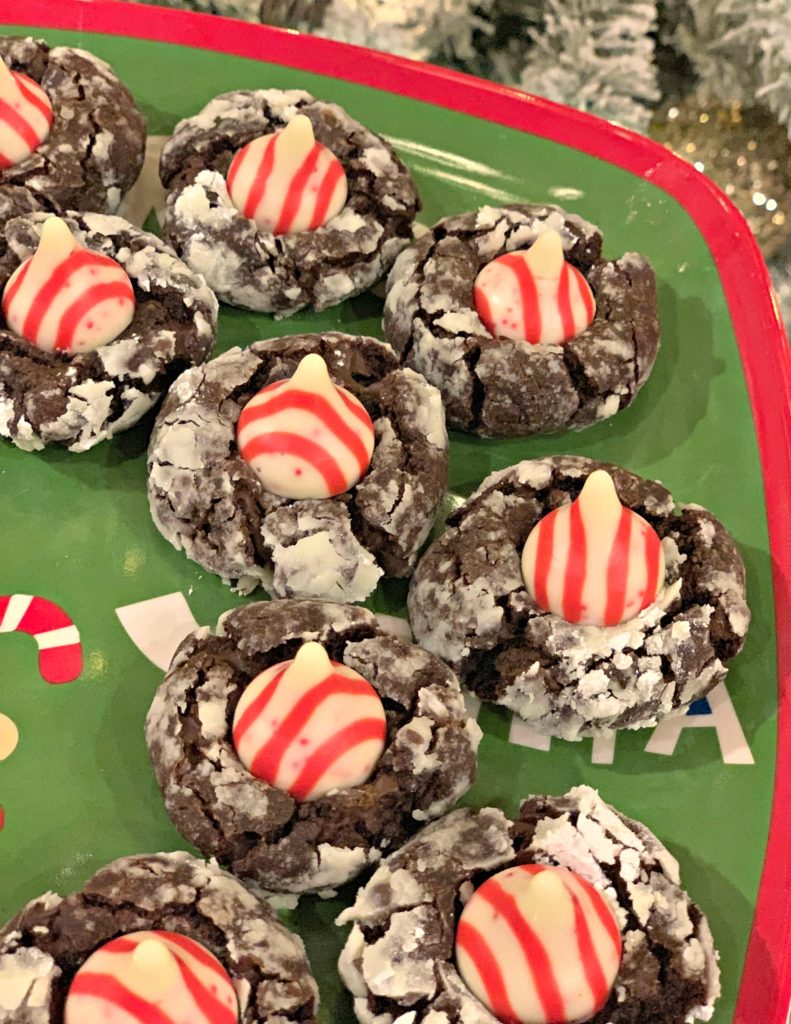 Chocolate Crinkle Candy Cane Blossoms are packed with flavor and a festive way to add some color to any Holiday tray you may make! Be sure to print the recipe and give these cookies a try!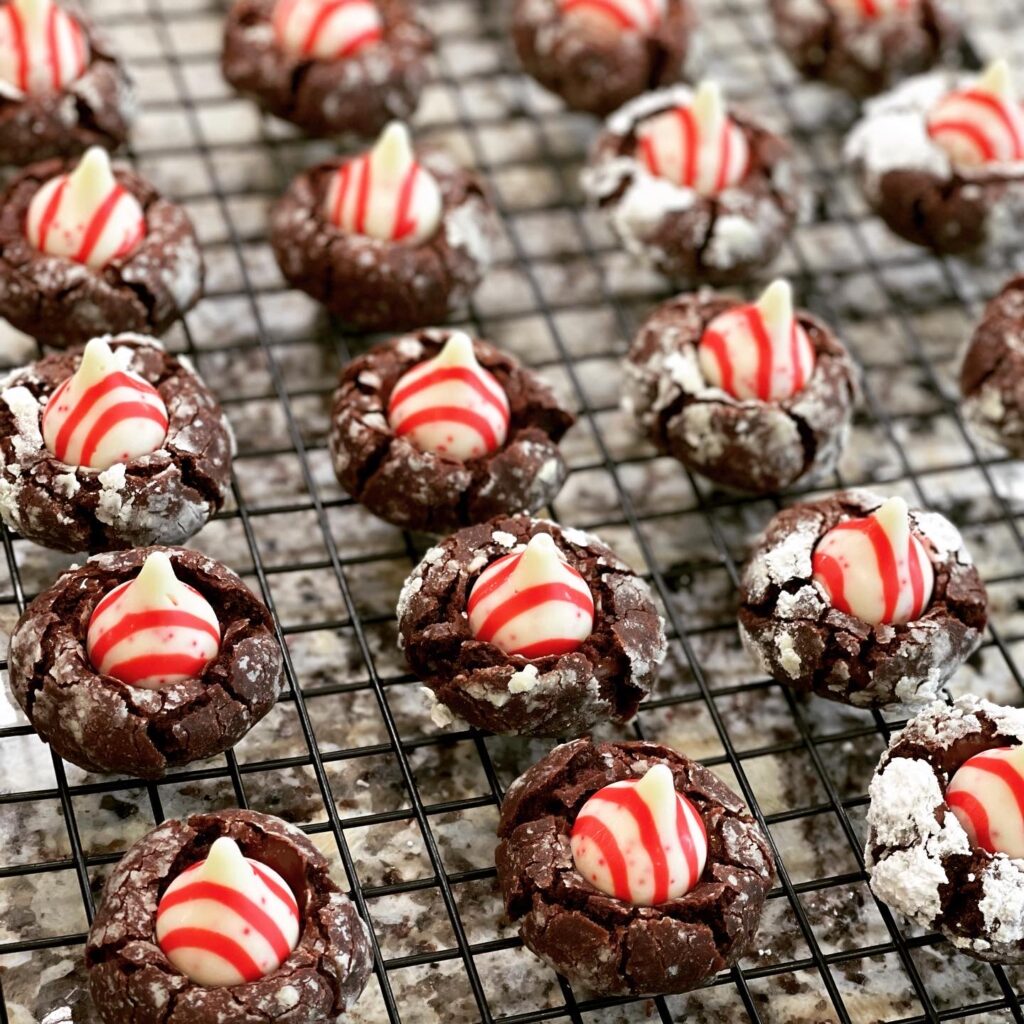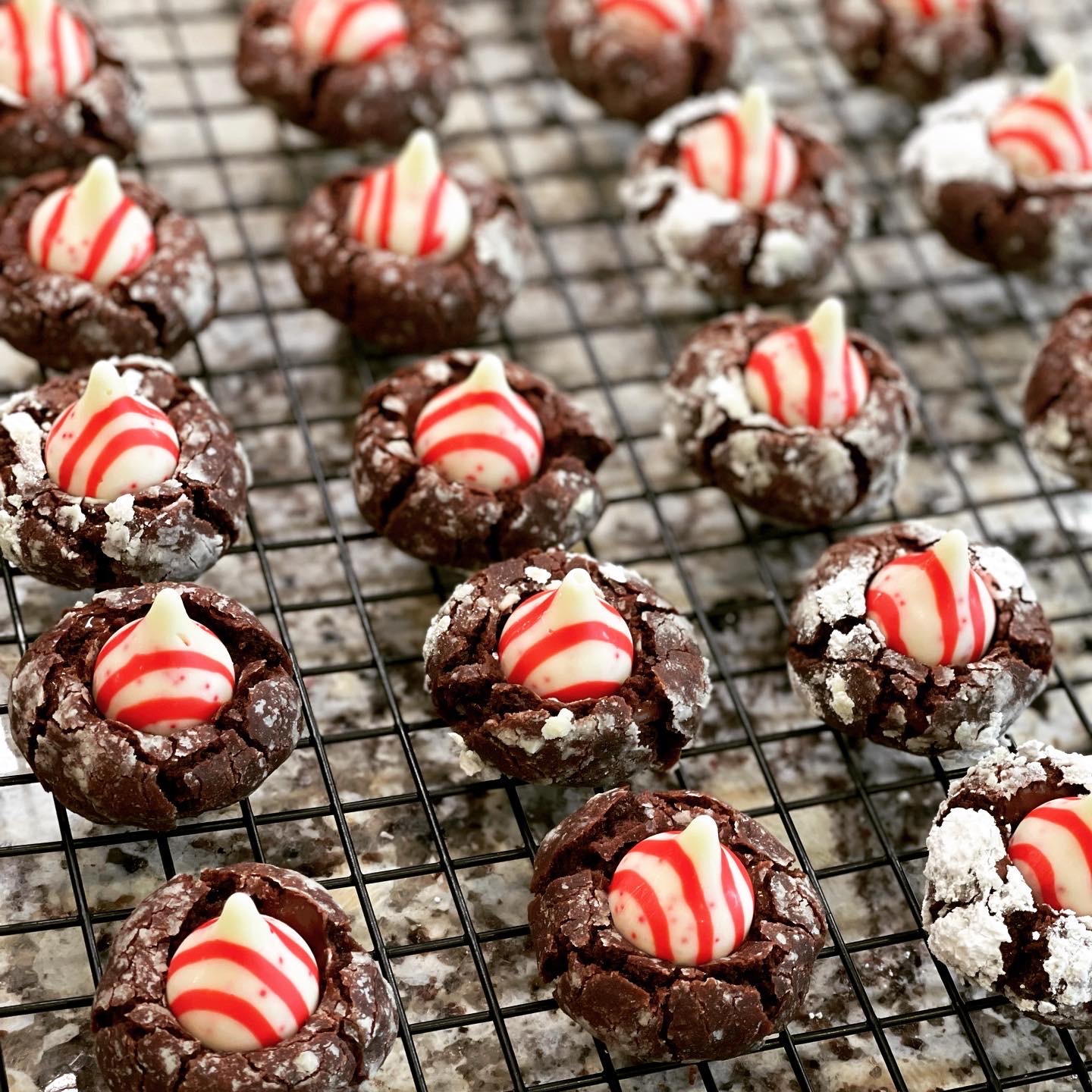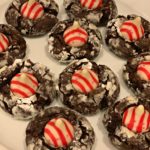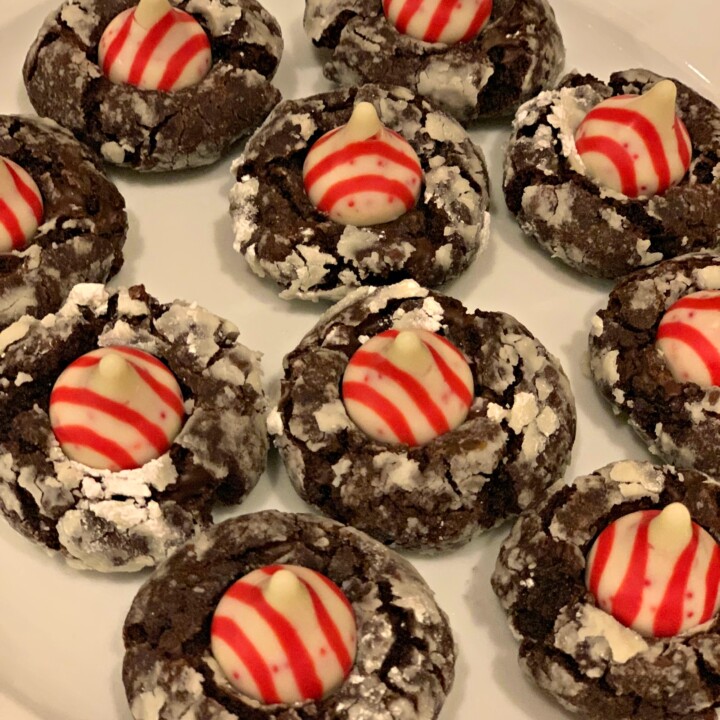 Print Recipe
Chocolate Crinkle Candy Cane Blossoms
Everyone's favorite Chocolate Crinkle Cookie, but with an added candy cane kiss on top! The combination will have you going back for seconds....or even thirds!
Ingredients
1/2

cup

unsalted butter, room temp.

1

cup

light brown sugar

2

eggs

1 1/4

cup

flour

3/4

cup

unsweetened cocoa powder

1 1/2

teaspoon

baking powder

1/4

teaspoon

salt

1/2

cup

powdered sugar

1

cup

mini semisweet chocolate chips

24

candy cane Hershey Kisses, unwrapped
Instructions
Preheat oven to 350 degrees.

In a medium bowl, cream the butter and brown sugar together until fluffy.

Add the flour, cocoa powder, baking powder, and salt.

Fold in the mini chocolate chips.

Scoop dough by rounded tablespoon and roll each ball into the powdered sugar until evenly coated.

Place cookie dough ball on cookie sheet and continue until sheet is filled. *About 12 per sheet

Bake in preheated oven for about 8 minutes.

Remove sheet from oven and allow to sit 1-2 minutes before removing and placing on cooling rack.

Gently place one Hershey kiss into the center of each cookie. Continue until all cookies have a kiss in the middle.

Serve or allow to cool completely before freezing!