This tasty twist on a classic White Russian cocktail adds the sweetness of caramel, making these Simple Caramel White Russians an indulgent after-dinner drink option.
Caramel White Russians
As I am sure you know by simply scrolling through the blog, my hubby and I love a simple, yet tasty, cocktail! Something we can enjoy either before dinner, during dinner prep, or as an evening treat! Our favorite is when it comes together using only a few simple ingredients, with easy cleanup. This cocktail is just that! Can't get better than that!
One of my favorite drinks is a White Russian. However, last night, I decided to take my go to drink up a notch and add a caramel addition that was INCREDIBLE!
A creamy, coffee flavoring, with a caramel addition was so tasty and both my hubby and I thoroughly enjoyed it as we prepared dinner!
If you don't like caramel, feel free to omit, but I think you'll love this! Simply pour over ice, this chilled beverage is yummy! Almost as though you are enjoying a caramel, in cocktail form!
If you have guests, this is a quick and easy drink to offer. Its sweet, so makes a great evening treat! Please drink responsible though as this is so delicious, it catches up to you if not careful!
What is a White Russian Cocktail?
A white Russian is a cocktail made with vodka, coffee liqueur and cream served with ice in an old-fashioned glass.
Where did the name White Russian Cocktail come from?
According to Wikipedia, the traditional cocktail known as a black Russian, which first appeared in 1949, becomes a white Russian with the addition of cream. Neither drink has any known Russian origin, but both are so-named due to vodka being the primary ingredient. It is unclear which drink preceded the other.
Ingredients needed for Simple Caramel White Russians:
Kahlua
Caramel Vodka
Half & Half
How to prepare Simple Caramel White Russians:
Serve and enjoy!
Fill a glass with ice.
Pour in the Kahlua and Caramel Vodka.
Add in the Half and Half.
Stir to combine.
What does one part mean?
Reading the directions below, you will notice the directions state "one part" for amount needed. One part means one equal part. One part is not an exact measurement. It's a relative measurement. That means one-part changes relative to each recipe that calls for it. It can be a teaspoon, an ounce, a cup, or anything else depending on number of cocktails needed, how much you are pouring, etc.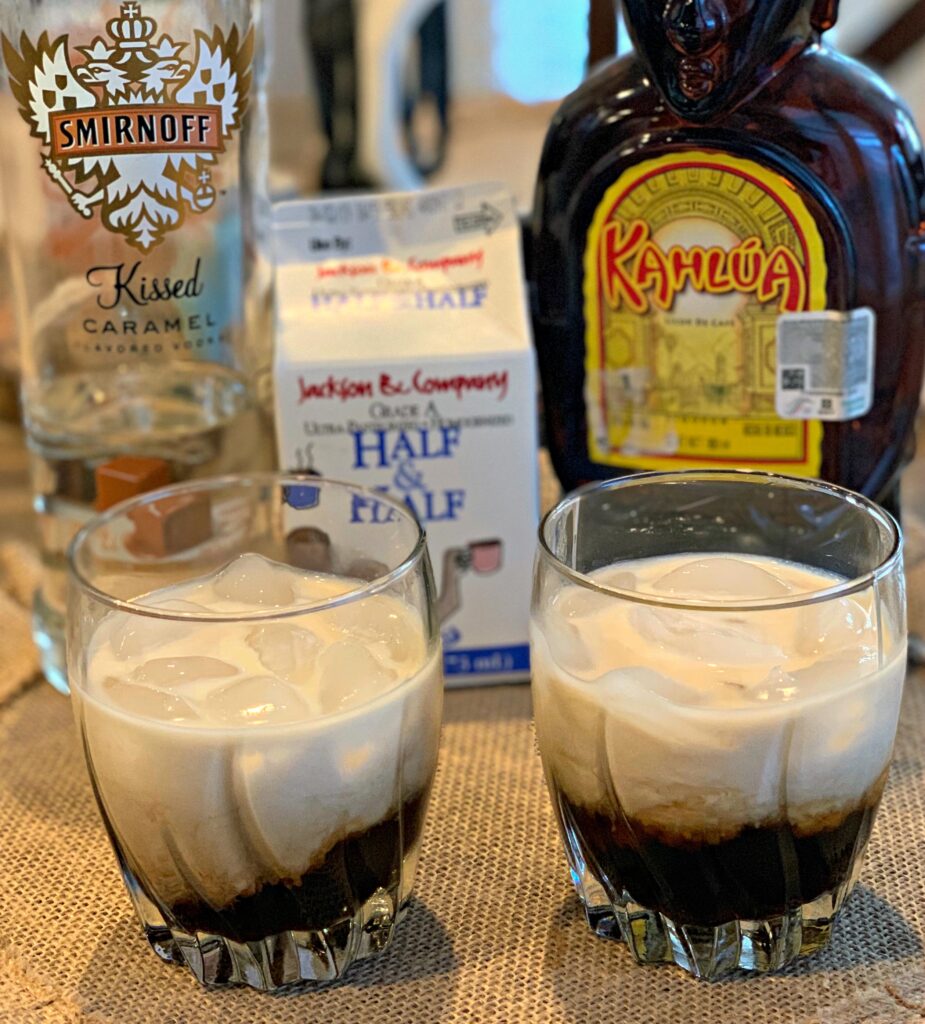 More Cocktail recipes to try:
Classic White Russian Cocktail
Old Fashioned Cocktail Slushies
Follow me on Instagram here and use the hashtag #thecookinchicks so I can see what you're cooking/baking!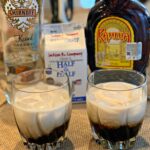 Print Recipe
Simple Caramel White Russians
Take the classic White Russian and kick it up a notch by adding Caramel! This incredible dessert cocktail is gaining popularity for a reason!
Ingredients
2

parts

Kahlua

1

part

Caramel Vodka

1 1/2

parts

Half and Half
Instructions
Pour in the Kahlua and Caramel Vodka.

Add in the Half and Half.