A few months back, I decided to start using my bread machine more. Since then, I have made everything from rolls, to bread, to cinnamon rolls, and more! Recently, I decided to attempt making pizza dough. I have tried my hand at making several types in the past, and all have turned out mediocre. They haven't been "bad", but they certainly weren't a favorite. I was reading a magazine a few weeks back and it talked about using beer in pizza to add an extra boost of flavor. I was quite curious as to how it would taste and let me tell ya, it's amazing!! My hubby and I both went crazy over it and his exact words were "you could make this every week and I wouldn't get tired of it", hehe! Not only did it take me no time to put it together, but my bread machine did most of the work! The beer added a boost of flavor, yet it wasn't too strong. Even my kiddos loved it!! Whether you do "Pizza Friday" or are just in the mood to make a yummy pizza dough, this recipe is a must try! This will make one large pizza, or two personal sized pizzas!!
Ingredients:
1 cup flat beer (I used a dark ale)
2 tbsp butter
2 tbsp sugar
1 tsp salt
2 1/2 cups flour
2 1/4 tsp yeast
Olive oil
Pizza Sauce, Cheese, Toppings of choice
Directions:
In a bread machine pan, pour the flat beer in first.
Add in the butter, sugar, salt, and flour.
Create a small hole in the top of the flour and pour the yeast inside.
Lock bread machine pan into machine and press dough cycle.
Once cycle is completed, remove dough and place into a greased bowl.
Cover and allow to rise until doubled in bulk (about an hour or so).
Roll dough out onto a pizza stone or pan.
Brush lightly with olive oil.
Cover pizza pan and allow to sit for about 15 minutes.
Add sauce and toppings of choice and bake in a preheated oven, 400, for about 25 minutes.
Slice into pieces and serve!!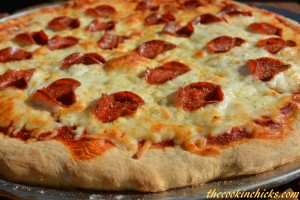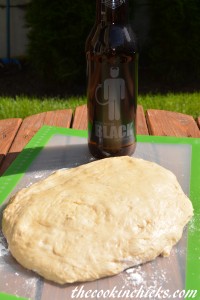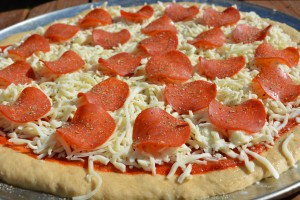 [AdSense-A]