Tis the season for pumpkin everything, right? By now, I have made everything from muffins, to scones, cakes, and even pasta dishes using pumpkin! However, I realized I never shared my go to pumpkin bread recipe. Oops!
This pumpkin bread is incredibly simple, and my kiddos can make it just about all by themselves (they are 8, 7, and 4). I am able to get 4 mini loaves out of one batch, or one big loaf. I typically cut up the pieces and put two slices in a bag for my kids to bring for snack at school.
The bread is moist, has a nice pumpkin spice flavor to it, and is great as a breakfast or snack during the day! It freezes well, and also can make a great gift for a neighbor, coworker, or friend!!
Enjoy!!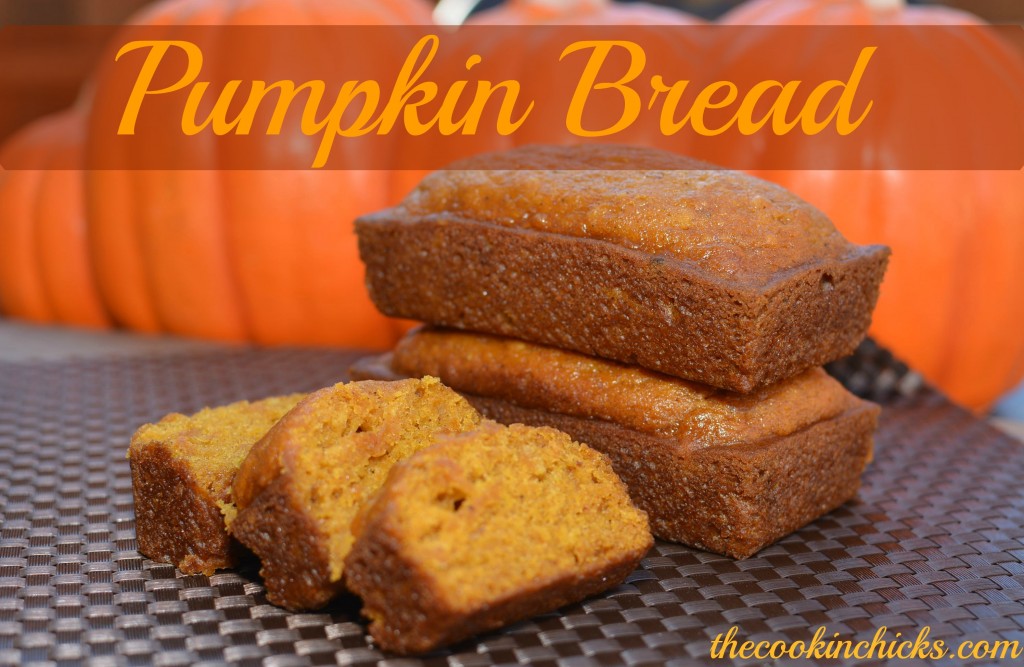 Ingredients:
1 1/3 cup flour
1 tsp baking soda
3/4 tsp salt
1/2 tsp ground cinnamon
1/2 tsp nutmeg
1/2 cup oil
2 eggs
1/3 cup water
1 cup canned pumpkin
1 1/4 cups sugar
Directions:
Preheat oven to 350 and grease a 9 x 5 inch loaf pan, or 4 mini loaf pans.
In a medium bowl, combine the flour, baking soda, salt, cinnamon, and nutmeg.
Pour in the oil, eggs, water, and pumpkin.
Mix well with a spoon.
Add in the sugar and continue to stir.
Pour batter into greased pans, about 1/2- 3/4 full.
Place pans in oven and bake for 1 hour if using large pan, or about 35-40 minutes if using mini pans.
Remove from oven and allow to cool for at least 10 minutes before removing bread and enjoying!!