I have been a fan of monkey bread since I was a little girl. When my mom made it growing up, I would get so excited!!! Once I was married, I never really tried to make it, and would buy the frozen ones from the grocery store. I finally decided to make it for breakfast myself and it was D-E-L-I-C-I-O-U-S!!! Super easy to make, full of flavor, and kid approved!!! My family and I gobbled it up!! Hope you enjoy it as much as we did!
Ingredients:
3 tsp cinnamon
1 cup sugar
1 cup brown sugar
1 cup butter
4 tubes Pillsbury biscuits (small, blue tubes)
Directions:
Melt butter, mix in sugars and cinnamon. Quarter each biscuit and mix in w/ butter/sugar mixture. Pour into a greased bundt or loaf pan. Bake at 350 for about 40 minutes.
*I quartered the biscuits and put them in the bundt pan, pouring the syrup mixture over each "layer" as I filled it up. You can do it anyway you want, : )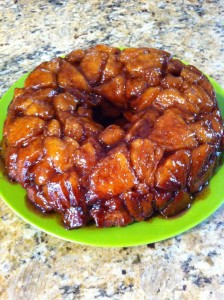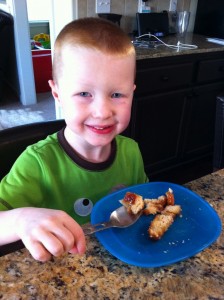 Definitely kid approved, : )