Using only three simple ingredients, I'm going to show you how to make this Rice Krispies Treats recipe in no time. This classic no-bake dessert is everyone's all-time favorite!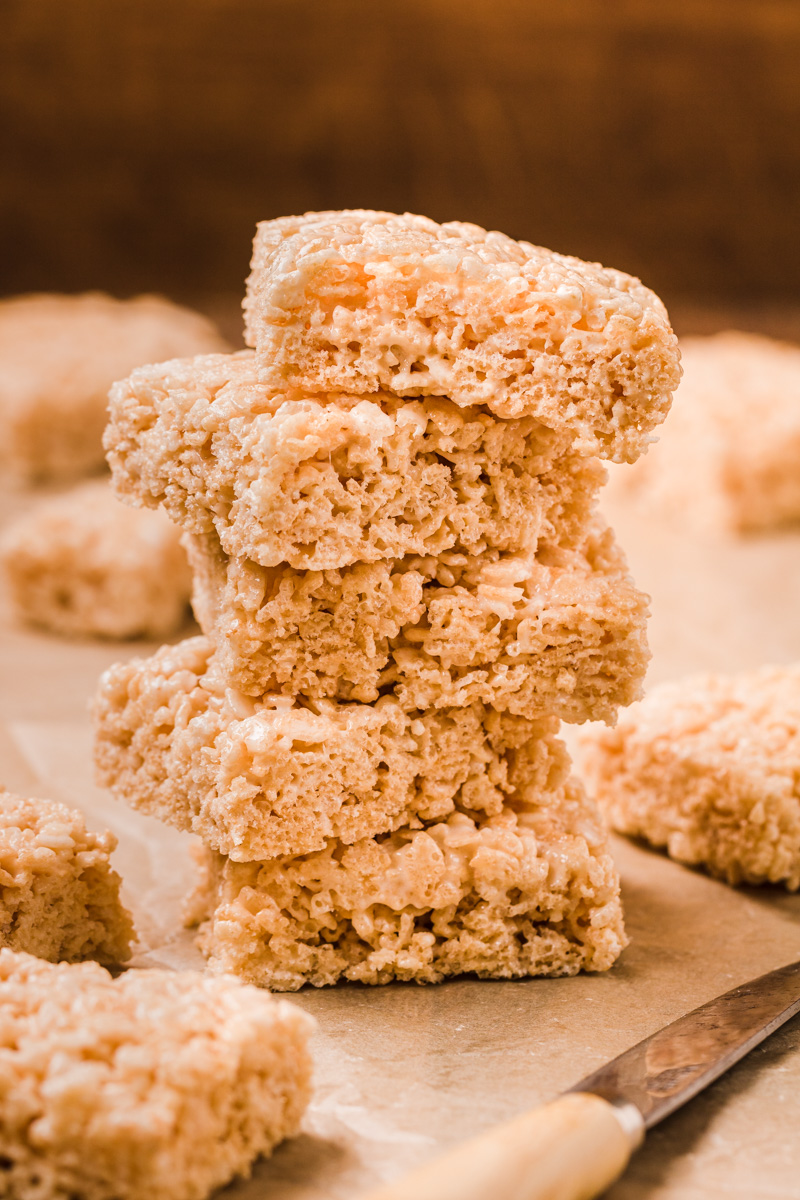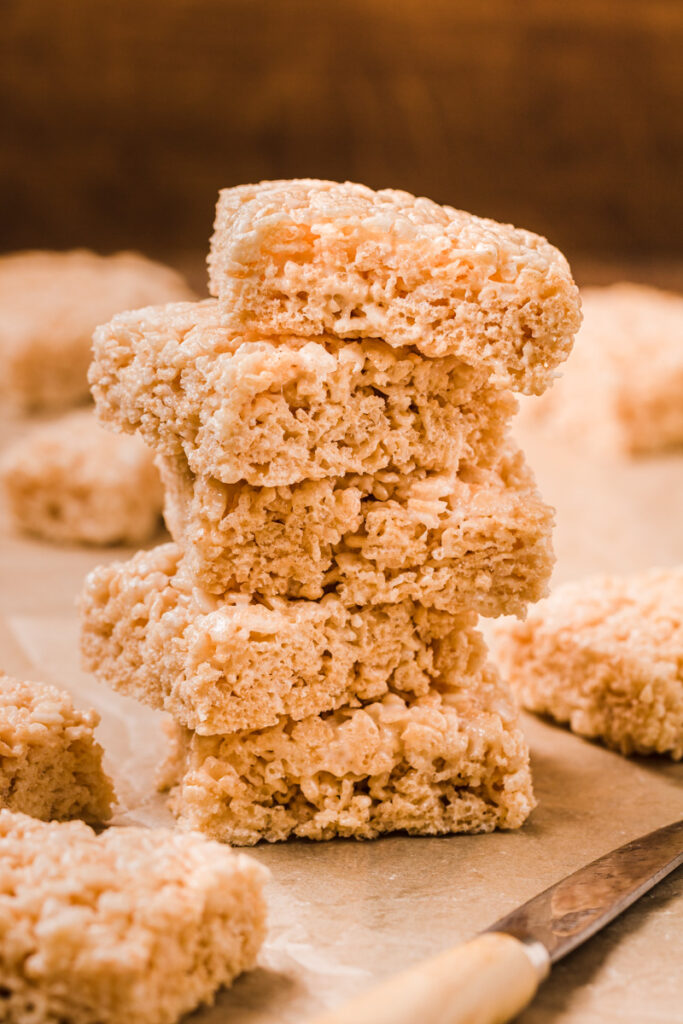 Why this Recipe Is Best
There are so many recipes for making this classic treat, however, I must confess that my recipe is BEST. Why?
Only 3 ingredients
Thick and chewy
Buttery, sweet flavor
Perfect ratio of cereal to marshmallows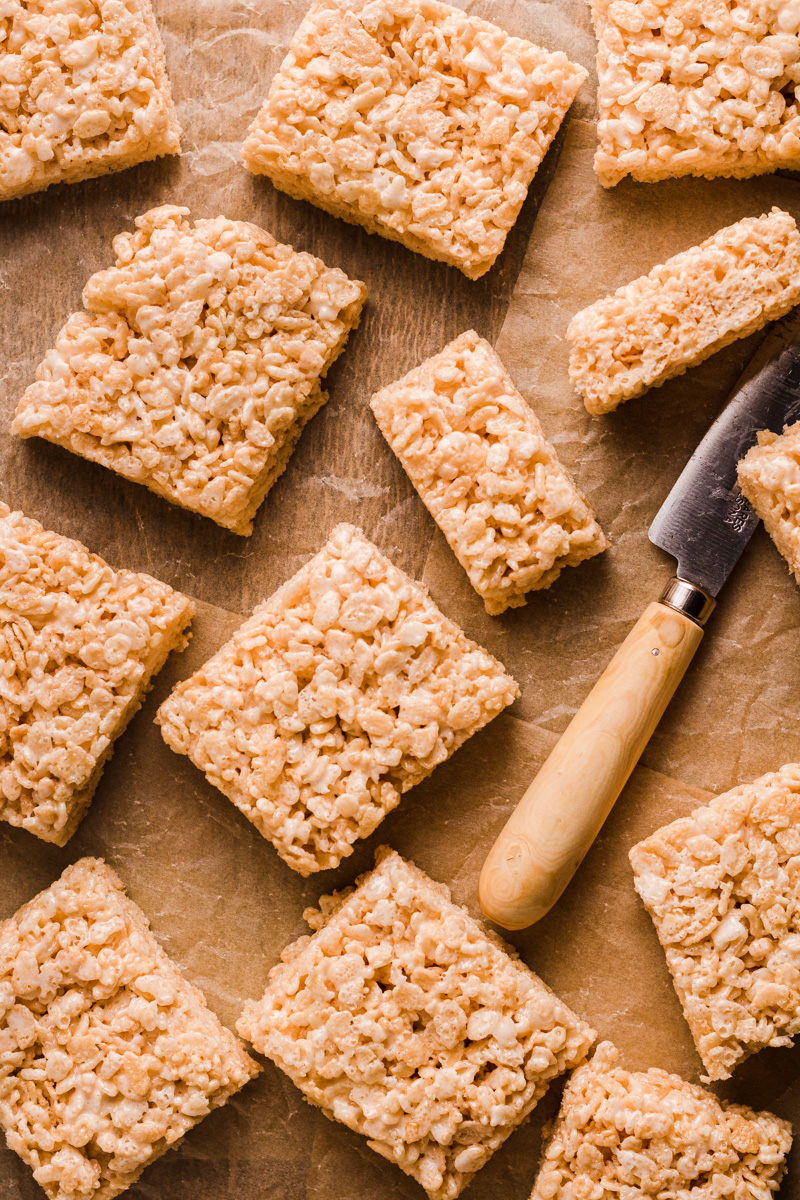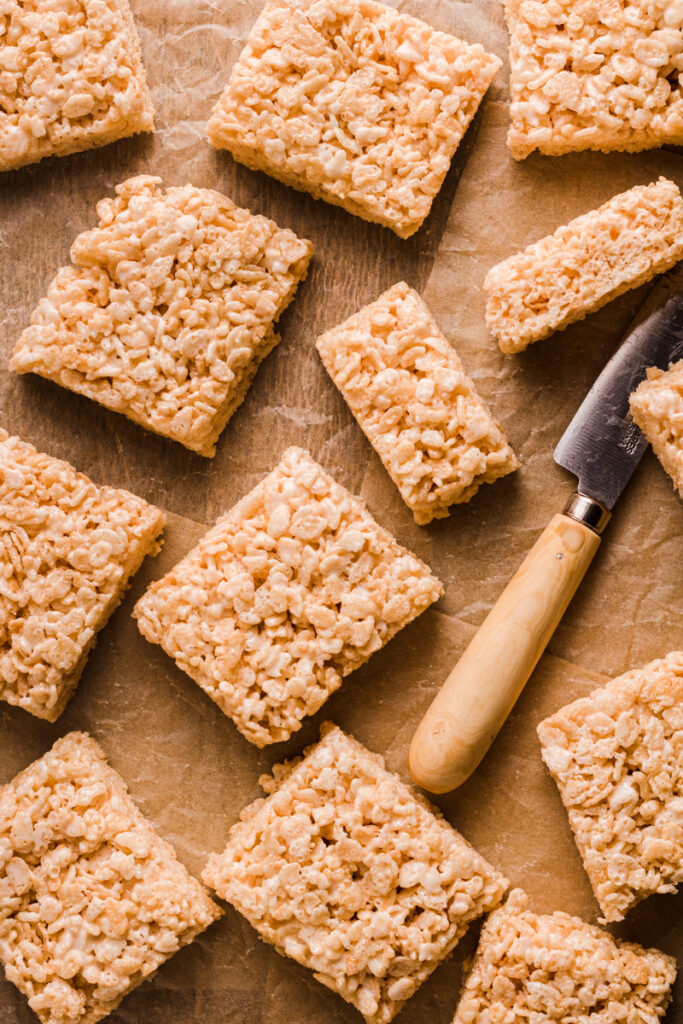 You'll Need Three Ingredients
Three Tablespoons of Butter- use salted butter, make sure you have enough to grease the pan.
Rice Krispies Cereal- any brand works, so feel free to get store brand.
Mini Marshmallows OR Regular Sized Marshmallows- you'll need 4 cups in total
Step by Step Instructions
This basic recipe is a favorite dessert in my house and comes together quickly! Perfect for friends and family anytime, not just special occasions!
In a large pot, melt the salted butter over low heat.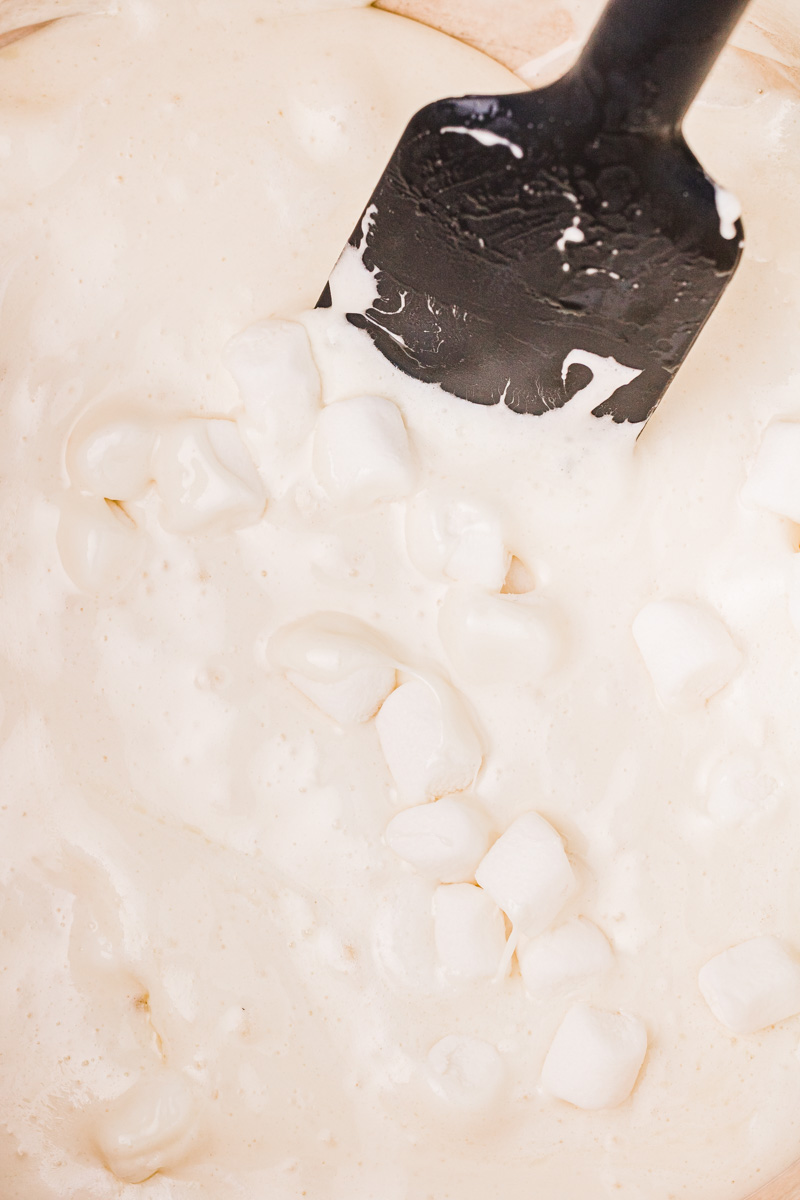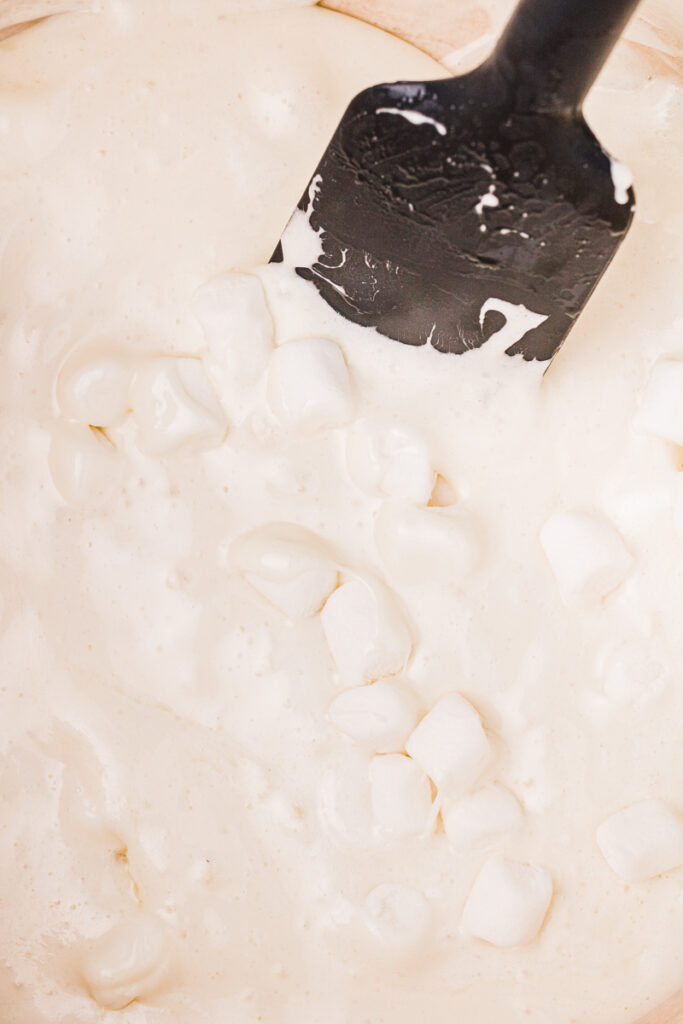 Add in the fresh marshmallows and stir until completely melted.
Remove from heat.
Add in the crispy rice cereal and stir using a rubber spatula until thoroughly coated.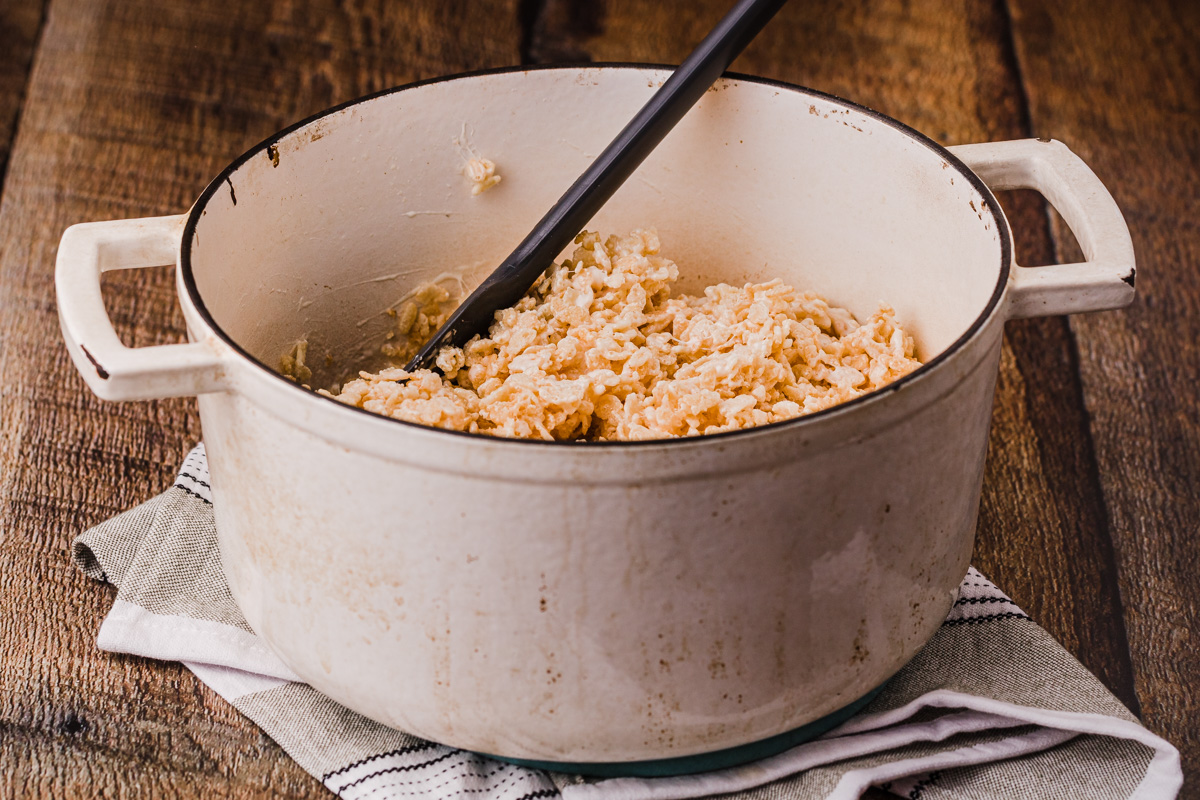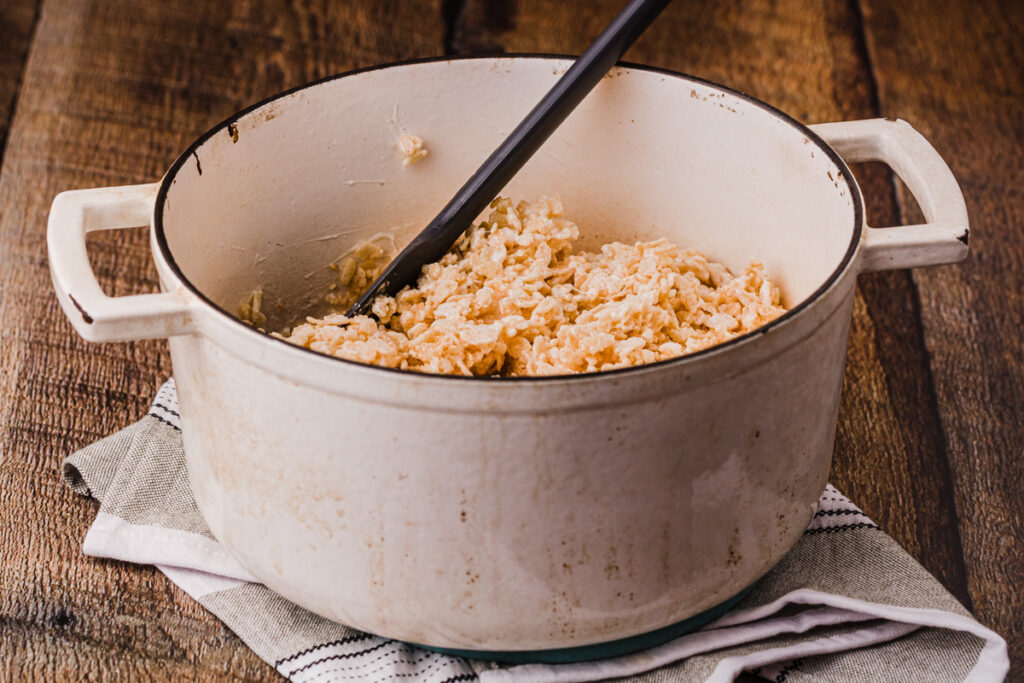 Press mixture evenly into prepared baking dish.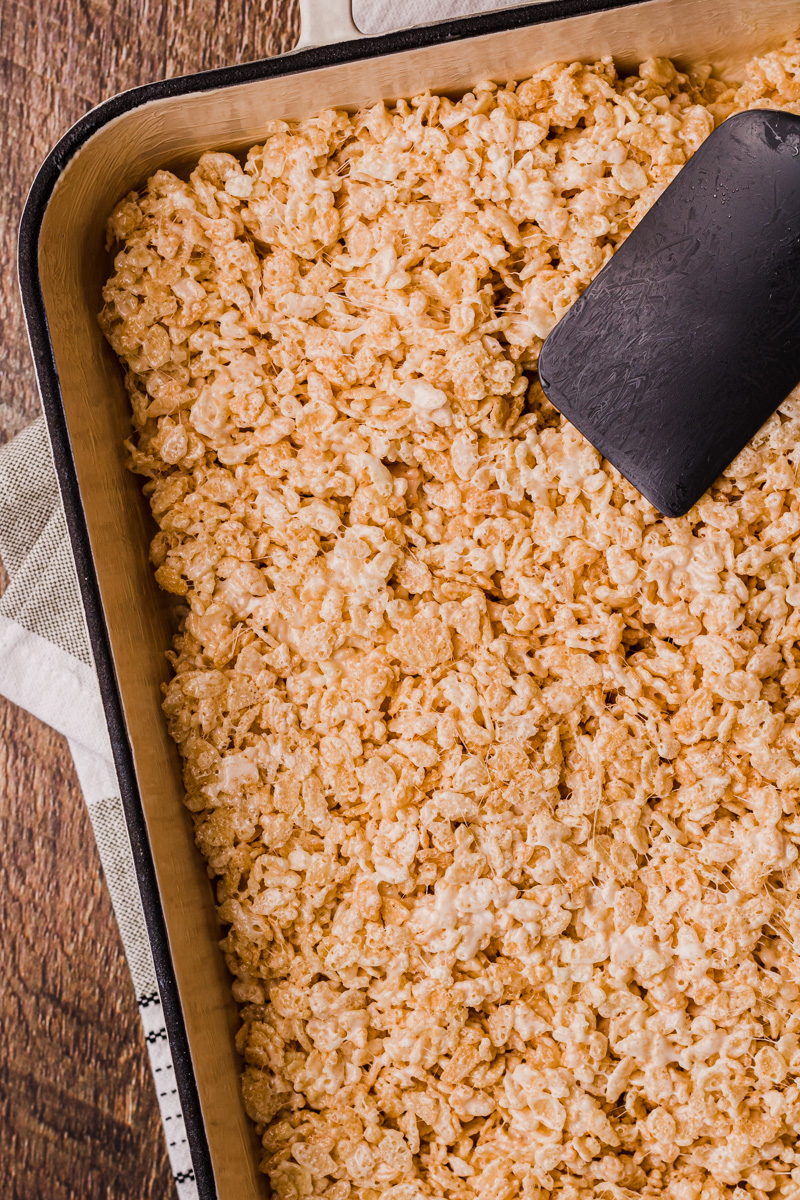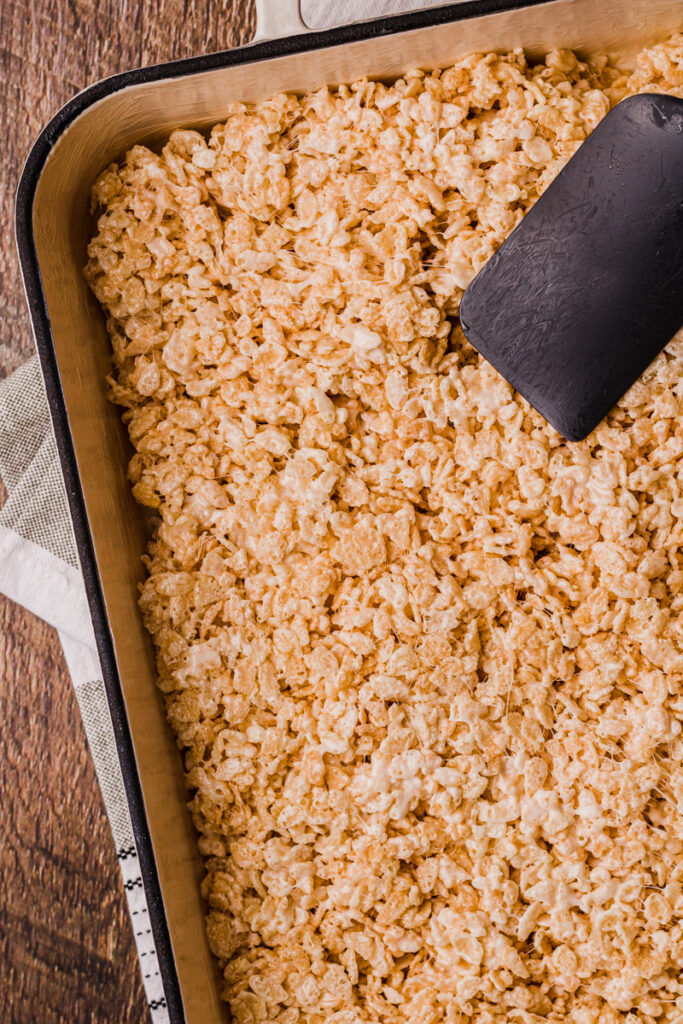 Allow to cool completely and cut into squares.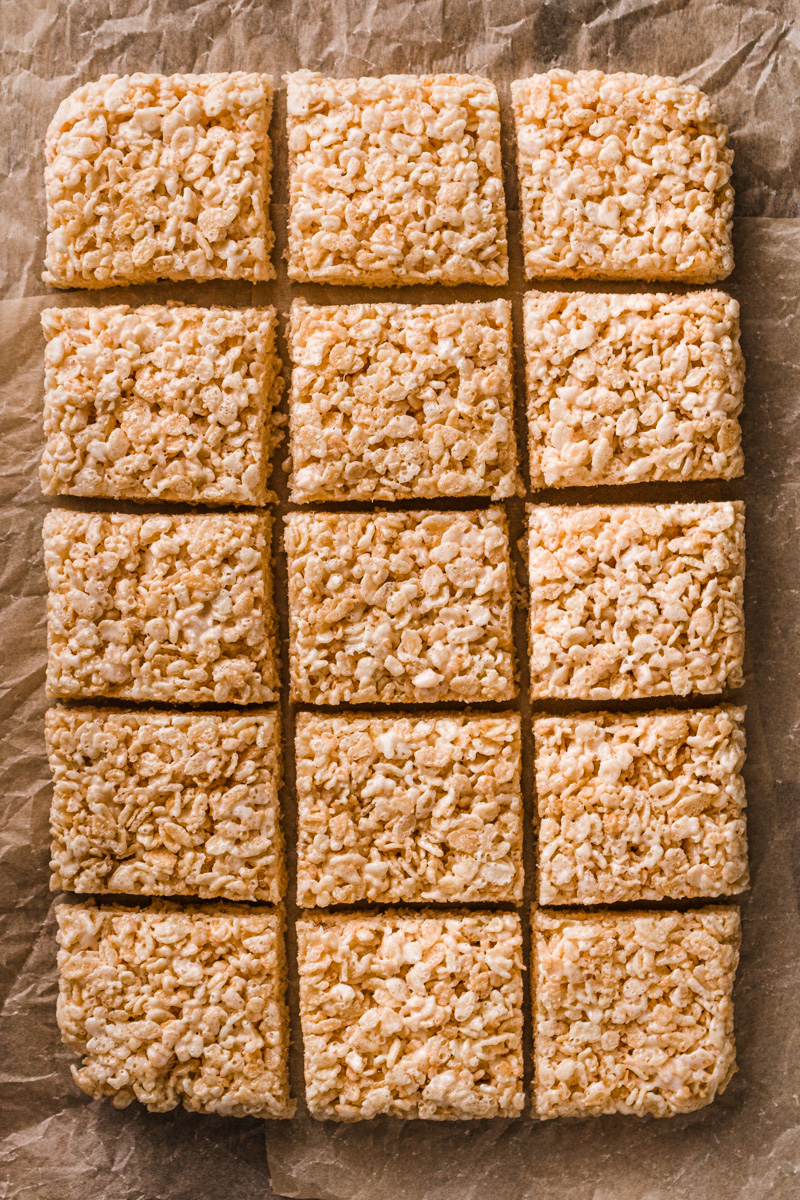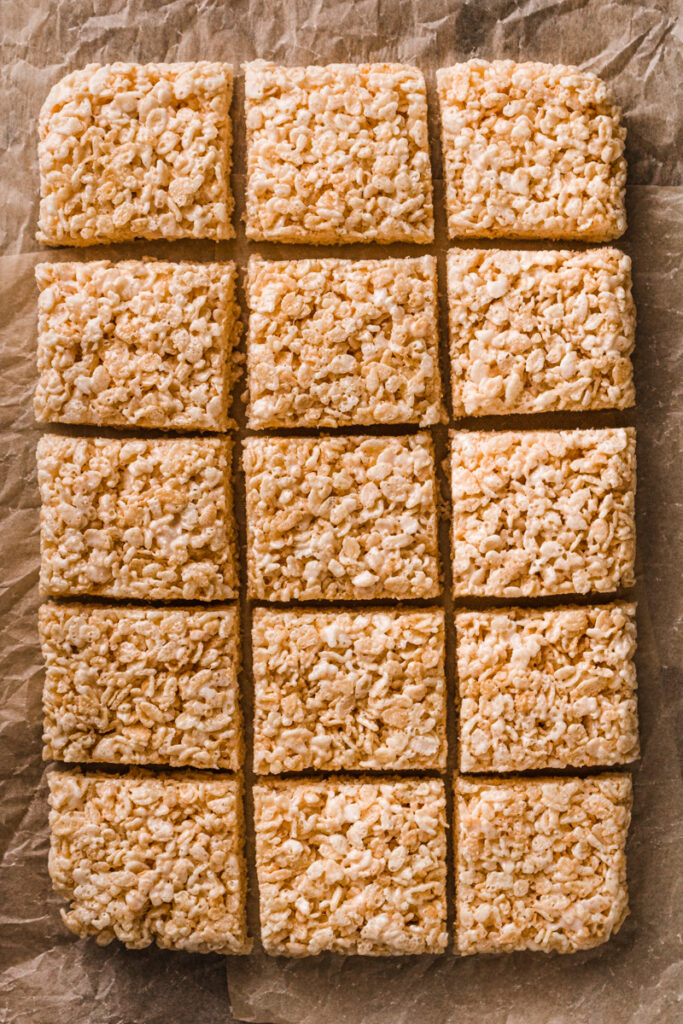 How to make Rice Crispy Treats gooey
Don't overcook the marshmallows. Once they are just melted remove them from the heat immediately. If you continue to cook the marshmallows they will get hard.
Don't over-stir the mixture once you've added the cereal. If you keep stirring you will break a lot of the cereal and it will get dense when packed in the pan.
Make sure you don't press the mixture into the pan too firmly. If you press it down too firmly you will have very compact treats!
Store them properly in an airtight container!
For an added boost of flavor, add in 1 teaspoon vanilla extract when making the melted butter mixture. This REALLY enhances the flavor. Real vanilla versus the imitation though!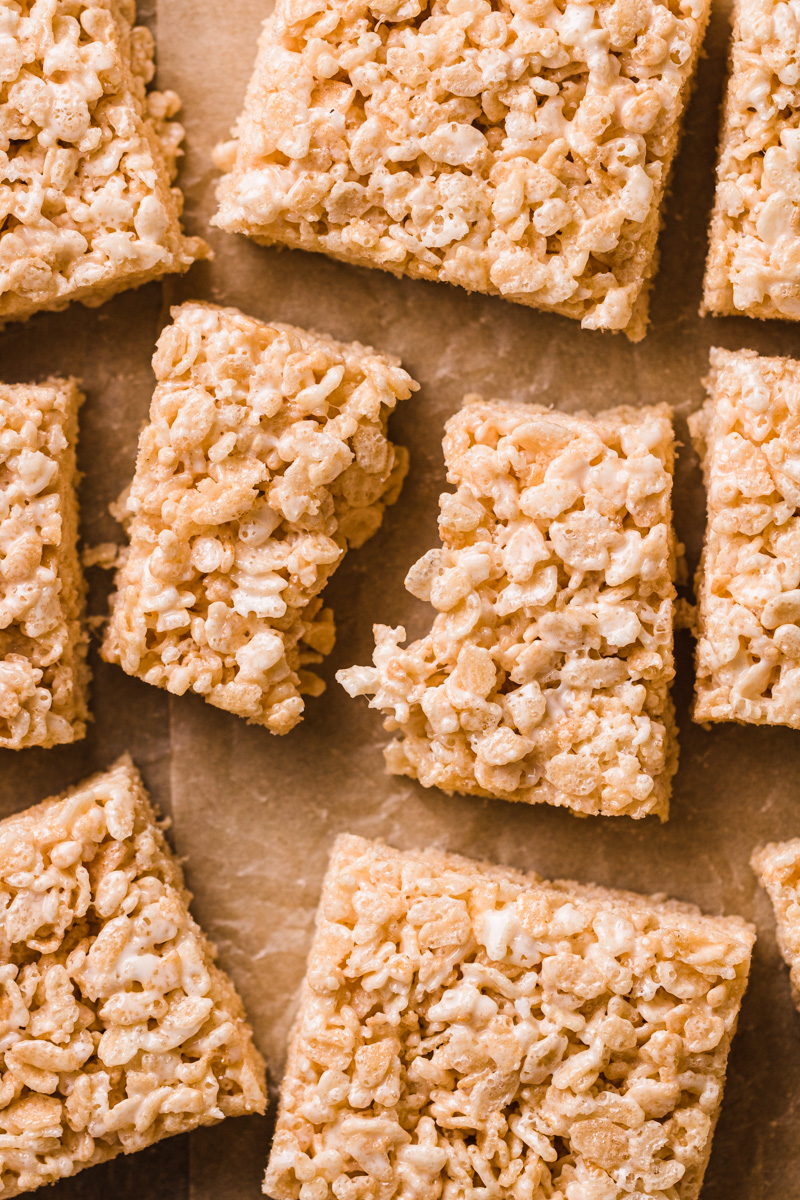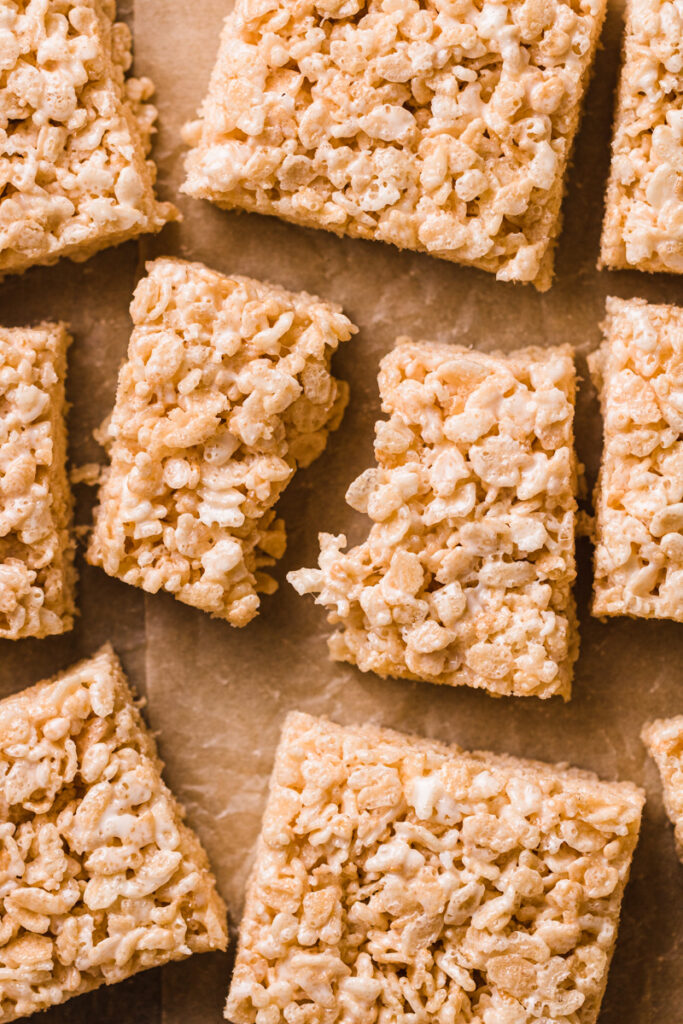 How to store Rice Krispies Treats
These Rice Krispie Treats are always best the same day, BUT they can certainly be enjoyed for up to 3 days if stored in an airtight container.
If you're making them for the next day don't cut them into bars. Cover the pan tightly with plastic wrap, making sure it's air tight and only cut on the day you're serving.
Placing the cut treats onto layers of waxed paper helps keep them from combining into the other cut pieces.
Do Rice Crispy Treats need to be refrigerated?
Do NOT refrigerate these as they will become quite hard.
Once cut, you can store them in a large zip-top bag, or a plastic or glass container that seals airtight! Keeping them airtight is the key to success!
How to freeze Rice Krispie Treats?
Unfortunately, no! Freezing these makes them too hard and chewy. It changes the texture and will not result in a pleasurable experience. Try to enjoy fresh or within a few days.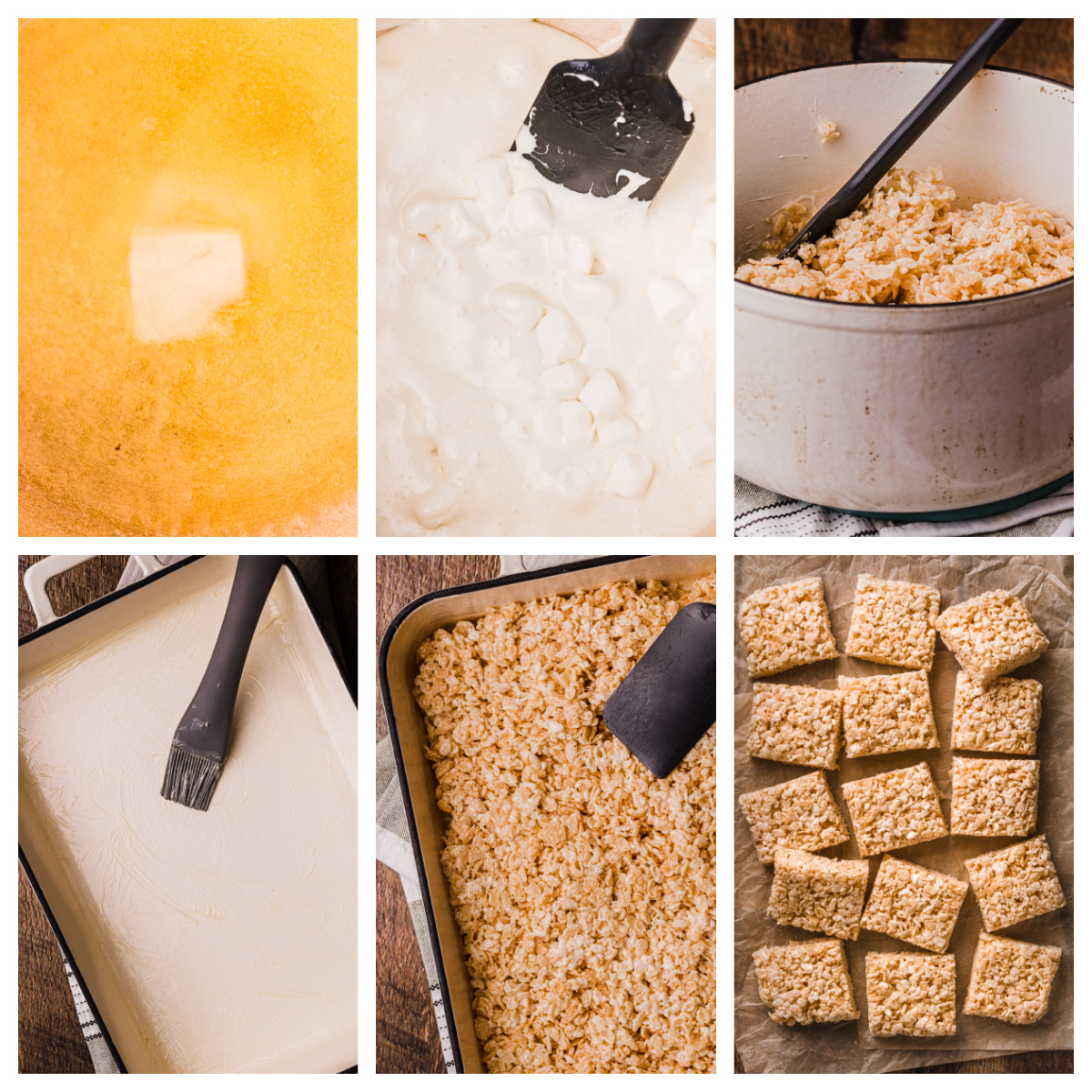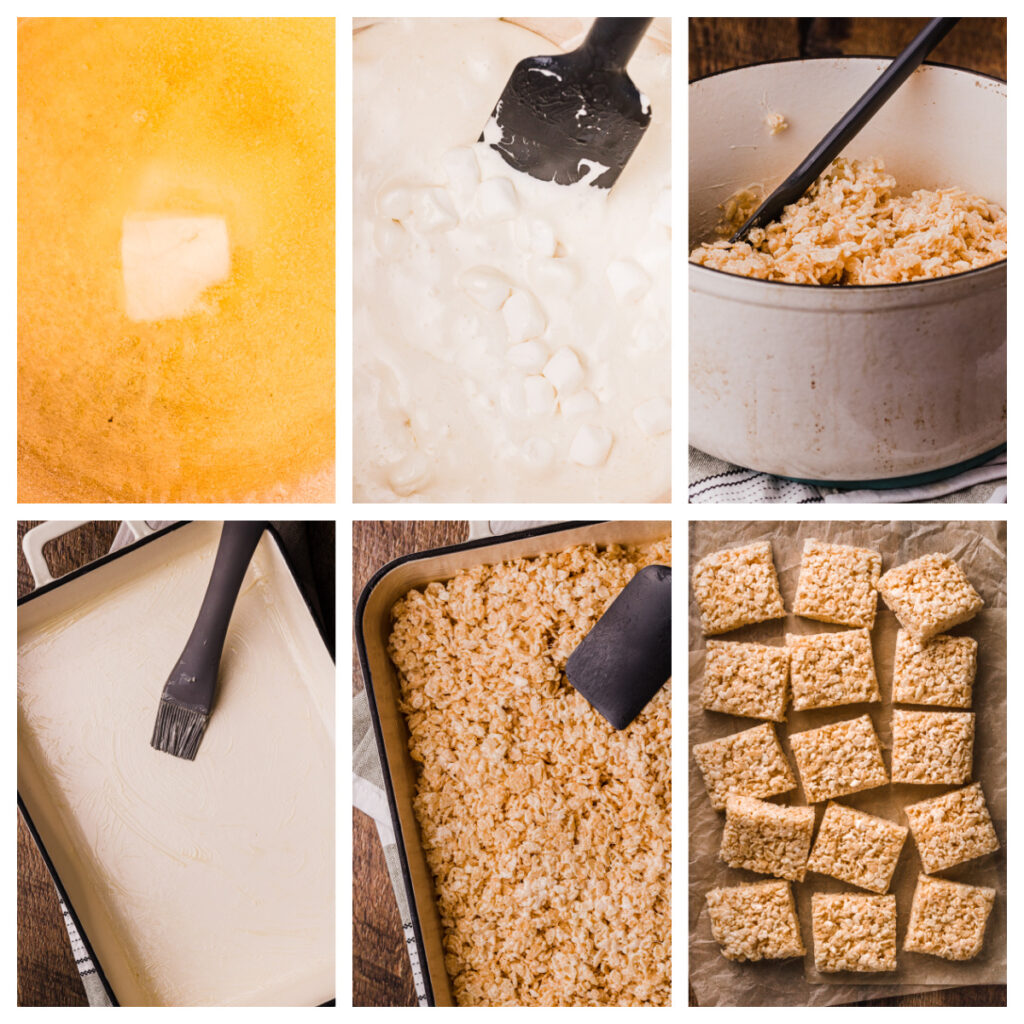 Best Marshmallows for Rice Krispie Treats
I recommend using Kraft Jet-Puffed Marshmallows. They have great texture and flavor. Store-brand marshmallows tend to be stickier. If you use store-brand marshmallows, I recommend adding up to one additional cup of Rice Krispies Cereal and adjusting from there.
You can use a bag of large marshmallows or mini marshmallows, either work great. I tend to prefer mini since I almost always have them on hand, but the choice is yours!
A fun variation is to also try flavored marshmallows. There are several flavors available from S'mores, fruit, lemon, coffee/espresso, chocolate, and more! Pick whichever sounds best to you and give it a try in these treats!
Colored marshmallows add a fun, festiveness to the treats! They can be made to fit specific Holidays, or add color to any occasion!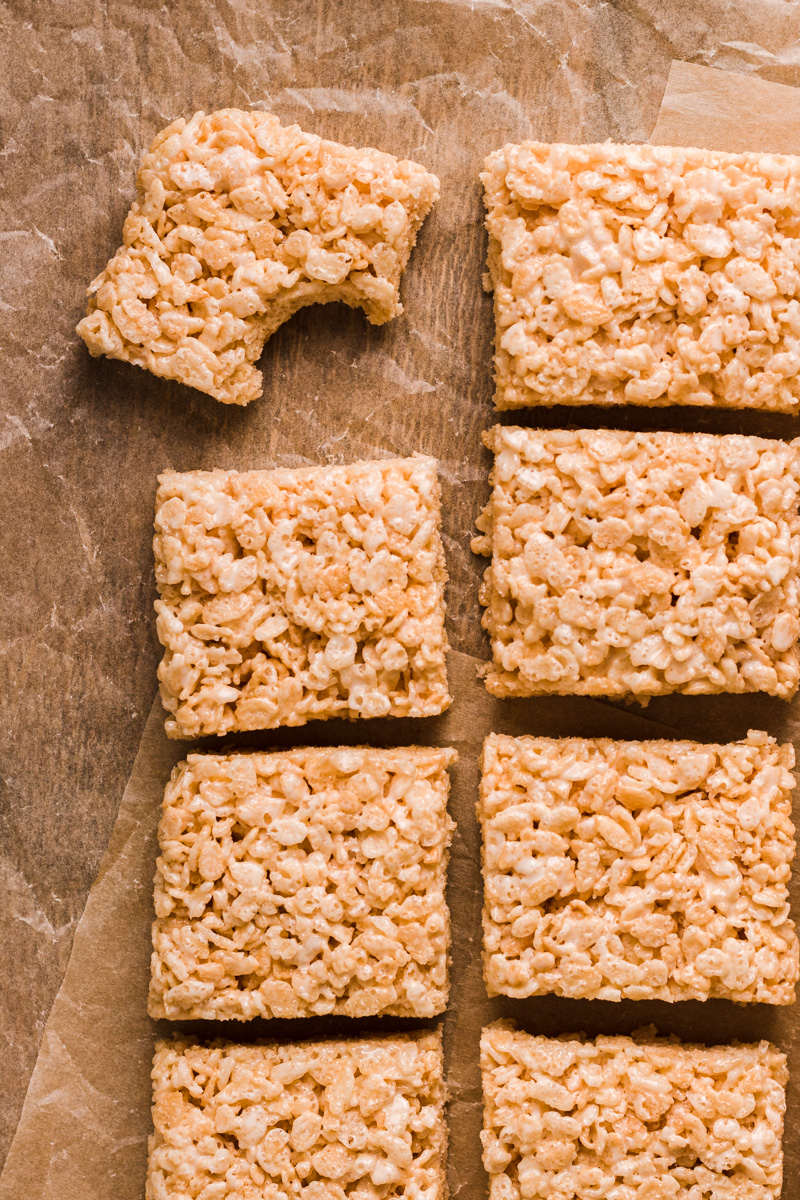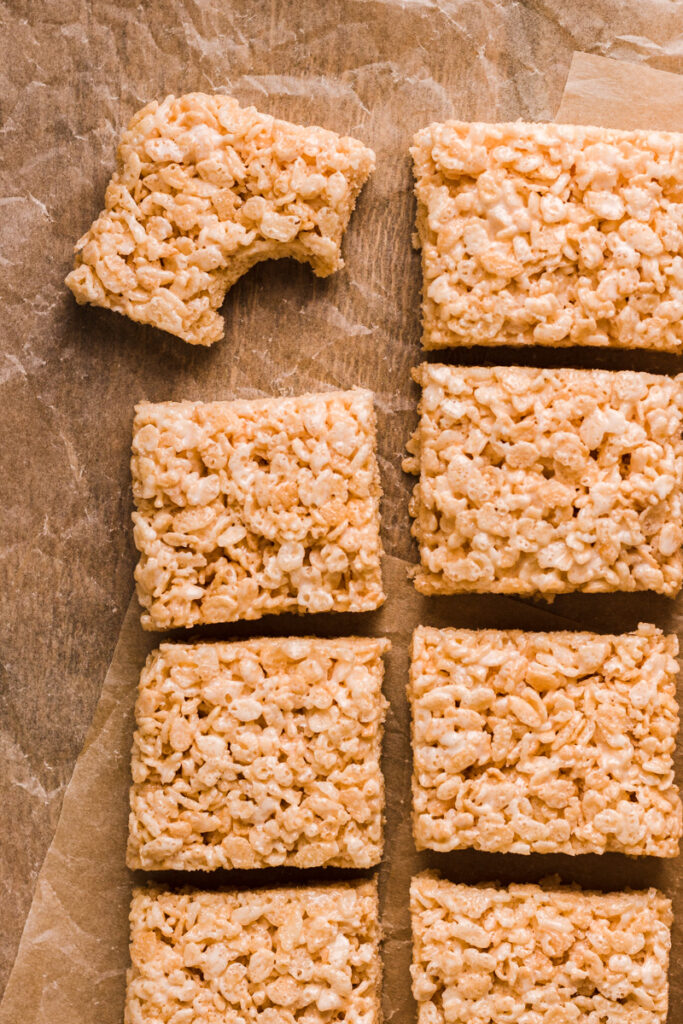 What about Vegan Marshmallows?
Yes! The primary difference between vegan marshmallows and regular marshmallows is the use of gelatin in vegan marshmallows. I tested the recipe using Trader Joe's Vegan Marshmallows and the treats turned out buttery, rice, and ooey gooey! Feel free to swap out regular marshmallows for vegan if desired. Dandie's is another great brand that works great in this recipe as well.
How to make extra chewy Rice Krispie Treats
If you add in a few extra marshmallows, it'll add a bit extra chewiness, which everyone will love!
Be sure not to over mix, stir until just combined and when pressing mixture into prepared pan, be gentle. No need to firmly pack the mixture, keep it light and airy.
Can other cereal be used to make crispy marshmallow treats?
Yes!! In fact, ready to have your mind blown? Instead of using Rice Krispies in your treat recipe, try and of the following substitutions:
Lucky Charms Marshmallow Cereal– such a fun St. Patrick's Day twist
Cocoa Krispies– the chocolate and marshmallow combination is a favorite
Chex– any flavor desired, or keep it original
Kix– try the peanut butter flavor for a great addition
Chex Cereal– any flavor desired
Fruity Pebbles/Fruit Loops– these are a kid favorite since they are colorful, sugary, and add a nice burst of flavor
Even Pretzel Sticks, Wonton Strips, and/or Chow Mein Noodles work great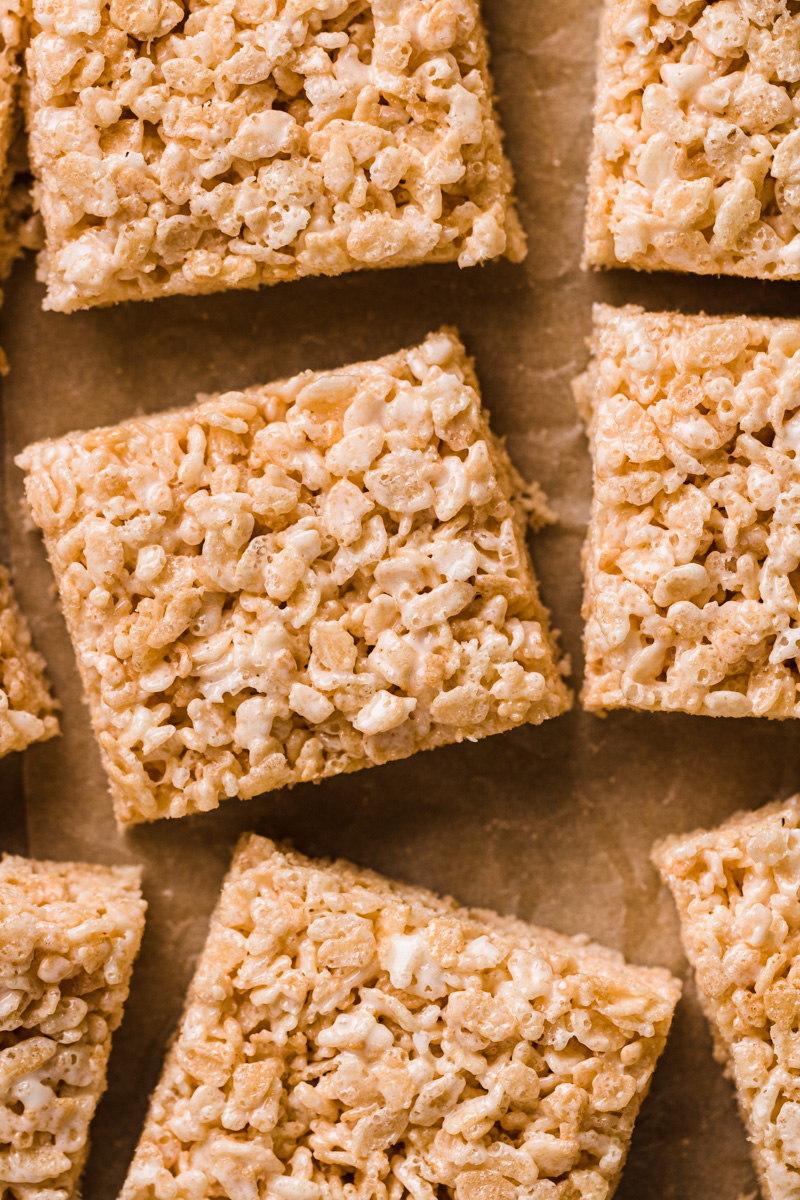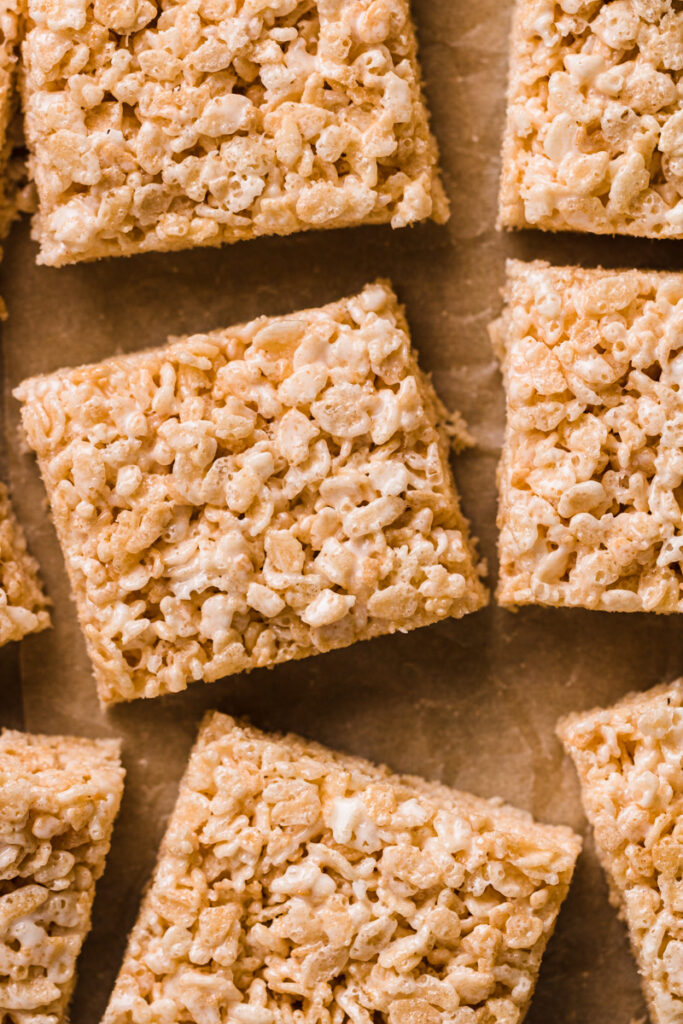 How to make Oreo Rice Krispie Treats
Oreo Rice Krispie Treats- thick and gooey Rice Krispie Treats with Oreo cookies and lots of marshmallows!
Chop up the Oreo cookies. If you need the treats to be gluten-free, you can also use gluten-free Oreos. Follow recipe below, adding in about 2 cups of crushed cookies with the cereal and marshmallow mixture.
What about other candy?
Use about 1 cup of chopped candy and mix this in when you add your cereal! If you are adding in any sort of chocolate candy it might melt a little bit with the heat of the melted marshmallows, no worries as the flavor will still be there. You can even add in some chocolate chips!
How many calories are in Rice Krispie Treats?
Since these are a dessert/snack item, they can't be categorized as healthy. In fact, they are about 100 calories per square. Rice Krispy Cereal is made up of pretty empty calories, not really adding nutritional value. Of course, everything can be enjoyed in moderation.
For a healthier variation, you can use almond butter in place of regular butter, and honey as a sweetener. You can also use unsalted butter in place of the salted butter, it'll help cut down on the sodium.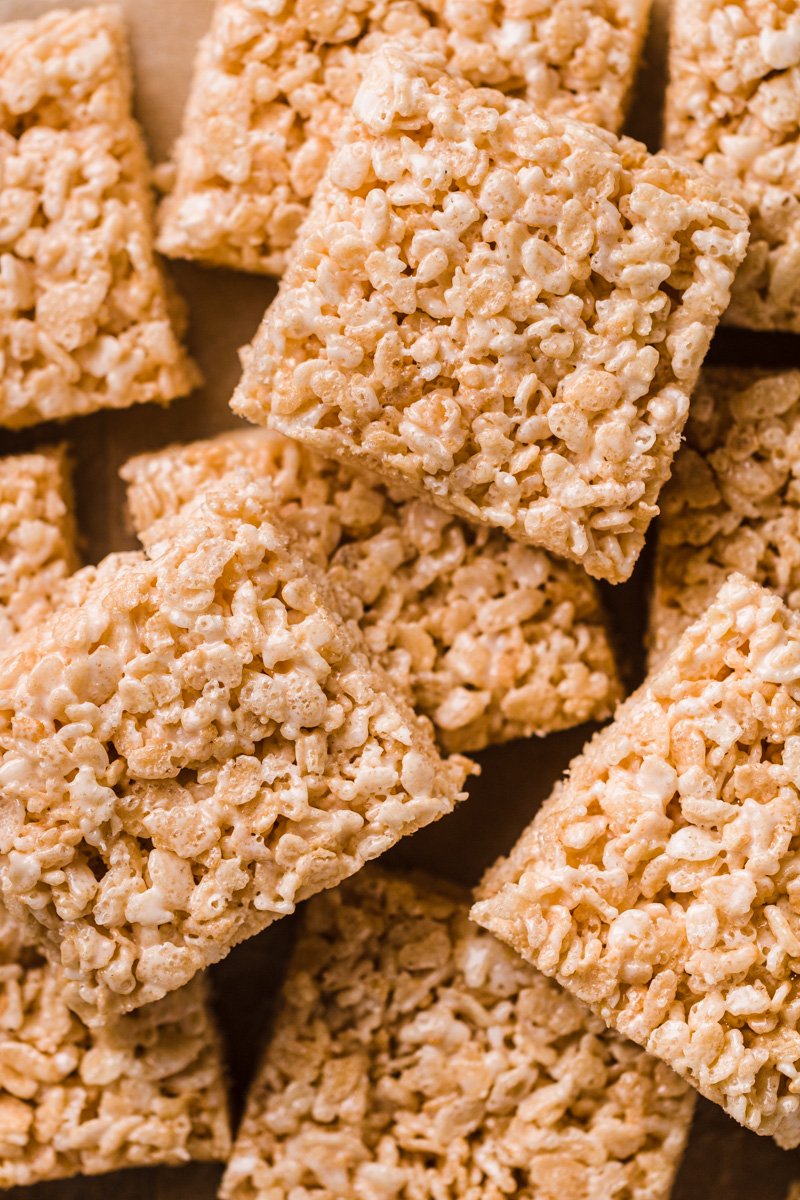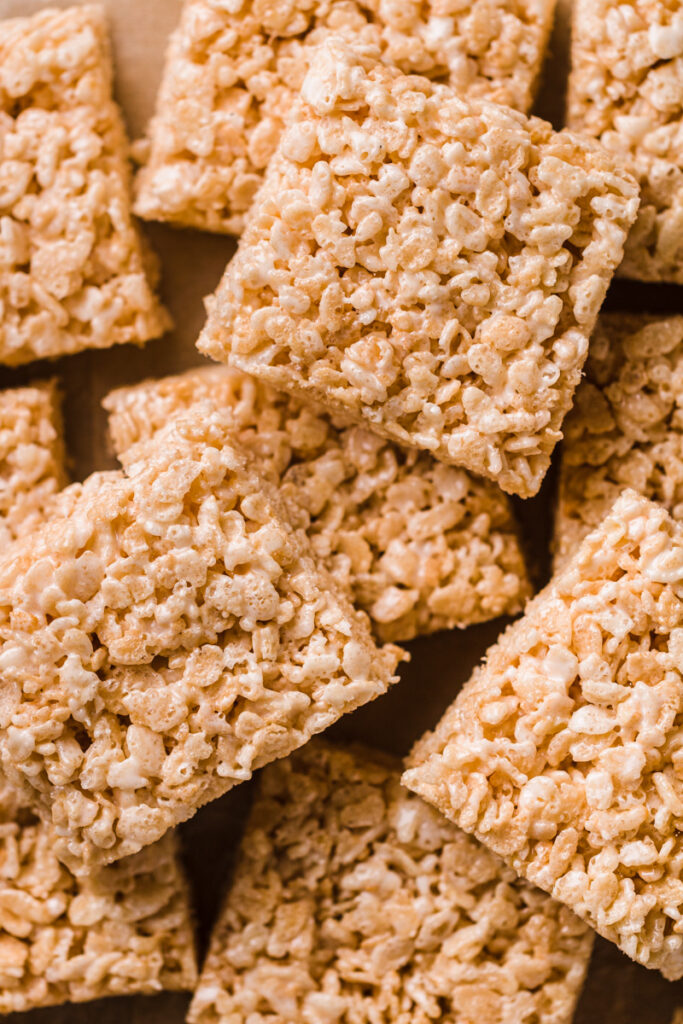 Are Rice Krispies gluten free?
Kellogg's Rice Krispies brand crisp rice cereal is NOT gluten-free, since it's made with malt syrup, which is derived from barley and contains gluten.
Tips and Tricks for Success
Use a pizza cutter or large knife sprayed with cooking spray to cut the treats into desired shapes.

We recommend you allow at least 30 minutes for the marshmallow and butter to cool before cutting your treats. It's best to wait an hour for the treats to cool completely, but we understand sometimes you just have to have one sooner.

Grease your spoon or spatula before combining the melted ingredients with the cereal so the mixture doesn't stick.

Then, use a piece of waxed paper to press the mixture into the pan evenly with your hand so it doesn't adhere to the wooden spoon or spatula.

Make sure you don't add additional butter or the rice krispy treats may end up rubbery.
More Easy Dessert Recipes
Chocolate Peanut Butter Rice Krispy Cups– if you love this Rice Krispie Treat Recipe, these Chocolate Peanut Butter Cups offer a tasty variation
Fourth of July Rice Krispies Treats– using my simple methods for how to make rice krispies treats, you can change it up to be red, white, and blue!
Lucky Charm Cereal Bars– using Lucky Charms, these festive cereal bars are a fun twist on the Rice Crispy Treats recipe
Inside Out S'mores Brownies– if you've made Simple Rice Krispies Treats and want another tasty dessert, these brownies are just the thing to make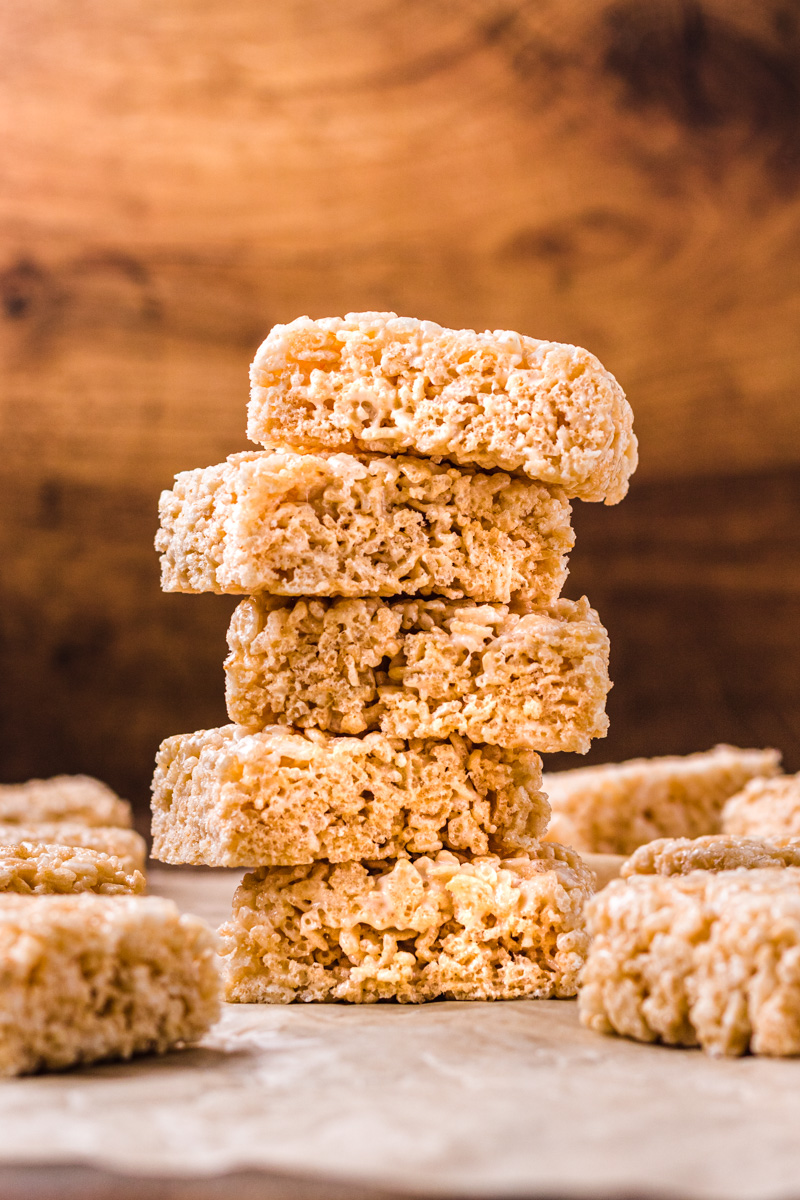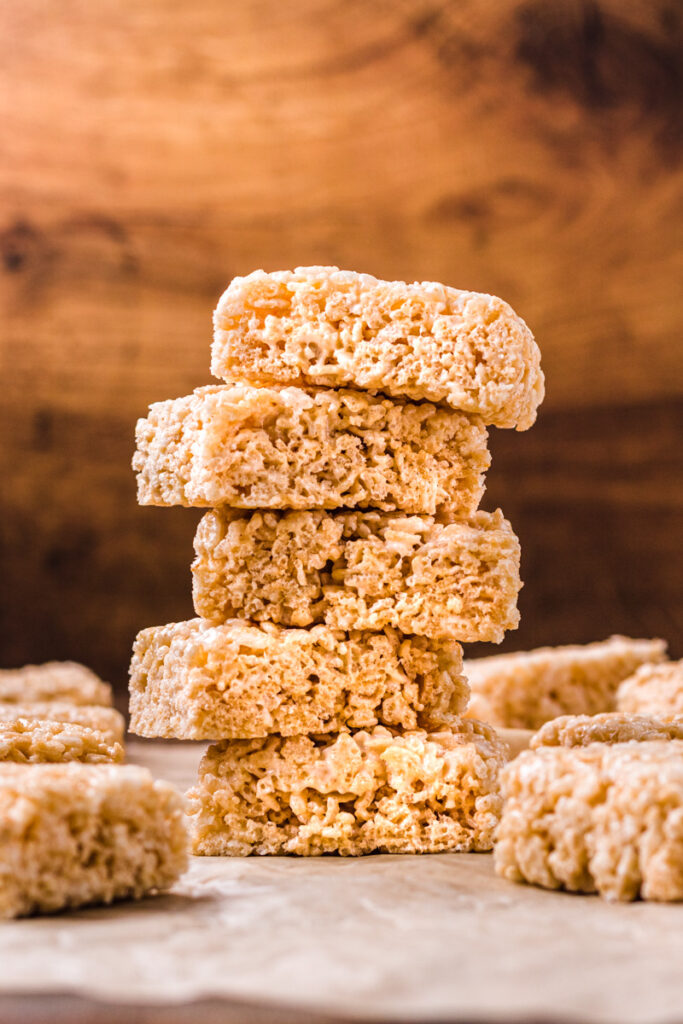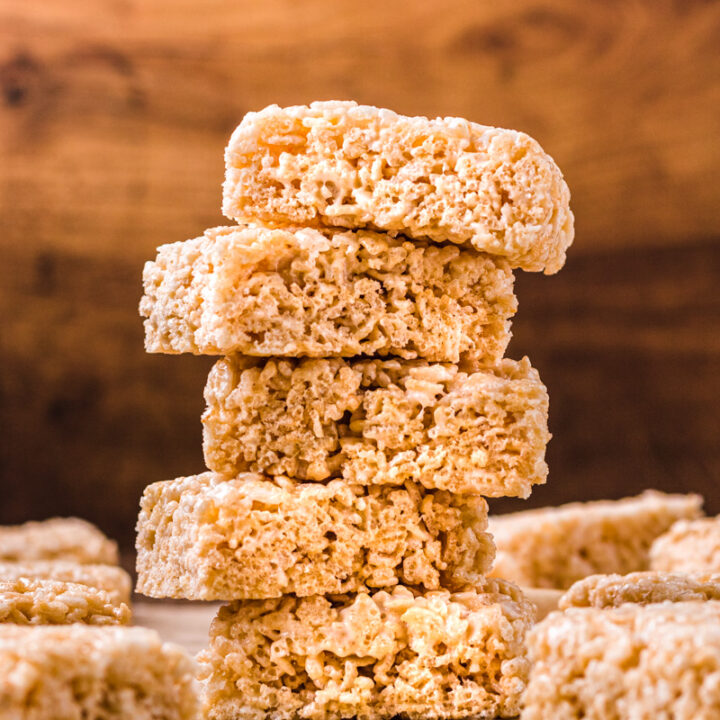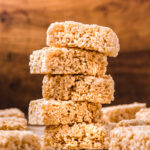 Print Recipe
Rice Krispie Treats Recipe
Using only three simple ingredients, I'm going to show you how to make this Rice Krispies Treats recipe in no time. This classic no-bake dessert is everyone's all-time favorite!
Ingredients
3

tablespoon

butter

*salted

6

cups

Rice Krispy Cereal

4

cups

mini marshmallows

*or 10 oz regular marshmallows
Instructions
In a large saucepan, melt the butter over low heat.

Add in the marshmallows and stir until completely melted.

Add in the rice krispies cereal and stir until thoroughly coated.

Press mixture evenly into a greased 9 x 13 baking pan.
Nutrition
Calories:
99
kcal
|
Carbohydrates:
19
g
|
Protein:
1
g
|
Fat:
2
g
|
Saturated Fat:
1
g
|
Polyunsaturated Fat:
1
g
|
Monounsaturated Fat:
1
g
|
Trans Fat:
1
g
|
Cholesterol:
6
mg
|
Sodium:
84
mg
|
Potassium:
14
mg
|
Fiber:
1
g
|
Sugar:
8
g
|
Vitamin A:
764
IU
|
Vitamin C:
7
mg
|
Calcium:
2
mg
|
Iron:
3
mg
Recipe updated 10/10/22