Oh boy! I don't know about you, but my Pinterest board has been LOADED with poke cakes lately. Any time I browse, I come across chocolate cakes, Boston cream, tiramisu, etc. All of them look so yummy and like something my family would love.
I decided last Friday to get to work on a new dessert. Since I already had boxed chocolate cake mix on hand (don't judge, sometimes a Cookin' Chick gets tired and needs a shortcut, hehe), along with some mini marshmallows, I decided to go the "'s'mores" cake route. Not only was this incredibly simple to make (my youngest kiddo helped me), but it was definitely a hit! This recipe makes a 9 x 13 pan worth of cake, so plenty to share!!
When you need a good dessert and don't have a lot of time…..definitely make this! A crowd winner for sure!! Plus….s'mores just scream summer, right?!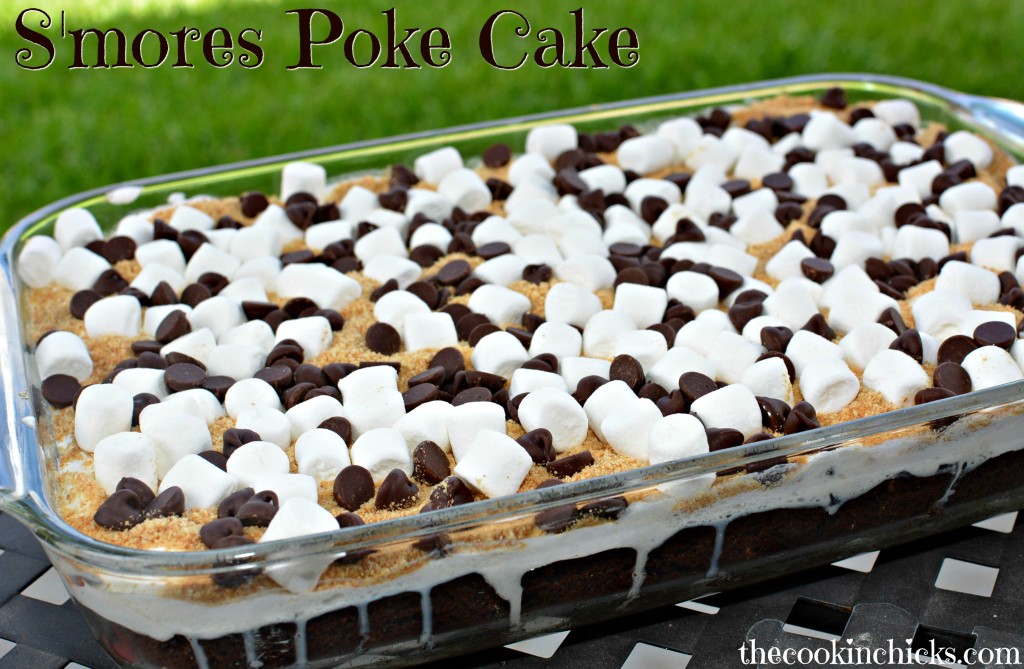 Ingredients:
1 box chocolate cake mix *enough for 9 x 13 baking pan
3 eggs
1/3 cup vegetable oil
7 oz. marshmallow fluff (found in baking aisle)
12 oz. cool whip, thawed
2 cups crushed graham crackers
1 cup mini marshmallows
1 cup chocolate chips (any kind works)
Directions:
Grease a 9 x 13 baking pan and preheat oven to 350.
In a mixing bowl, combine the cake mix, eggs, and oil.
Mix well and pour cake batter into prepared pan.
Bake in oven for about 30-35 minutes, or until cooked through.
Remove from oven and using a wooden spoon, poke several holes into the cake.
In a microwave, heat the fluff until easy to stir.
Pour fluff over cake evenly and spread so it goes into poked holes.
Spread cool whip over fluff as evenly as you can.
Sprinkle crushed graham crackers, mini marshmallows, and chocolate chips over cool whip.
Place cake in refrigerator until ready to serve!
Enjoy!!!