Tonights dinner was probably one of the easiest dinners in a slow cooker you can make. There are so many variations to it, so its fun and can be different each time you make it. I didnt have a ton of variety to mine tonight, but it was still quite the delicious taco!!
Ingredients:
1 lb boneless, skinless chicken breast (frozen or thawed)
1-2 packets taco seasoning (I use one mild, 1/2 of one hot)
1/2 cup salsa
1/4 cup water
Tortillas
Cheese (optional)
Sour Cream (optional)
Onion (optional)
Directions:
In your slow cooker, either place a liner or spray the bottom. Place chicken in slow cooker, add remaining ingredients on top. Cook on low 7-8 hours, high 3-4. Once chicken is cooked, shred chicken with two forks. Place shredded chicken on a tortilla with desired toppings. Serve!
**To make southern style tacos, you can add in one can of black beans and one can of mexicorn prior to cooking chicken!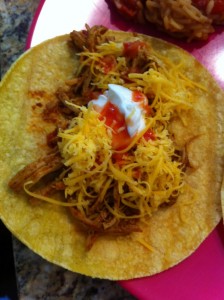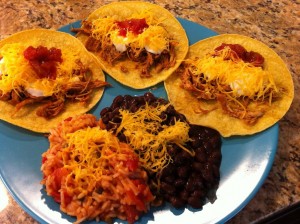 I served mine with black beans and spanish rice!