Cake for breakfast? Heck yeah!!
This cake is moist, not overly sweet, bursting with blueberries, and the cinnamon topping is amazing!!
Last weekend, my hubby woke up early on Saturday and decided to make the family a tasty new treat! Since we always have blueberries on hand, he decided to make this cake to use some up! The kids and I woke up to the smell of the cinnamon/blueberry combination and paired with my morning coffee, I was one happy mom!
The whole family enjoyed it over the weekend and my hubby even had some during the work week!
Perfect for breakfast, snacks, evening treats, or when having company over, this is our new favorite cake!!
Enjoy!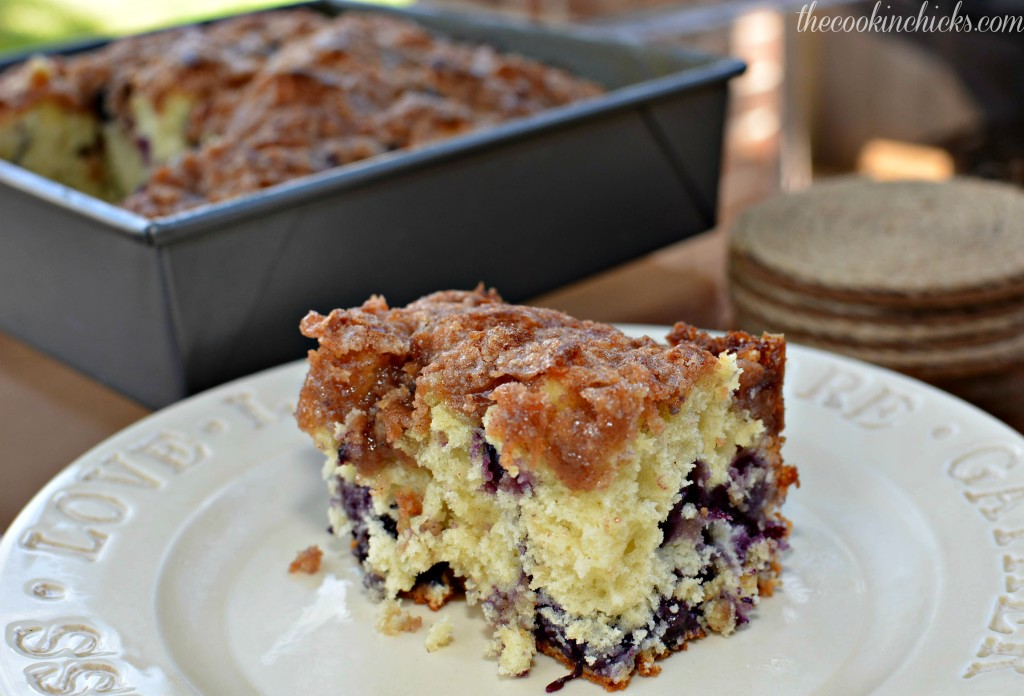 Ingredients:
2 cups flour
2 1/2 tsp baking powder
1/4 cup butter, softened
1 egg
3/4 cup sugar
3/4 tsp salt
3/4 cup milk
2 cups blueberries
Topping
1/2 cup sugar
1/3 cup flour
1 tsp ground cinnamon
1/4 cup butter, softened
Directions:
In a medium bowl, add the flour, baking powder, butter, egg, sugar, salt, and milk. Mix well.
Once combined, gently fold in the blueberries.
Grease an 8 inch baking pan.
Pour blueberry batter into pan and spread evenly.
In a small bowl, combine the sugar, flour, cinnamon, and butter using a fork until crumbly.
Sprinkle mixture on top of batter evenly.
Place pan in preheated oven, 375, and bake for about 45 minutes.
Remove from oven once baked through and allow to cool 5 minutes before slicing!
Recipe adapted from: Your Party Tuned Up