Each weekend, my hubby makes breakfast for the family. Sometimes its baked donuts, coffee cake, muffins, or a yummy bread. Two weeks ago, he made this cake and unfortunately it ended up being a flop. He and my youngest son whipped it up and stuck it in the oven. He ended up having to do something in the garage and asked me to check on the cake. When I turned the light on in the oven, the cake was oozing over the sides making a huge mess, and the cake that was supposed to be done in a few short minutes, was still quite undercooked and not looking quite right. When I told my hubby, he back tracked through everything he had put into the cake and realized he had accidentally used baking soda instead of baking powder, haha!! Needless to say, that gave us a big laugh!!
Since he was bound and determined to make the cake, the next weekend, he set out whipping this up again….only using baking powder instead of soda, LOL! The cake was AMAZING!!!!!! Seriously, we described this as "banana bread on steroids". I was definitely happy he attempted this again because it was definitely worth it. The cake was moist, full of banana flavor, and the crumb topping made this delicious!
This would be the perfect breakfast cake for when people are staying over, or if you have a morning get together. You could even serve this in the evening with a cup of coffee!!
Enjoy~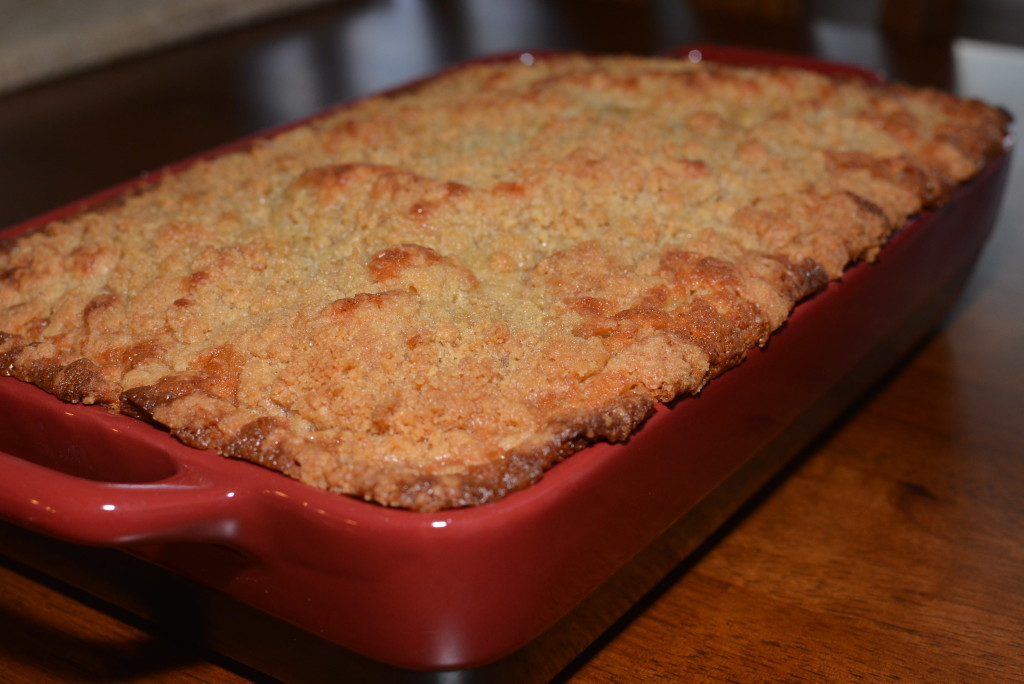 Ingredients:
2 cups flour
3 tsp baking powder
1 tsp salt
3 bananas
1/2 cup butter, softened
1 1/2 cups sugar
2 eggs
1 tsp vanilla extract
1 cup milk
1 cup cold butter, cubed
2 cups light brown sugar
2 cups flour
Directions:
Spray a 9 x 13 baking pan with cooking spray and preheat oven to 350.
In a medium bowl, combine the flour, baking powder, and salt. Set aside.
In a large bowl, mash the bananas until they become liquefied.
Mix in the butter until combined and stir in the sugar, eggs, and vanilla.
Stir in the flour mixture and milk.
In a separate bowl, combine the cold butter, light brown sugar, and flour.
Cut them together using two forks or a pastry blender until coarse crumbles form.
Pour half the cake batter into the greased pan followed by 1/2 the crumb topping.
Pour remaining batter on top of crumb topping, ended with remaining topping.
Place pan in oven and bake for 55 minutes, or until center is set.
Remove from oven and allow to cool for about 10 minutes before serving!