This Strawberry Coffee Cake is a winner!  Combining fresh strawberries and crumb topping in this coffee cake, this recipe is sure to please!  We make this on a Saturday morning as a breakfast item we can enjoy all weekend, but it also makes a great mid-afternoon snack with a cup of coffee or tea!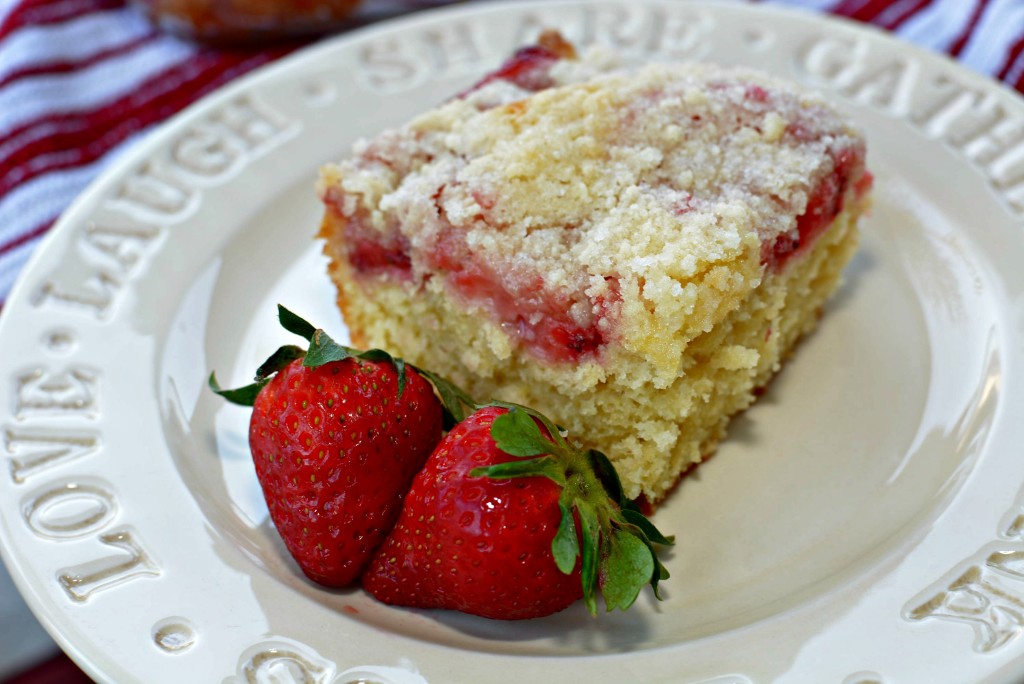 I'm a big fan of anything strawberry.  I love strawberry milkshakes, and strawberry margaritas.  I love a good strawberry shortcake, as the combination of sweetened strawberries and light fluffy pound cake is to die for!  However, this Strawberry Coffee Cake might be my favorite.  It combines a fluffy, buttery sweet coffee cake with freshly picked strawberries and a crispy crumb topping.  This coffee cake is so good, you might even think it's from a bakery!
This fresh and fun Strawberry Coffee Cake will be an instant hit!
Living in Seattle was a great experience.  If you've seen any of my other recipes from that era in my life, you'd see recipes created from freshly picked or grown fruits and veggies.  My family had so much fun picking blackberries that grew everywhere!  Fresh strawberries and raspberries were always so popular with my kids.  Even veggies were regularly sold in markets all around where we live.  It was always such a fun time finding new and exciting ingredients to cook with!  I even remember ordering some sweet potatoes from my favorite farm to market stand, and these sweet potatoes were each no less than 3 lbs each!
Having young kids during the summer always meant finding creative ways to entertain.  As stated above, one of our favorite activities was picking fresh berries.  My husband is a sucker for fresh blackberry jam, so we would go to his job where there were 100's of blackberry bushes growing everywhere.  We could fill up several 5 gallon buckets with fresh berries, and we could make 50 jars of jam!  We did the same with strawberries, although we had to pay for those.  One of those picking trips resulted in more strawberries than we could turn into jam, so I threw this recipe together.
This recipe is just a tried and true coffee cake recipe I've made many times.  I've added sliced fresh strawberries on top, then followed that with my favorite crumb topping.  Once baked, the strawberries became soft and sweet, and this cake officially became a favorite!
If you love this coffee cake, make sure to check out these other popular strawberry recipes!
Enjoy!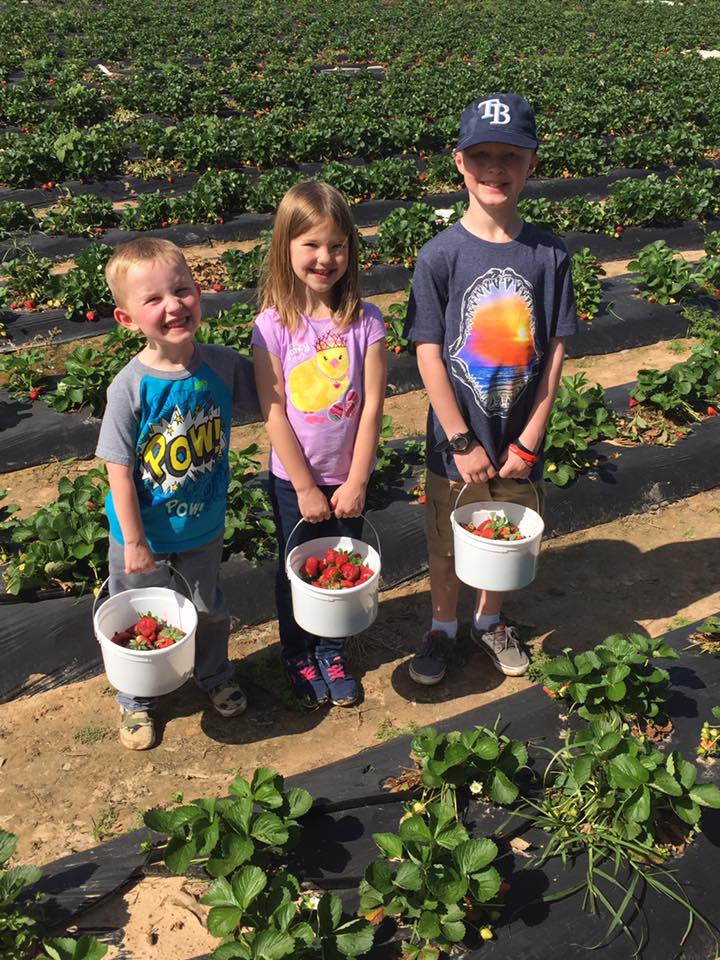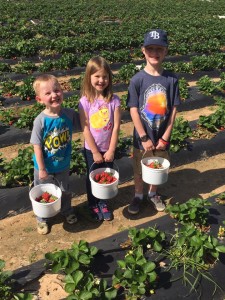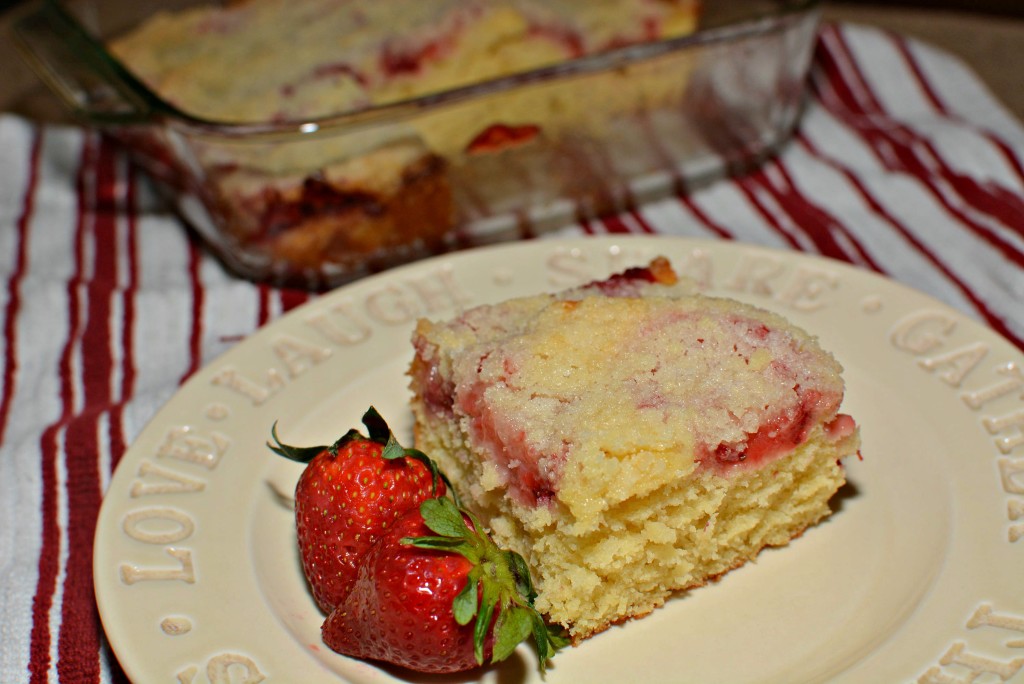 Be sure to check out my recipe card below for quick access to printable cards with ingredients and directions!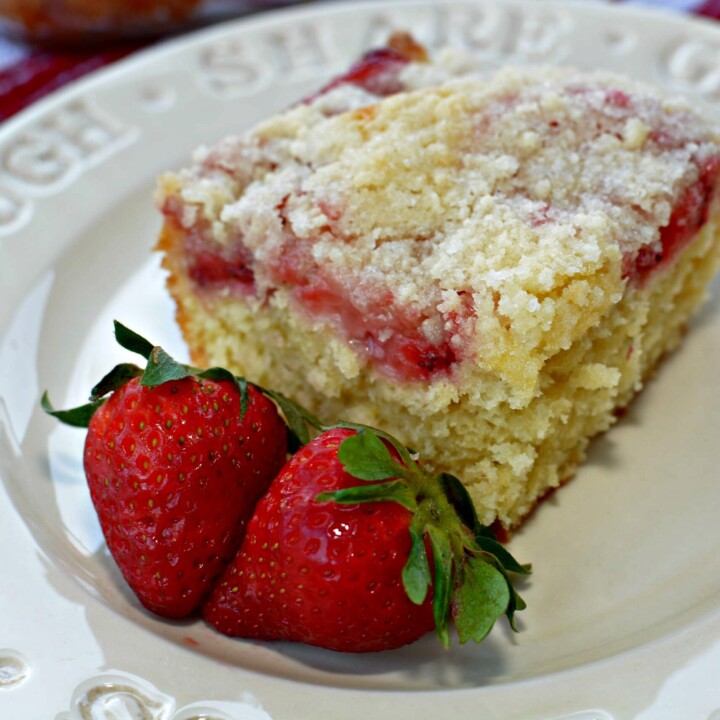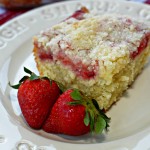 Print Recipe
Strawberry Coffee Cake
Light and fluffy coffee cake combined with freshly picked strawberries and sweet crumb topping will turn this coffee cake creation into a new family favorite!
Ingredients
Coffee Cake
1

cup

flour

1/2

cup

sugar

2

teaspoon

baking powder

1/2

teaspoon

salt

1

egg

1/2

cup

milk

1

teaspoon

vanilla extract

2

tablespoon

melted butter

2

cup

strawberries, sliced
Crumb Topping
1/2

cup

flour

1/2

cup

sugar

1/4

cup

cold butter
Instructions
In a small bowl, combine flour, sugar, baking powder, salt. Set aside.

In a medium bowl, combine egg, milk, vanilla, and melted butter

Slowly add wet mixture to dry mixture and stir until just combined.

Pour batter into a greased 8x8 baking pan

Place sliced strawberries on top of batter in even layer

Using pastry blender, combine flour, sugar and cold butter until crumb topping is formed.

Sprinkle crumb topping evenly over top of strawberries

Place pan in preheated oven (350*) and bake 30-35 minutes, or until toothpick inserted in center comes out clean.

Remove and let cool for 5-10 minutes. Enjoy!
Nutrition
Serving:
1
slice
|
Sodium:
304
mg
|
Calcium:
81
mg
|
Vitamin C:
19
mg
|
Vitamin A:
288
IU
|
Sugar:
25
g
|
Fiber:
1
g
|
Potassium:
99
mg
|
Cholesterol:
40
mg
|
Calories:
257
kcal
|
Trans Fat:
1
g
|
Monounsaturated Fat:
2
g
|
Polyunsaturated Fat:
1
g
|
Saturated Fat:
5
g
|
Fat:
9
g
|
Protein:
3
g
|
Carbohydrates:
42
g
|
Iron:
1
mg
*Republished 10/20/2021