This simple slow cooker meal is packed with flavor, quick to prepare, and a meal everyone will be going back for seconds on! Let your slow cooker do the work and dinner is served!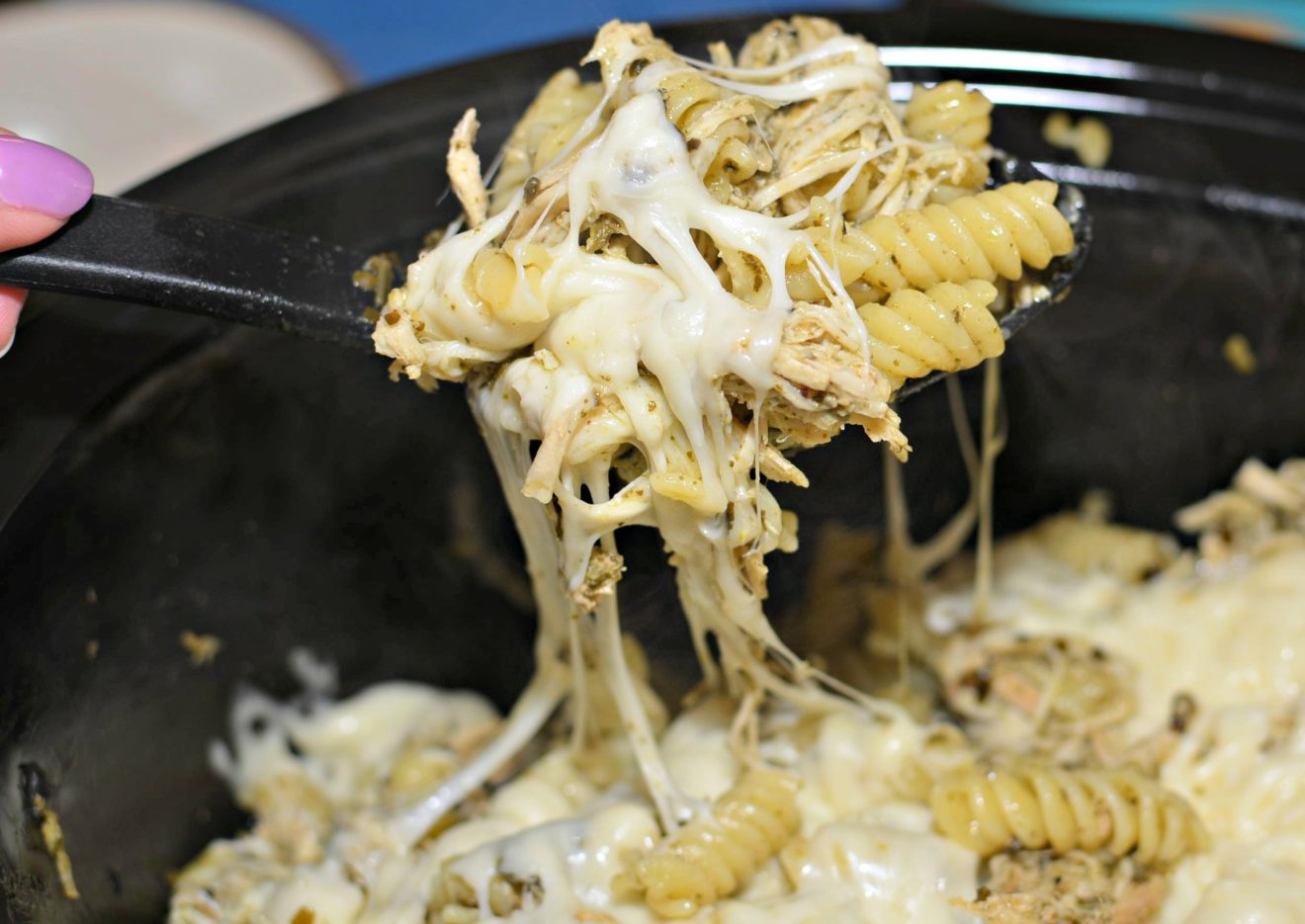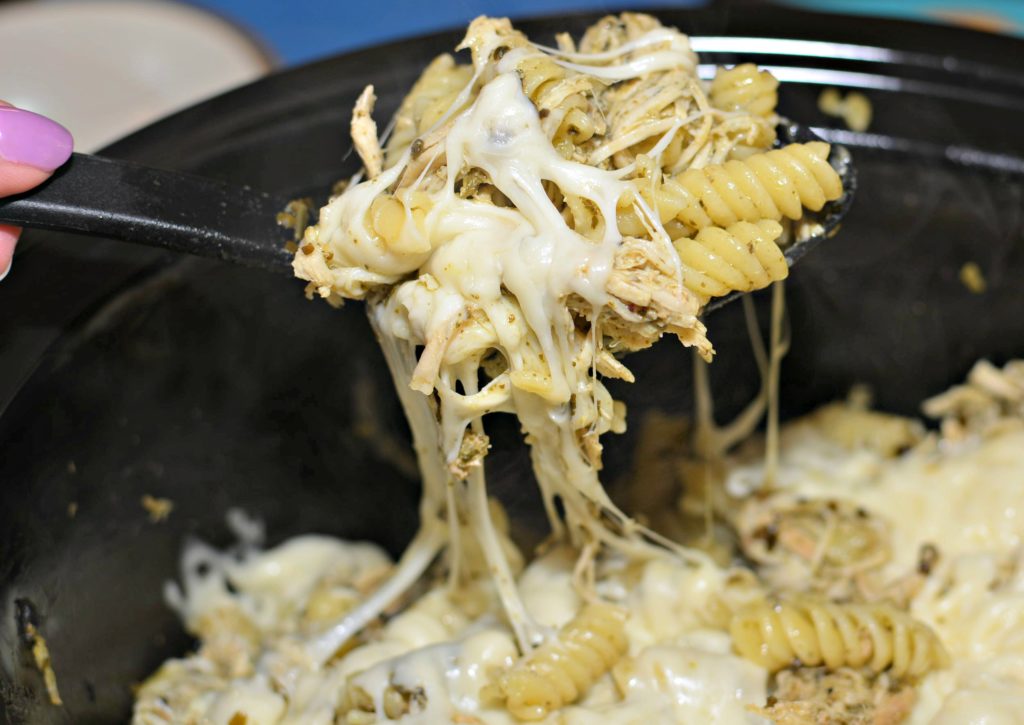 Growing up, one of my favorite dinners my mom made was pesto pasta. She would toss some seasoned, diced chicken in with the sauce and serve it over pasta. Adding a bit of cheese, and I was one happy girl.
The sauce can be bought in a jar, in a packet to mix together in a saucepan, or prepared homemade. However you prepare it, it is delicious! If you love Basil, you are sure to love Pesto!
Last week, as I was perusing Pinterest, I came across a recipe using Pesto, chicken, cheese, and pasta. I was immediately intrigued because what isn't to like about those ingredients, right?! Since I love anything made using the slow cooker, love Pesto (as I mentioned above), and my family loves pasta….I knew it would be a hit!
The original recipe called for jarred sauce, but since I already had fresh Basil on hand from a different recipe I had made earlier, I decided to make my own. Either way works fine, so up to you!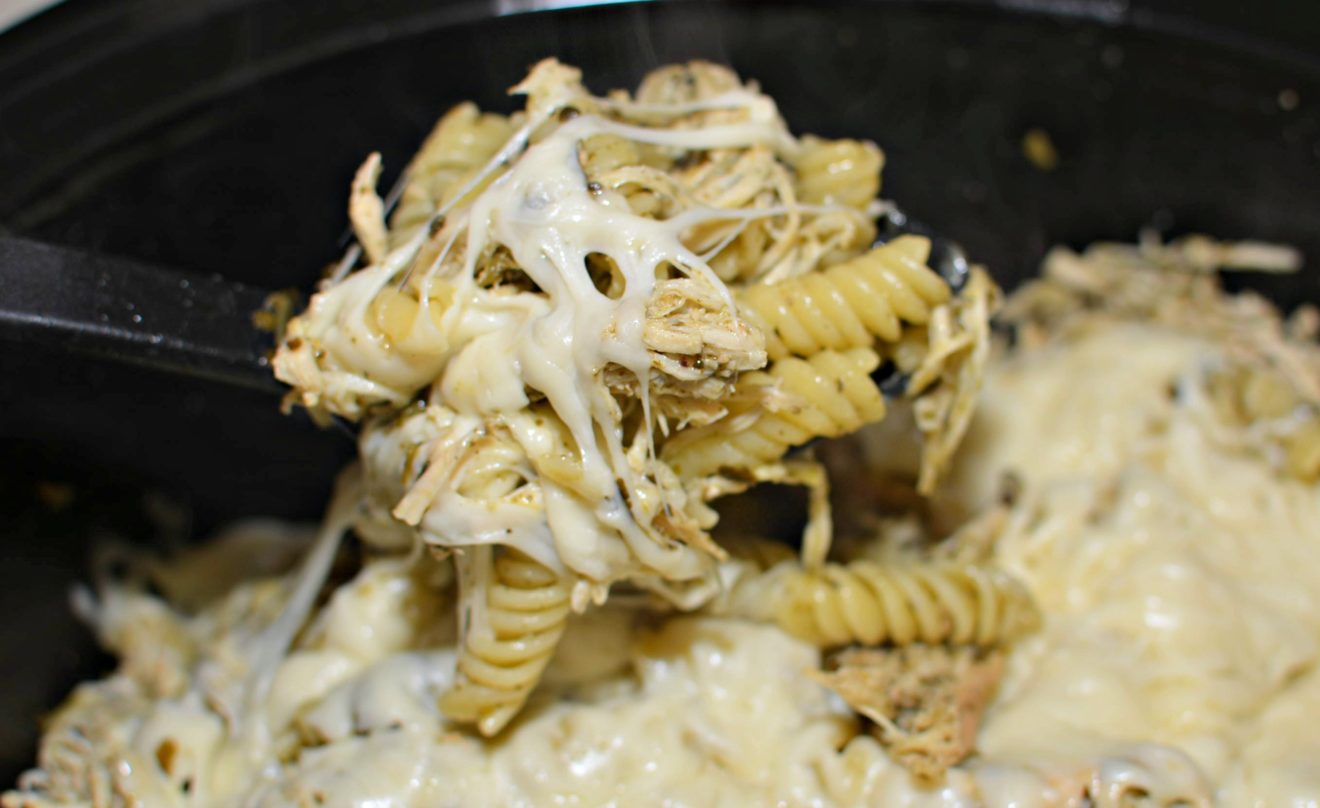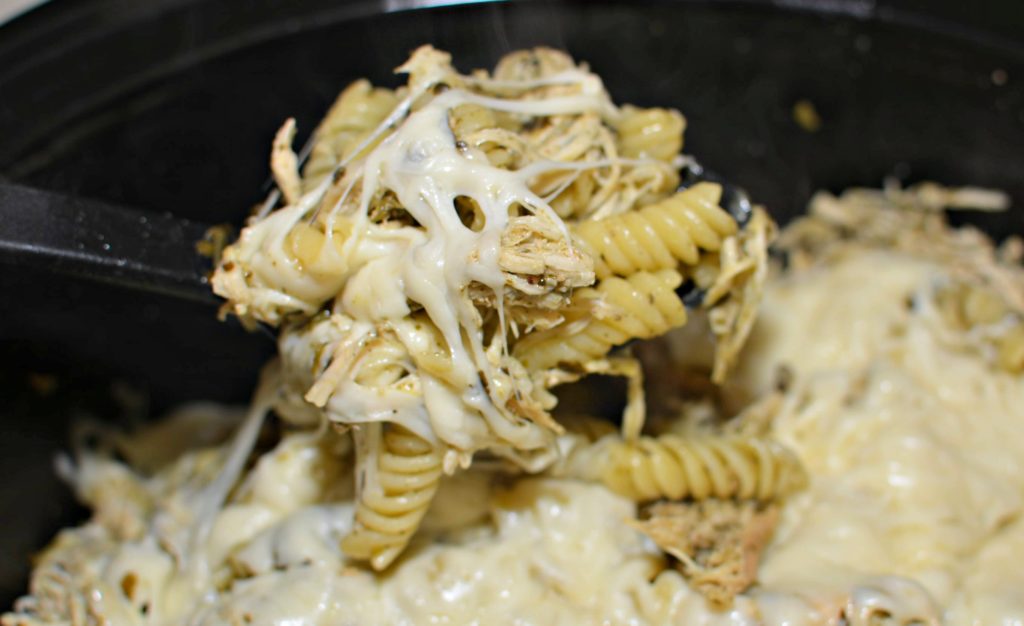 Not only was this meal a favorite with my kids and hubby, but it was incredibly simple to throw together. Having this cook itself all day allowed me the freedom to run errands, do chores around the house, and catch up on other things rather than prepping dinner! Even the leftovers the next day reheated perfectly!
The cheesy addition was a hit with the kids and a nice way to finish the pasta!
All in all, this was a great meal, all five members in my family give it two thumbs up, and it will definitely be made again this upcoming summer as a way to keep the heat out of my kitchen!
Enjoy!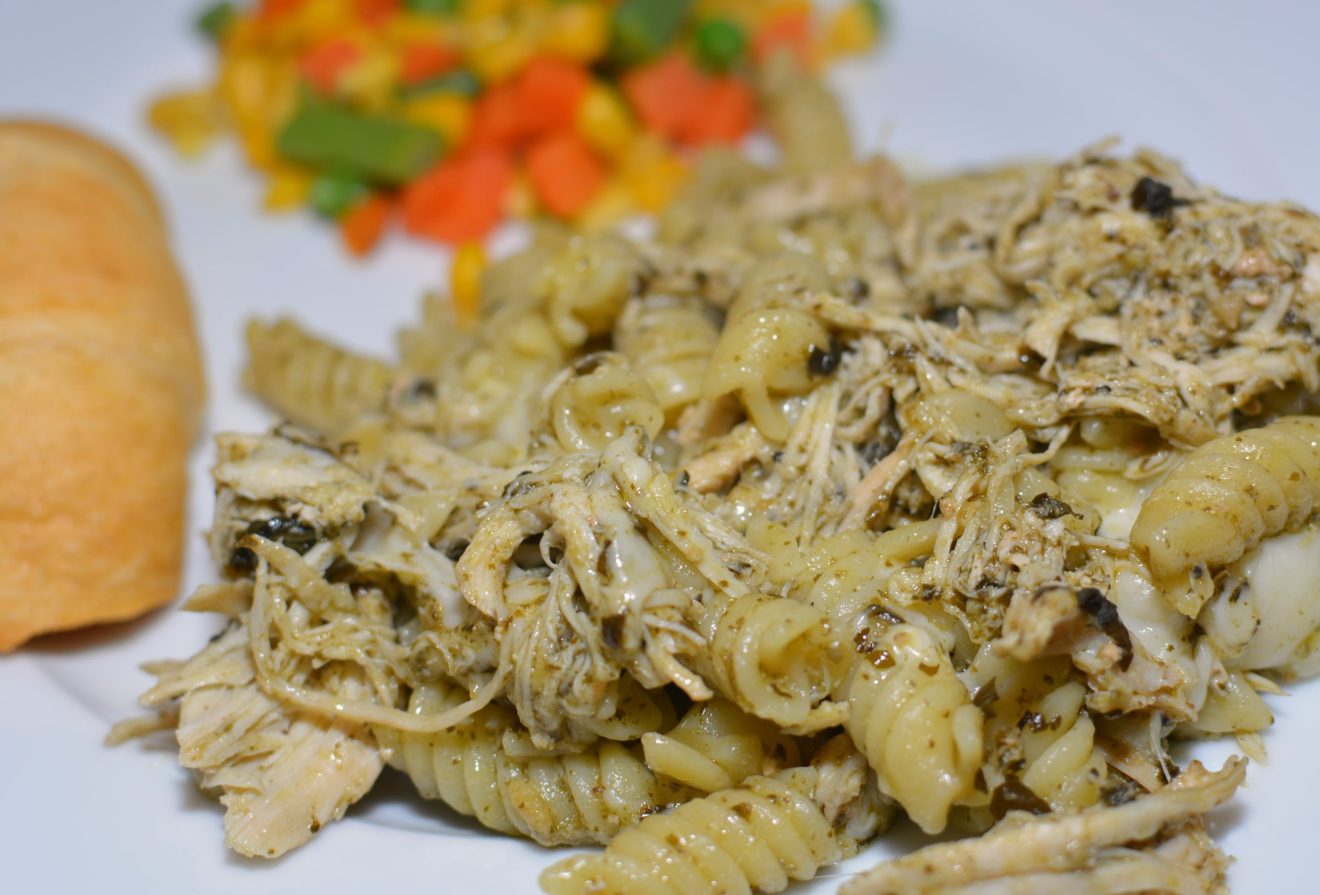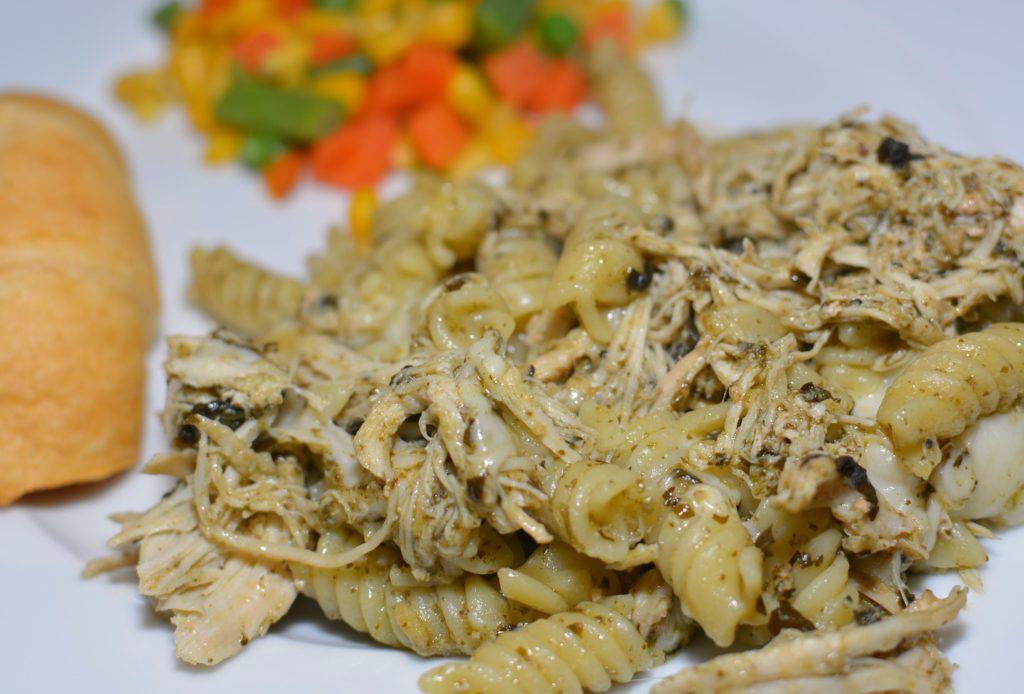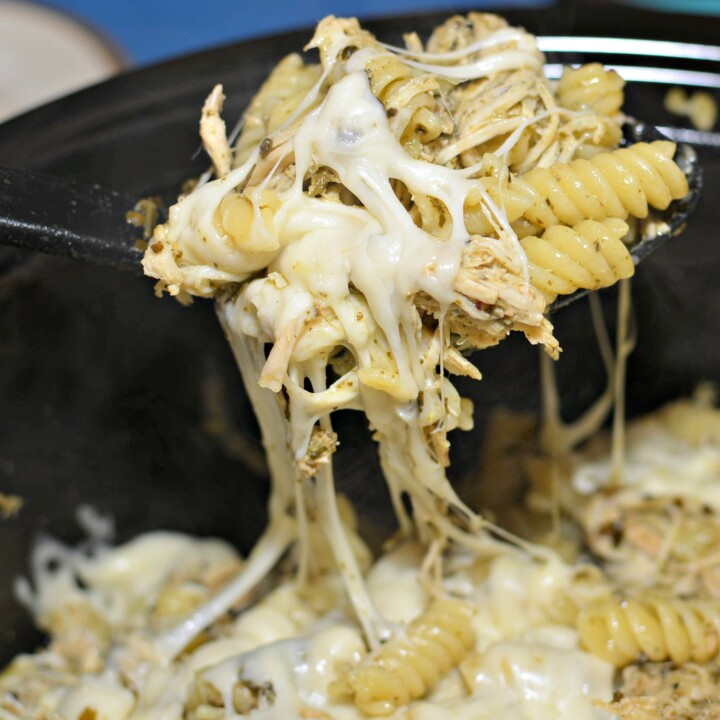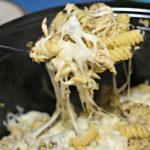 Print Recipe
Slow Cooker Cheesy Pesto Pasta
A flavorful slow cooker dish that comes together in no time. Using Pesto, chicken, pasta, and cheese....this family friendly meal is bound to be a favorite!
Ingredients
1

lb

chicken breast, boneless/skinless

1/4

cup

butter

1/2

lemon

1

lb

rotini, cooked/drained

1/2

cup

Parmesan, grated or shredded

1

cup

Pesto (jarred or see recipe below)

1

cup

Mozzarella cheese, shredded
Instructions
Place chicken on bottom of slow cooker.

Spread pesto evenly on top of chicken.

Squeeze the lemon on top of pesto.

Cover with lid and cook on low for about 6-8 hours, or high for about 4 hours.

When chicken is just about done, cook pasta according to package directions and drain water.

Remove lid from slow cooker and shred chicken.

Pour the cooked pasta and Parmesan cheese into chicken mixture and stir to combine.

Sprinkle the mozzarella cheese on top and place slow cooker lid on top and allow to sit for about 10 minutes, or until cheese has melted.
*I made my own Pesto sauce in this recipe, click here for recipe!!