Over the weekend, my daughter was not feeling well and my youngest son was just getting over being sick. I was trying to think of something for dinner that would be easy on their tummies, and something they would actually willingly eat. Since my kids are huge pasta fans, I knew this would be the perfect thing. This dish was super simple to make, I had it on the table in 20 minutes, and it took that long only because it was cooking most of that time! My kids really enjoyed it and ate it all up. This would be the perfect side dish, meal when you are under the weather, or something when you are pressed for time. You can change it up by adding a can of tuna or chicken to it, some peas, etc.
Ingredients:
2 tbsp butter
1 chicken bouillon cube
28 oz chicken broth
12 oz egg noodles
1/2 cup Parmesan cheese, shredded
*Since some of these ingredients can have a lot of sodium, look for low sodium broth and bouillon cubes
Directions:
In a large pan, melt the butter and allow to brown for about a minute.
Add broth and bouillon cube. Bring to a boil.
Add in the noodles (uncooked at this point) and bring to a boil once again.
Cover pot with lid and remove from heat. Allow to sit for about 25 minutes, stirring every few minutes.
Once cooked and liquid is absorbed, sprinkle cheese on top and serve!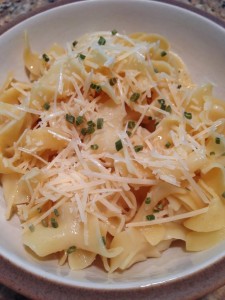 [AdSense-A]