Yesterday, after going through my fridge and finding three cans of Pillsbury biscuits and a package of pepperoni, I decided to whip these up for dinner. Both my hubby and I thoroughly enjoyed them. My kids…..WENT NUTS over these!! I was told I was "the best mom ever", "amazing", "best cook in the world", etc. Hehe!! Not only do they make a quick meal, but they reheat perfectly! I tend to freeze the leftovers and send them to work with my hubby for his lunches!! 
Ingredients:
2 cans Pillsbury Buttermilk biscuits
Shredded Mozzarella Cheese
1 package of sliced pepperoni
Italian Seasoning
Parmesan Cheese
Melted Butter (about 2 tbsp)
Directions:
Open container of biscuits. Flatten each biscuit separately.
In the middle of flatten dough, sprinkle a generous amount of cheese and top with as many pepperoni as desired (I used 4 slices).
Gather edges and pinch together forming an enclosed roll.
Place closed side down in a lightly greased baking dish.
Continue until all biscuits are filled and in baking dish.
Brush melted butter on top of the rolls and sprinkle with Parmesan cheese/Italian seasoning.
Bake in a preheated oven at 425 for about 19-22 minutes.
Serve with marinara sauce or as is.
*You can change these up to desired pizza toppings instead of just pepperoni 🙂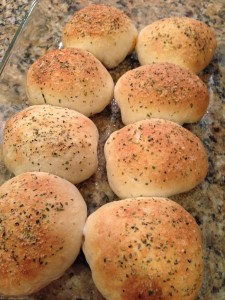 [AdSense-A]