Being in Houston, we don't have much of a winter. In fact, this year, it consisted of about one cold weekend only. Sad, but true! It literally got cold enough to freeze my new plants, kill them off, and warm back up again, haha!!
Since I grew up in Chicago however, I love seasons changing. I love cold weather where sweaters come out, I love Spring flowers, warm Summer days, and trees changing in the Fall. Although Houston doesn't have 4 seasons, a girl can pretend though, right? Right!! Last week, I pulled out my slow cooker, put the ingredients in for this tasty chili, and we all pretended it was cold outside (by lowering the A/C temp, lol)!!
This chili was incredibly simple to make, flavorful, and each of us were able to add our desired toppings to it to change it up!!
Whether you make this on a chilly evening, or in the cool A/C of a hot day, it will be a hit with all!!
Enjoy!!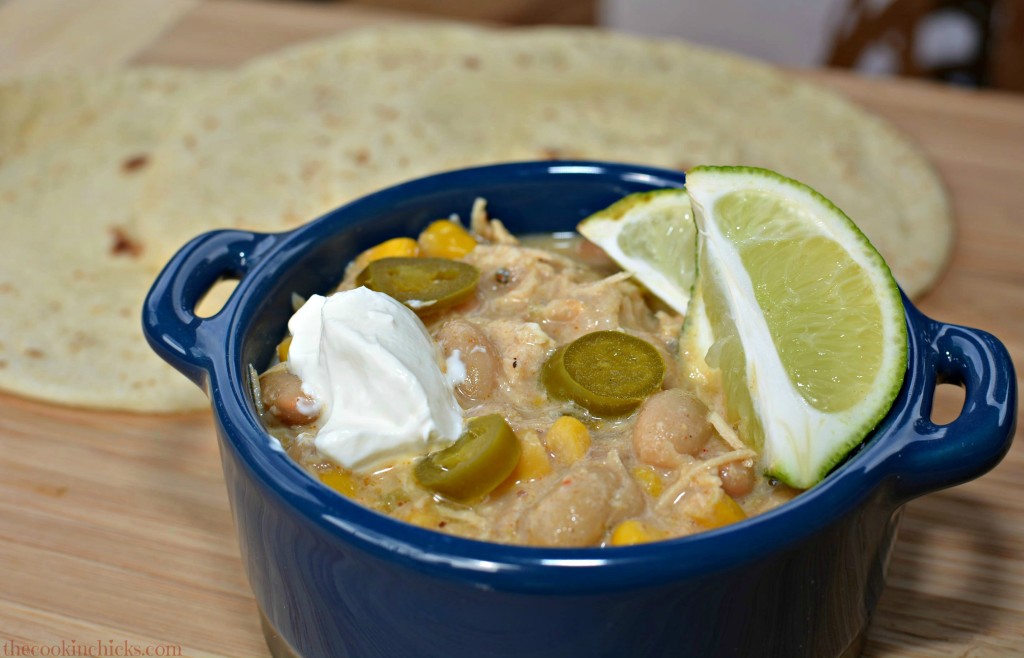 Ingredients:
1 lb boneless, skinless chicken breasts
1 onion, diced
4 garlic cloves, minced
24 oz. chicken broth
(2) 15 oz. cans Great Northern Beans, drained and rinsed
8 oz. diced green chilies
(1) 15 oz. can Mexicorn, drained
1 tsp salt
1 tsp ground black pepper
1 tsp cumin
1/2 tsp dried Oregano
1/2 tsp chili powder
Dash of Cayenne Pepper
4 oz. cream cheese
1/4 cup heavy whipping cream
Toppings of choice…..jalapenos, avocados, cheese, sour cream, tortilla strips, etc.
Directions:
In the bottom of your slow cooker, place chicken.
Add in the onion, garlic, chicken broth, beans, corn, salt, pepper, cumin, oregano, chili powder, and cayenne pepper.
Place lid on top of slow cooker and cook low for 6-8 hours, or high for about 4 hours.
Remove chicken and shred. Return to slow cooker.
Add in the cream cheese and heavy whipping cream.
Allow to cook for an additional 30 minutes, stirring well to incorporate.
Serve with desired toppings!
Recipe adapted from: The Chunky Chef