I really wanted to do shredded chicken in this salad, so I did some looking around and I found this really yummy shredded chicken recipe! I really enjoyed it. I didn't have zesty Italian dressing, so I found a recipe to make my own and it turned out so yummy!!
Ingredients:
2.5 lbs boneless skinless chicken breast halves
3/4 cup chicken broth
1/2 cup Zesty Italian Salad dressing
1 Tbsp fresh lime juice
1 Tbsp chili powder
2 tsp onion powder
1 tsp garlic powder
1 tsp paprika
1 tsp cumin
1 tsp salt
1/2 tsp freshly ground black pepper
1/2 tsp cayenne pepper, optional (adjust according to desired heat preference or omit)

Directions:
Place chicken breast halves in the slow cooker. In a mixing bowl whisk together remaining ingredients. Pour mixture over chicken in slow cooker, cover slow cooker with lid. Cook chicken on low heat 6 – 8 hours. Shred chicken (it's so tender I usually just shred it in the slow cooker without even removing it), then cook shredded chicken in broth in slow cooker an additional 30 minutes on low. Drain broth from chicken. Serve warm in tacos, burritos, enchiladas, quesadillas, taquitos etc.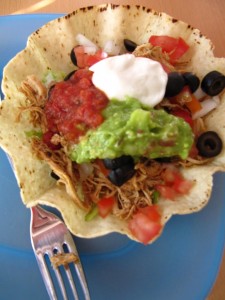 Perfect Homemade Italian Dressing
Ingredients1 cup of the vinegar (any type is fine, whether ACV, wine vinegar, rice vinegar, etc…)
1 1/3 cup of olive oil or other oil (I usually do half olive oil, half cheaper oil)
2 tablespoons of water
1/2 tablespoon garlic powder
1/2 tablespoon onion powder
1/2 tablespoon honey, white sugar, or sucanat
1 tablespoons dried oregano
1/2 teaspoon ground black pepper
1/4 teaspoon dried thyme
1/2 teaspoon dried basil
1/2 tablespoon dried parsley
1 tablespoons salt
Instructions
1. Pour ingredients into a glass jar or bottle with a cover. You may need to use a funnel, in which case pour the dry things in first before the liquids.
2. Cover and shake well.
3. Use, or refrigerate for up to 90 days.
4. Enjoy!