For dinner tonight, I made these chicken "pillows". When I told my hubby what I was making, he was quite confused as to why I was calling them "pillows". These were a huge hit. I was looking for a recipe that was simple and quick, since my youngest kiddo is sick and I needed to spend the afternoon at a dr appt and getting meds, : (
This recipe made 16 "pillows" and was enough to feed my family of five, plus have enough leftover to have for lunch for both my hubby and I!!!
In the words of my husband, "this is probably one of the best recipes you have ever made". Wow right?? Being a cookin chick, I typically cook new meals 4/7 nights a week, so for him to say that, thats quite the compliment!! Enjoy!!
Ingredients:
2 (8oz) containers Pilsbury crescents (I used store brand since they were on sale)
8 oz cream cheese, softened
1/4 cup butter
3 cups cooked, shredded chicken
1 egg
1 sleeve saltine crackers, crushed
1 can cream of chicken soup
1/4 cup milk
2 spoonfuls sour cream
Directions:
Preheat oven to 400. Mix together butter and cream cheese in a medium bowl. Once smooth, add in chicken. Mix until combined. On a cookie sheet, spread out crescents and stretch them. Take a few spoonfuls of chicken mixture and place it in the middle of the crescent. Fold the crescent around the mixture so none is showing. This is why it is called "pillows". Once crescents are filled, you should have 16.
In a small bowl, mix together 1 egg and 2 tbsp water until well mixed. In another small bowl, place your crushed saltine crackers. Take each chicken pillow and dip in the egg mixture followed by the saltine cracker mixture. Place chicken pillow back on the cookie sheet. Bake in oven about 20 minutes, or until golden brown.
Meanwhile, mix cream of chicken soup and milk in a saucepan. Once warm, add in sour cream. Stir until combined and thoroughly warm.
After chicken pillows are cooked, serve on plate with warm "gravy" mixture on top!!
Enjoy!!!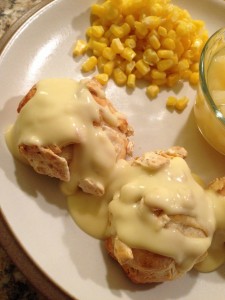 Be sure to like us on Facebook