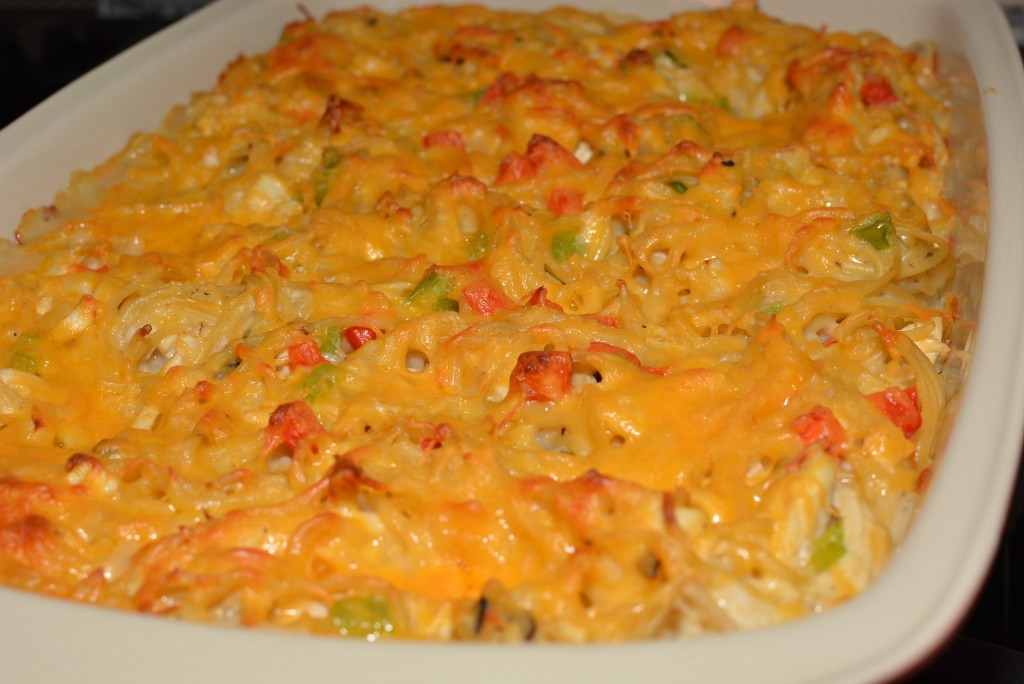 When my daughter was first born, we had a friend bring us dinner. She had made a chicken spaghetti casserole and let me tell ya, it was amazing!! Her version had a kick to it, and was packed with flavor. My husband and I got the recipe from her and have made it a few times over the years. With my kids getting a bit older and not liking spicy food, I decided to change up the recipe and tweak it to something the kids would enjoy. I ended up coming across The Pioneer Woman's Chicken Spaghetti recipe. It looked and sounded amazing, so I read through the reviews of it, made the changes that everyone suggested, as well as made my own changes, and now, this dish is out of this world! My kids go crazy over it, it is amazing reheated the next day, and a real crowd pleaser. It can literally feed my entire family of 5 two times!! If you love spaghetti, chicken, and cheese; run to the store and grab the ingredients for dinner tonight, you'll be glad you did!!
Ingredients:
2 cups chicken breast, cooked and shredded
1 lb spaghetti pasta, broken into smaller pieces
2 cups cheddar cheese, shredded, divided
1 red pepper, diced
1 green pepper, diced
1 onion, diced
2 teaspoon seasoned salt
1/2 teaspoon ground chipotle pepper
1/2 teaspoon ground black pepper
1 teaspoon garlic powder
2 cans cream of chicken soup
2 cups chicken broth
Directions:
In a medium pot, cook spaghetti until al dente. Drain water.
In a large bowl, add the cooked chicken, spaghetti, 1 cup cheddar cheese, diced peppers, onion, seasoned salt, ground chipotle pepper, black pepper, garlic powder, and cream of mushroom soup.
Once combined, slowly pour in the chicken broth and mix until well incorporated.
Pour pasta mixture into a 9 x 13 baking pan.
Sprinkle remaining 1 cup cheddar cheese on top of pasta evenly.
Bake in preheated oven, 350, for about 35 minutes.
Remove from oven and serve!!