A while back, my parents had made a ham at their house and sent us home with the leftovers. Since I didn't know what to do with it, I stuck it in my freezer. After I few weeks, I realized I needed to use that up, so I pulled it out and made these sandwiches for dinner! Since it was the weekend, I didn't feel like cooking anything too complicated, and my kids LOVED the idea of having sandwiches for dinner. Not only did I put these together in about 5 minutes (or less), but they were a major hit with the family. The kids gobbled them down and asked for another one! Since I made them on small Hawaiian rolls, I was happy to oblige! These would be perfect for lunch, dinner, or even as an appetizer at a party! I used carved ham since that is what we had leftover, but deli sliced ham works great too!! These are definitely the perfect warm sandwiches!!
Ingredients:
3/4 cup melted butter
1 1/2 tablespoon Dijon mustard
1 1/2 teaspoon Worcestershire sauce
1 1/2 tablespoon poppy seeds
1 tablespoon dried minced onion
24 mini sandwich rolls (I used Hawaiian sweet rolls)
1 lb deli sliced cooked ham
1 lb thin sliced Swiss cheese
**I cut this recipe in half since I had a 12 pack of rolls, depending on how many sandwiches you need, you can decide if you want half the recipe or whole, 🙂
Directions:
Grease a 9×13 baking pan and preheat the oven to 350.
In a bowl, combine the melted butter, Dijon mustard, Worcestershire sauce, poppy seeds, and minced onion.
Open the rolls and place the bottom rolls into the baking dish, side by side.
Layer some ham on the bottom roll and place a slice of cheese on top.
Place the top of the rolls on each slice of cheese to create a sandwich.
Pour mustard mixture evenly over entire pan, making sure to coat each sandwich.
Bake in a preheated oven for about 20 minutes, or until cheese is melted and sandwiches are turning slightly golden brown.
Remove from oven and enjoy!!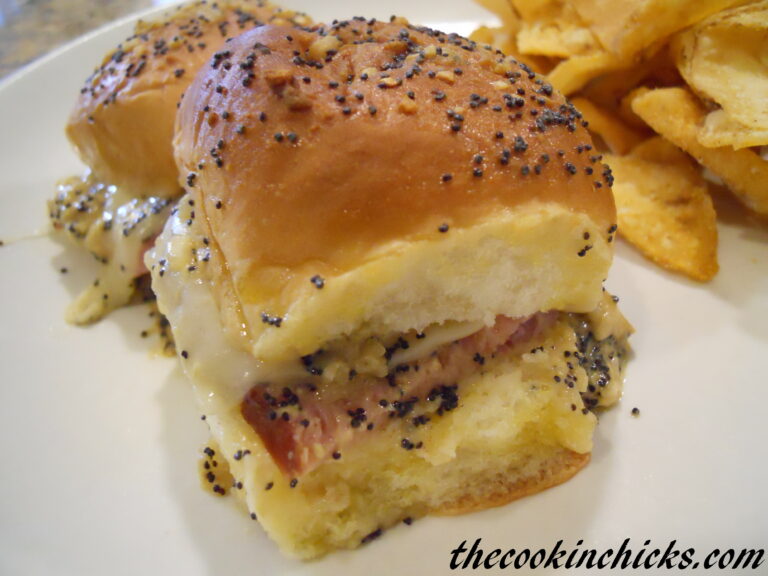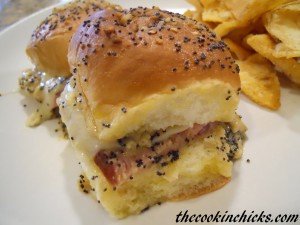 [AdSense-A]