Growing up, my mom had a specific jello recipe for each Holiday. At Christmas, she would make her layered jello, Thanksgiving is her blueberry cream cheese jello, and Easter is her strawberry pretzel salad. The strawberry pretzel salad was always one of my favorites because you get the sweetness from the cream cheese/jello, but also the saltiness from the crushed pretzels.
Now that I am older and have a family of my own, it is fun watching them experience their favorites each Holiday! My daughter's favorite is this jello, whereas my oldest son's favorite is the Thanksgiving blueberry jello!!
This is one of those dishes that is perfect for BBQ's, side dishes, parties, or sweet treats! No need to wait for a Holiday to make this! If you like a salty/sweet combo, this is perfect for you!
Enjoy!!

MY LATEST VIDEOS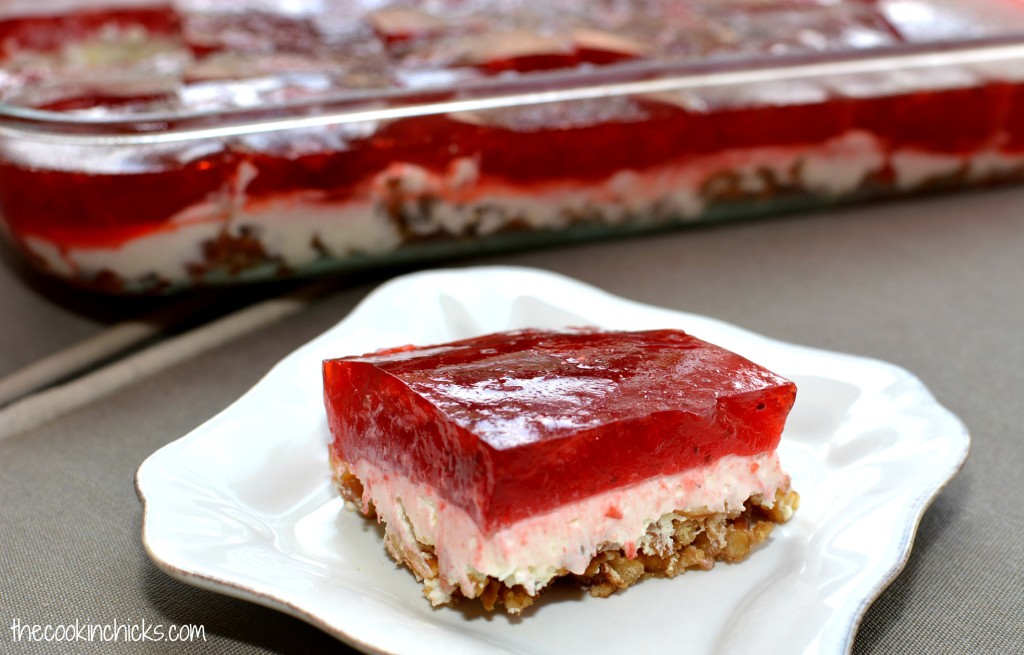 Ingredients:
6 oz. box Strawberry jello
2 cups boiling water
2 cups pretzels, crushed
1/4 cup sugar
8 tbsp. unsalted butter
8 oz. cream cheese, softened
1/2 cup sugar
8 oz. whipped topping, thawed
1 lb fresh strawberries, sliced
Directions:
Preheat oven to 350.
In a medium bowl, combine the jello package and boiling water. Stir until completely dissolved and allow to cool to room temperature.
In a medium saucepan, melt the butter and add in 1/4 cup sugar. Mix in crushed pretzels.
Transfer pretzel mixture to a 9 x 13 baking pan and use a fork to press mixture evenly on bottom of pan.
Place pan in oven for about 10 minutes. Remove from oven and allow to cool to room temperature.
While pretzel layer is cooling, mix together the cream cheese and 1/2 cup sugar using a hand held mixer until combined.
Fold in the whipped topping.
Spread mixture evenly over cooled pretzels making sure to cover entire pan side to side.
Refrigerate pan for 30 minutes.
Mix sliced strawberries into room temperature jello mixture.
Pour jello over cream cheese layer evenly and place in refrigerator for about 2-3 hours, or until set up.
Serve!!