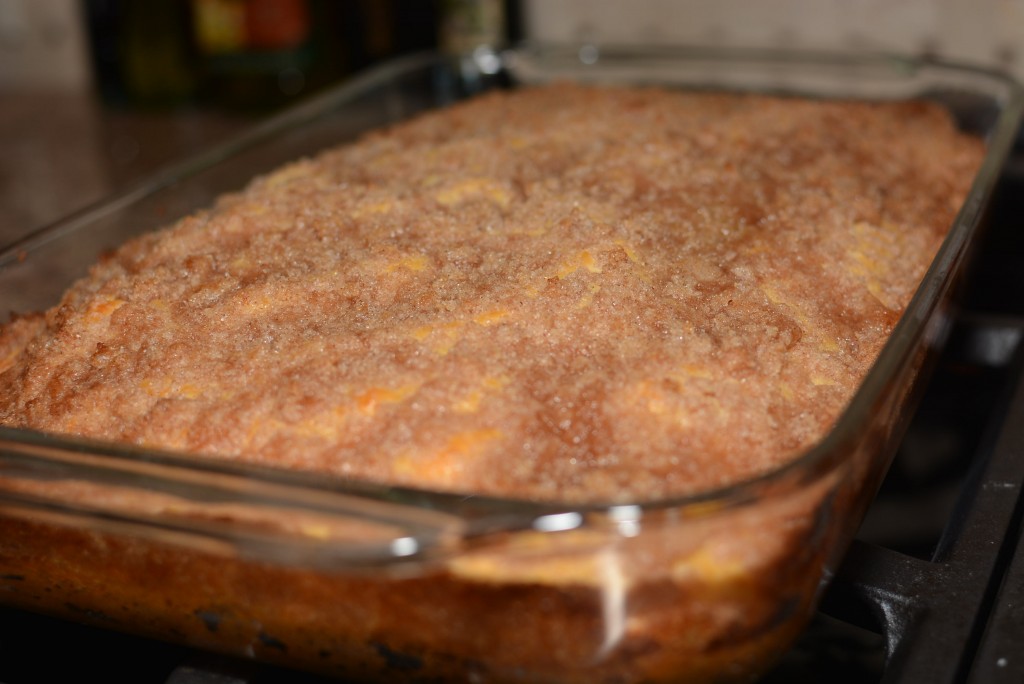 Cake in the morning? YEP! Sign me up, right?? Not only is this cake simple to make, but it goes perfectly with a cup of coffee in the morning, mid morning treat, or even an evening sweet treat! I recently made this for my parents and family one morning and this cake was gone in no time. The kids ate it happily, as did all the adults. My mom even said it was something she will most definitely be making again for company at her home!! Enjoy!!
Ingredients:
1/2 cup butter, softened
1/2 cup sugar
1 1/3 cup milk
2 eggs
3 cups flour
2 tbsp baking powder
1/2 tsp salt
1/2 cup flour
3/4 cup sugar
1 tsp ground cinnamon
6 tbsp butter
Directions:
Grease a 9 x 13 baking pan and preheat oven to 400.
In a mixing bowl, cream the butter and sugar together.
Add in milk and eggs, and mix well.
Add in 3 cups flour, baking powder, and salt.
Pour batter into greased pan. Set aside.
In a separate bowl, combine the 1/2 cup flour, sugar, cinnamon, and butter.
Using a pastry blender or two butter knives, cut in butter until crumbs are formed.
Sprinkle topping over cake batter.
Place pan in oven and bake for 25-30 minutes, or until toothpick comes out clean once inserted in center.
Remove from oven and enjoy!