Our entire marriage, my hubby always said "I don't like asparagus". I never made it with any of our meals because of that. A few weeks ago, our local produce stand opened up and we of course, had to go get stocked up. *If you have a local produce stand, be sure to shop there for local, fresh produce, I love the selection of ours and how fresh everything is. 
While we were there, they had asparagus. Ooooooo it looked WAY too yummy to pass up, so I added it to the basket and said "sorry honey, you'll have to learn to love it, hehe". I decided to add some flavor to it, since my hubby and I love garlic and Parmesan. When I made this, I paired it with some grilled salmon for dinner. Lets just say, my hubby now retracts his "I don't like asparagus" statement and is looking forward to the next time I make some. YEA!!! 
Ingredients:
1 bunch asparagus spears, trimmed
2-3 tbsp olive oil
2 cloves garlic, minced
2 tbsp Parmesan cheese, (grated works best)
Salt/Pepper (to taste)

MY LATEST VIDEOS
Directions:
Place asparagus on the bottom of a baking dish.
Pour olive oil on top of asparagus and toss to coat.
Arrange asparagus in a single layer.
Sprinkle garlic and Parmesan on top, as well as desired amount of salt and pepper.
Bake in a preheated oven (425) for about 15 minutes, or until fork tender.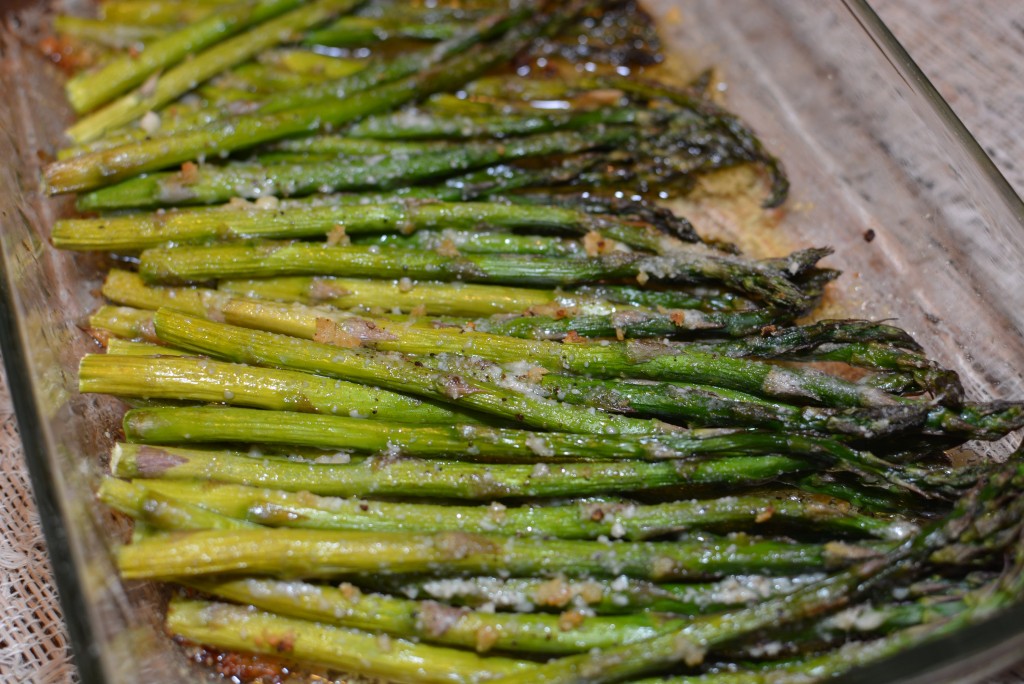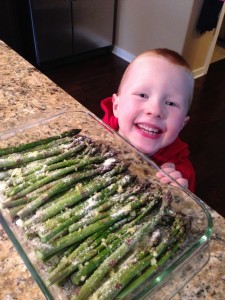 My five year old helped me put this together!!