Yesterday, I shared my vanilla buttercream recipe and told you all that I am now slowly entering the world of decorating cupcakes, cakes, and cookies. I never really had the time or patience when my kids were really little, so now that they are a bit older, I am excited to learn.
Typically, in the past, I would make a box of cupcakes and slather on some store bought frosting. To me, that was homemade and I even topped it off with some sprinkles. Now, I have not only started making my own frosting, but my own cupcakes too. WOW! The difference is incredible. The from scratch cupcakes were a huge hit with my neighbors, friends, and family that I had
test" them. They were moist, fluffy, and overall SOOOOO much better than the boxed mix. Where have these cupcakes been all my life? Hehe!!
The funny part about making these homemade, they took about the same amount of time to bake that a boxed mix took. After all these years, I wasn't really saving time! Crazy!!
For these cupcakes, I dyed my buttercream frosting green to resemble grass and made them Easter themed. I even put a Cadbury egg inside as a tasty surprise!! Such a yummy treat and depending on the frosting color, you can make these for any occasion!!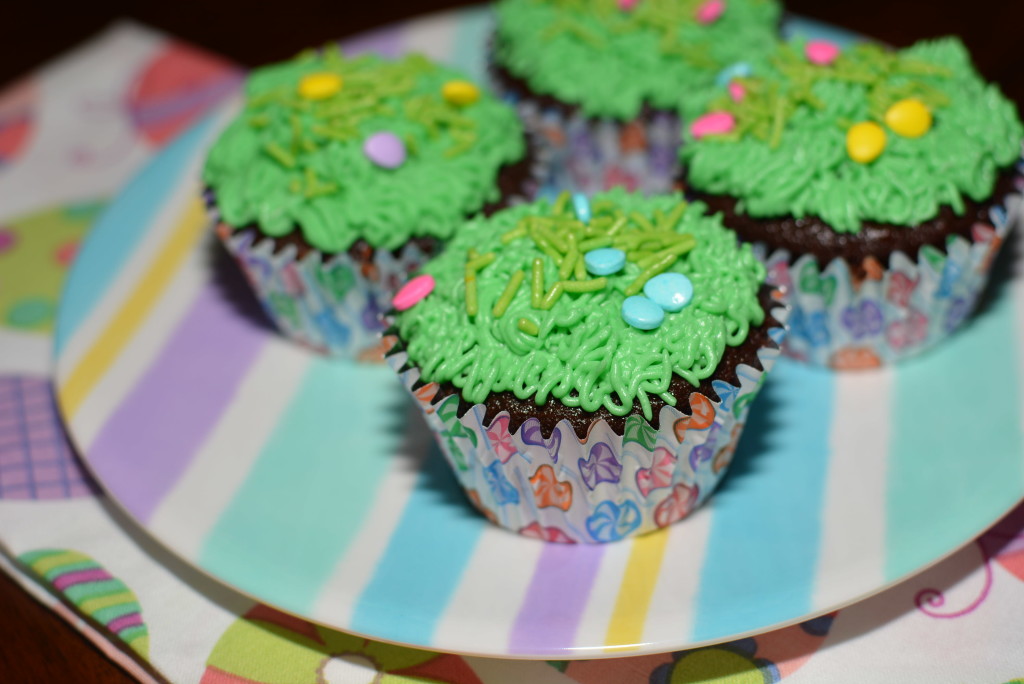 Ingredients:
1 1/3 cups flour
1/4 teaspoon baking soda
2 teaspoons. baking powder
3/4 cup unsweetened cocoa powder
1/8 teaspoon salt
3 tablespoon butter, softened
1 1/2 cups sugar
2 eggs
3/4 teaspoon vanilla extract
1 cup milk
Ingredients for Vanilla Buttercream Frosting
*If you use food coloring for the frosting, make sure you use the gel coloring and not liquid so it doesn't interfere with the consistency!!
Directions:
Preheat oven to 350 and line a muffin pan with paper/foil liners.
In a medium bowl, sift together the flour, baking soda, baking powder, cocoa powder, and salt.
In a separate bowl, cream the butter and sugar until light fluffy.
Add in the eggs, one at a time.
Stir in the vanilla and mix well.
Add the flour mixture alternately with the milk, beat well.
Pour batter into each muffin cup about 2/3 full.
Place pan in oven for about 16 minutes.
Allow to cool entirely before adding frosting!!
**If you want to put a Cadbury egg in the middle like I did, be sure to freeze the chocolate eggs overnight. This helps keep them from melting in the cupcake. Stick each unwrapped egg into the cake batter after step #7, then place in oven!!