Using only 3 ingredients, this Slow Cooker Pot Roast is simple to prepare and packed with flavor! Comfort food at its finest!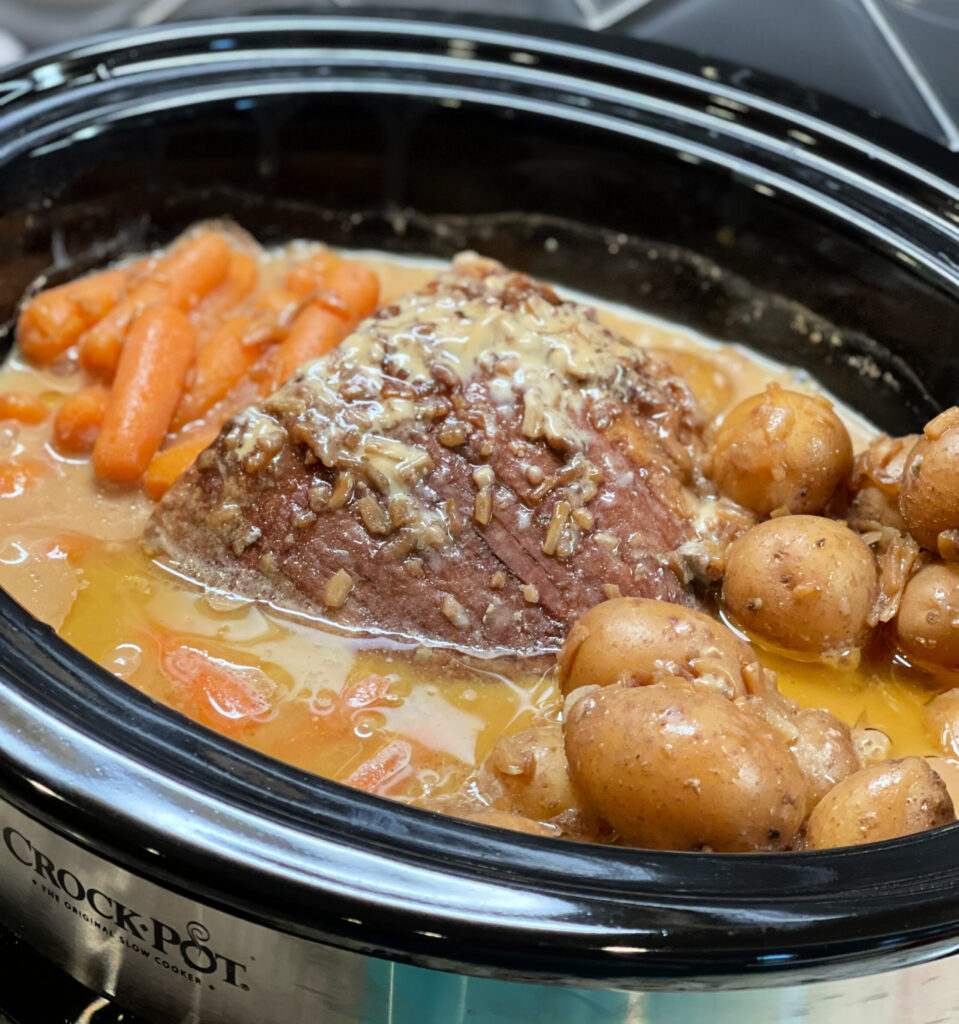 One of my favorite meals my mom made growing up was this pot roast. The roast was tender, packed with flavor, and the gravy it made was great on the side dishes. Each and every birthday, I would request this for my dinner! One of the traditions we had in our family was each birthday, the birthday girl or boy got to choose ANY meal option. It could be homemade or a restaurant. I always chose this pot roast and then my mom would make mashed potatoes and a veggie to go with it.
When I got married and asked my mom for the recipe and was shocked at the fact there were only 3 ingredients involved! Not only is this incredibly flavorful, but it is also simple and quick to throw together! It is one of those meals that people will think you worked quite hard on, when in reality, it only took about 5 minutes to prepare!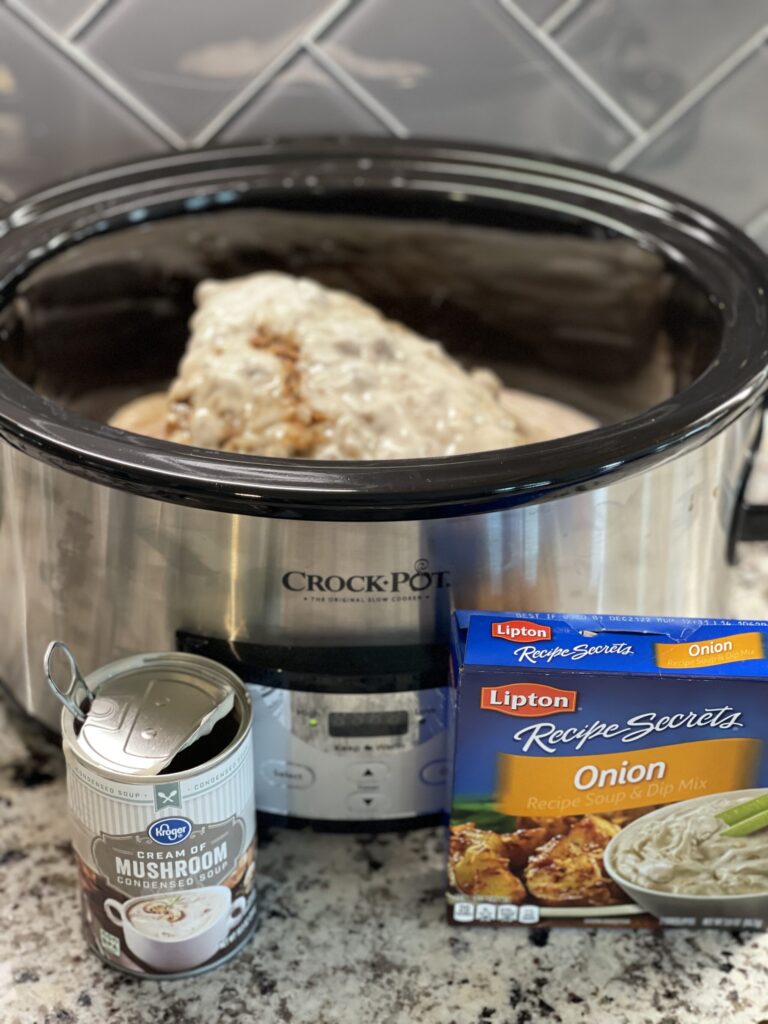 If you love a good slow cooker recipe, you'll love these family favorites:
Melt-In-Your-Mouth Slow Cooker Chicken
Slow Cooker Sausage and Peppers
One of my favorite places to buy roasts are Costco. I have found that their pricing is the best and each package typically has 2 roasts in it, meaning I have two meals! I separate the roasts into two packages once home from the store and when I am ready to make one, simply pull it out of the freezer, toss it into my slow cooker frozen, and dinner is prepared!
Over the years, this recipe has evolved and we now add in some small potatoes and baby carrots half way through the cook time to make this a complete meal! The carrots and potatoes end up perfectly tender and seasoned from the broth.
Best part is, leftovers taste just as scrumptious as ever! Put some leftovers on your plate, stick the plate in the microwave, and a few minutes later, round two is a winner all over again!
This meal makes the entire house smell wonderful! It is one of those family favorite, comfort food meals that is perfect on a cold day, rainy evening, Fall/Winter season!
Ingredients needed:
1 beef roast (3 lb. Round eye is what I use but rump roast is great too)
1-2 cans cream of mushroom soup (depends on if you add the carrots/potatoes)
1 packet Lipton onion soup mix
1/2 can water (from mushroom soup)
Carrots/Potatoes (optional)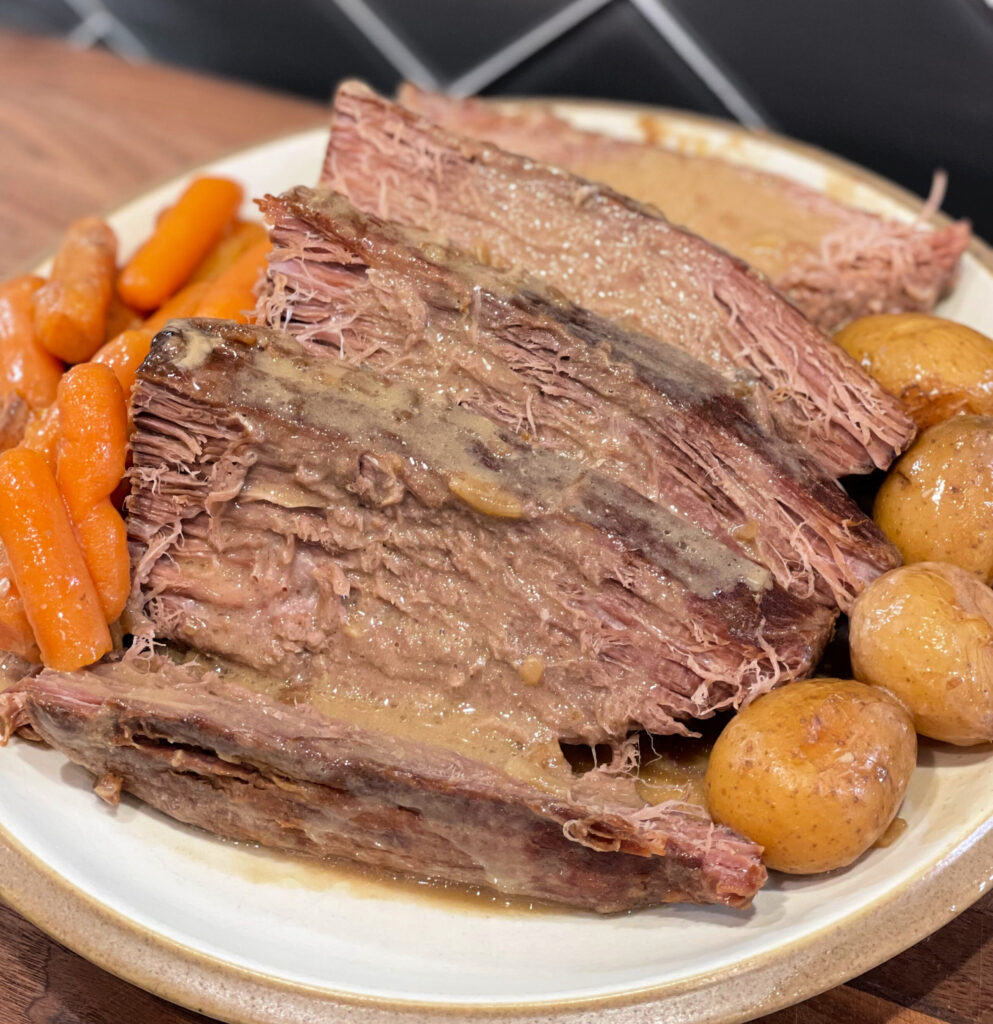 Hope you enjoy! If you make this, be sure to let me know what you think in the comments below! 
Melt in Your Mouth Slow Cooker Pot Roast is packed with flavor and needs only 3 ingredients! Print the recipe below to give it a try!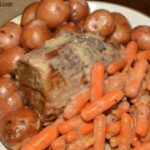 Print Recipe
Slow Cooker Pot Roast
Using only 3 ingredients, this Slow Cooker Pot Roast is simple to prepare and packed with flavor! Comfort food at its finest!
Ingredients
3

lb

Beef Roast

*I use round eye, but rump roast is great too!

1

can

Cream of Mushroom Soup

1

packet

Lipton Onion Soup Mix

Carrots/Potatoes (optional)
Instructions
Place beef roast into slow cooker.

Pour cream of mushroom soup on top of beef roast.

Sprinkle soup mix evenly on top of roast.

Place lid on slow cooker and cook on low for about 6-8 hours, or high for about 4 hours.

*If adding potatoes and carrots, add those into the slow cooker halfway through and pour about 1/4 water onto bottom of slow cooker.
Notes
*If using potatoes and carrots, I increase the cream of mushroom soup to 2 cans to make more gravy.
Nutrition
Calories:
242
kcal
|
Carbohydrates:
6
g
|
Protein:
39
g
|
Fat:
7
g
|
Saturated Fat:
3
g
|
Polyunsaturated Fat:
1
g
|
Monounsaturated Fat:
3
g
|
Cholesterol:
99
mg
|
Sodium:
3232
mg
|
Potassium:
560
mg
|
Fiber:
1
g
|
Sugar:
1
g
|
Vitamin A:
1
IU
|
Vitamin C:
77
mg
|
Calcium:
485
mg
|
Iron:
4
mg
Recipe updated: Sep 15, 2021