Easy Valentine's Day Cookies are delicious, easy, and take less than 20 minutes to prepare! Chewy, soft, and full of ooey, gooey chocolaty goodness in every bite!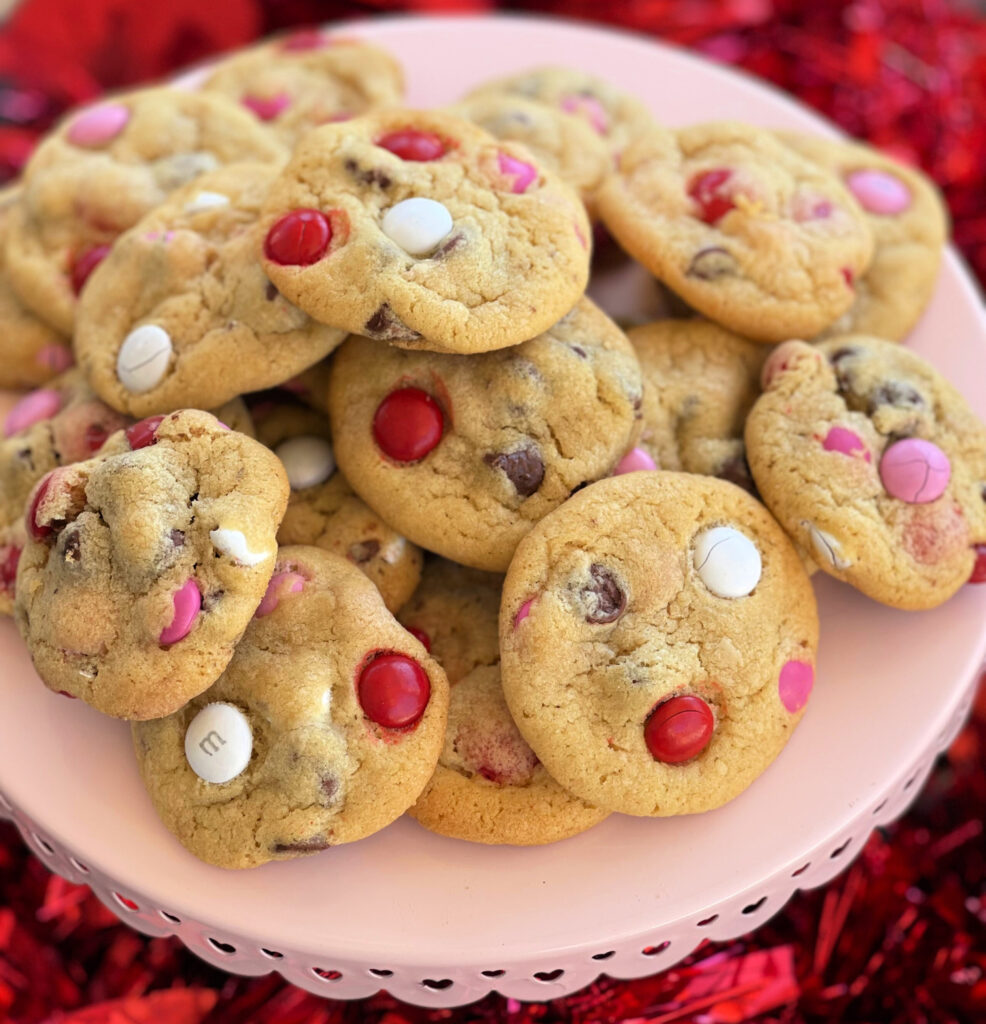 Cookies for your Valentine
Are you looking for the perfect sweet treat to make for your Valentine? How about a fun and festive way to celebrate Valentine's Day without spending a ton of time in the kitchen? Well, these Easy Valentine's Day cookies are just the thing to make!
A few days ago, I was browsing the Holiday aisle of the grocery store and came across Valentine's themed M & M's. I quickly grabbed a bag and planned to pour into a candy dish at the house for my kids to munch on.
When I moved to the next aisle, I found cute little Valentine's bags and immediately knew I wanted to make cookies instead, using the M & M's.
As I set out to make the cookie dough, I came across a bag of chocolate chips in my pantry. Why not combine the two I thought, right?! Is there really such thing as too much chocolate? I think not!
Not only was the cookie dough easy to work with, but it requires no chilling, which means you get to enjoy the cookies even faster!
Once the cookies were fully cooled, I added a few to several bags and my kids gave some to neighbors, their teachers, and friends! It was a fun, simple, inexpensive way to send a little cheer to others!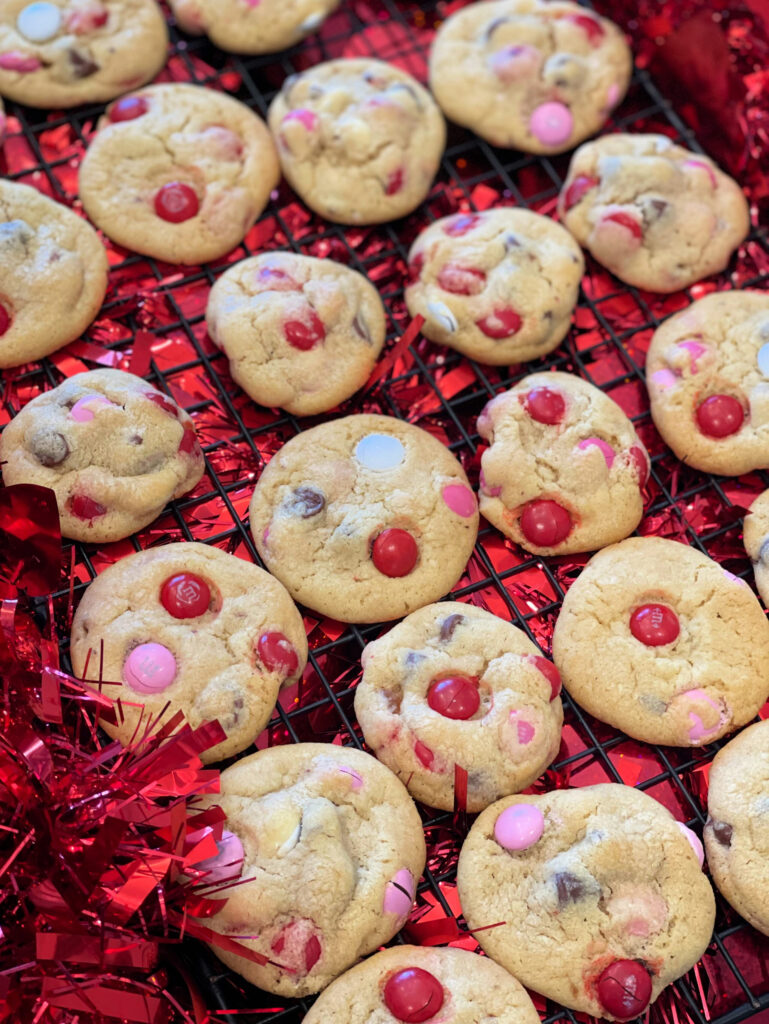 Ingredients Needed for Valentine's Day Cookies
Before starting this recipe, you'll want to verify that you have the following mostly pantry staple ingredients:
Butter- unsalted
Brown Sugar- light
White Sugar
Egg
Vanilla Extract
Flour- all-purpose
Cornstarch
Baking Soda
Salt
M & M's
Chocolate Chips-I use semi-sweet, but milk chocolate works too
How to make Valentine's Cookies
Prepare the dough. Cream together the butter, brown sugar, eggs, and vanilla. Add in the flour, cornstarch, baking soda, and salt. Fold in the M & M's and chocolate chips.
Scoop. Using a cookie scoop or spoon, scoop dough into balls and place on cookie sheet. Place additional M & M's into dough balls for added color.
Bake. Place cookie sheet into preheated oven, 350 degrees, and bake for about 10-11 minutes.
Serve. Remove cookie sheet from oven and allow to cool 3-5 minutes before removing. Enjoy!!
Tips for the perfect cookies:
Make sure your butter is softened! Do NOTand I repeat do NOT microwave your butter to soften it. I have tried this many a time and the cookies will come out with different texture (aka flat).
When storing these, place them in an airtight, sealed container for up to 4-5 days. Adding in one slice of white bread will help keep the cookies soft (fun fact, right?).
To freeze these, place in Ziploc bag with parchment paper separating layers. These cookies can be frozen for about 3-4 months.
If you want more chocolate chips, you can add up to 1 cup more!
Change up the chocolate chips to fit your desired flavor. Dark Chocolate, Milk Chocolate, White Chocolate, and Semi-Sweet all are great options!
Use a cookie dough scoop to make the cookies uniformed. HERE is the one I use and love.

Storing Easy Valentine's Day Cookies
Keep cookies in a covered container at room temperature for up to 3 days.
Refrigerate in Ziploc bags or storage containers for up to 1 week.
Freeze cookies in Ziploc for up to 2 months.
FAQ
Can you freeze the cookie dough? Place the dough balls on a baking sheet. You can go ahead and add the M&Ms on top now, or save them to add right before baking. Put the dough balls in the freezer, once solid transfer them to a freezer Ziploc. Freeze for about 3-4 months.
How to bake frozen dough balls? Place dough balls on a baking sheet and allow to thaw while the oven is preheating. Bake according to recipe directions. You may need to add 1-2 more minutes to account for the chilled dough.
How do you make these cookies prettier? Scoop dough and place on cookie sheet. Just before placing the cookie sheet into the oven, add about 5 M & M's to the top of each cookie dough scoop. This keeps the festive, pretty colors on top and makes for a pretty cookie. Feel free to add sprinkles too.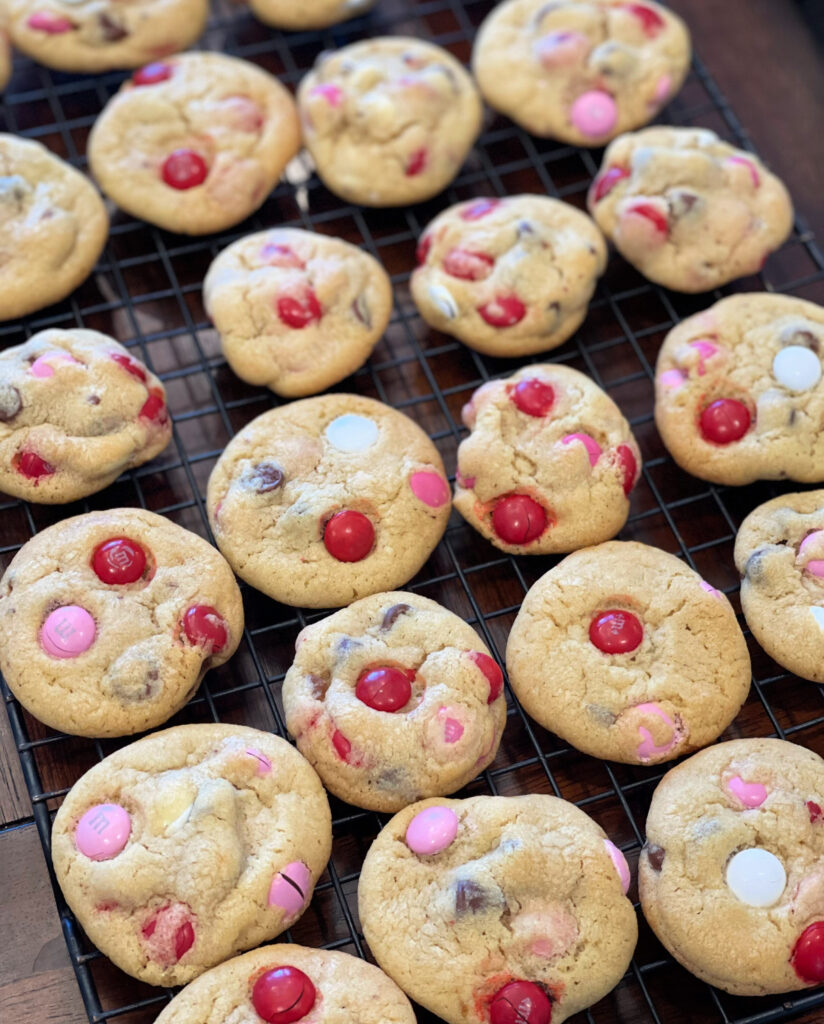 More Valentine Recipes
Valentine's Day Chocolate Chip Skillet Cookie– a giant chocolate chip cookie full of chocolate chips and M&Ms!
Incredible Valentine's Fudge Brownies– rich, fudgy in the middle, and made completely from scratch. These homemade brownies are so much better than the box, and I bet you have what you need to make them already sitting in your kitchen.
Strawberry Pop Rock Jello Shots– great flavor with the pop and crunch of pop rocks is just so fun.
Valentine Mini Cheesecake Squares– absolute best classic Cheesecake Squares you'll ever eat! This recipe features an easy, buttery graham cracker crust with an ultra creamy and slightly tangy cheesecake filling. Covered with chocolate!
Cupid's Boozy Milkshake– easy, delicious, and the perfect sweet treat for your Valentine!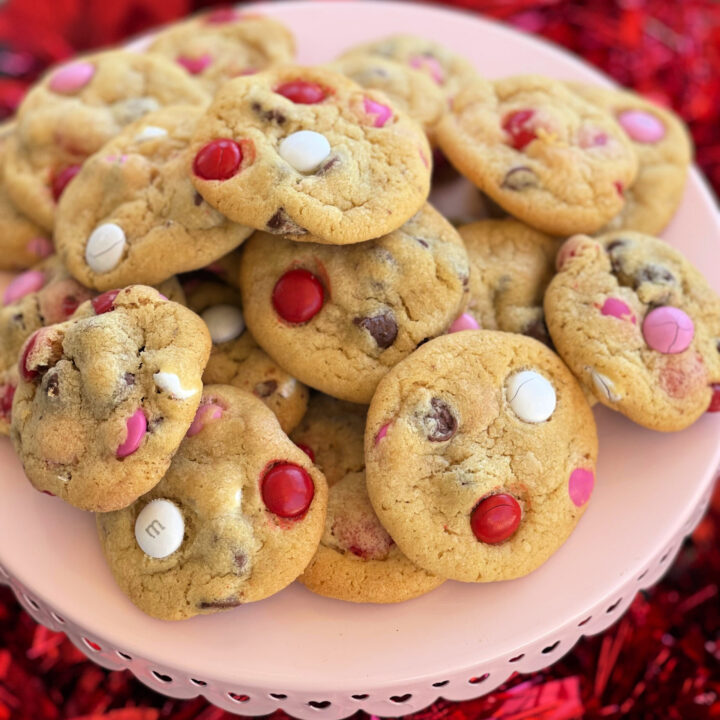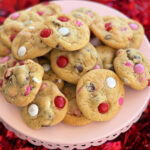 Print Recipe
Valentines Day Cookie Recipe
With Valentine's Day just around the corner, you might think about baking your sweetheart a special gift. These Easy Valentine's Day Cookies are delicious, easy, and take less than 20 minutes to prepare!
Ingredients
3/4

cup

butter

*softened

3/4

cup

brown sugar

1/4

cup

white sugar

1

egg

2

teaspoon

vanilla extract

2

cups

flour

*all purpose

2

teaspoon

cornstarch

1

teaspoon

baking soda

1/4

teaspoon

salt

2

cups

M & M's

1

cup

chocolate chips
Instructions
Preheated oven to 350 degrees.

In a medium bowl, combine the butter, brown sugar, white sugar, egg, and vanilla.

Add in the flour, cornstarch, baking soda, and salt.

Fold in the M & M's and chocolate chips.

Scoop dough into balls and place on cookie sheet, spacing about 2 inches apart.

Place cookie sheet in preheated oven and bake 10-11 minutes.

Remove cookie sheet from oven and allow to cool for about 3 minutes before removing and serving!
Nutrition
Serving:
2
cookies
|
Calories:
252
kcal
|
Carbohydrates:
34
g
|
Protein:
3
g
|
Fat:
12
g
|
Saturated Fat:
7
g
|
Polyunsaturated Fat:
1
g
|
Monounsaturated Fat:
2
g
|
Trans Fat:
1
g
|
Cholesterol:
26
mg
|
Sodium:
142
mg
|
Potassium:
25
mg
|
Fiber:
1
g
|
Sugar:
24
g
|
Vitamin A:
243
IU
|
Vitamin C:
1
mg
|
Calcium:
39
mg
|
Iron:
1
mg
Recipe updated 1/24/22