As I was browsing through Pinterest a few weeks ago, I saw a pin for rigatoni pie. I was so intrigued, I knew I had to try it. I was really in the mood for an Alfredo version since my hubby and I love Alfredo, so I changed this one up a bit. Cooking this in a spring form pan and removing the outside walls to the pan once cooked, this literally turned into a pasta pie. The kids were quite amazed and intrigued with the look of this. The pasta was tender, sauce was flavorful, and it made plenty to feed my family of 5 and STILL have over half the pasta left! Needless to say, this is an inexpensive, must try pasta dish!!
I made a video tutorial for those who would like to see how this is made. After stacking the pasta one by one in the pan, my hubby came up with a brilliant idea to speed along the process. Turn the spring form pan on its side and stack the pasta quickly. Much easier than having to get them to stand straight until pan is full.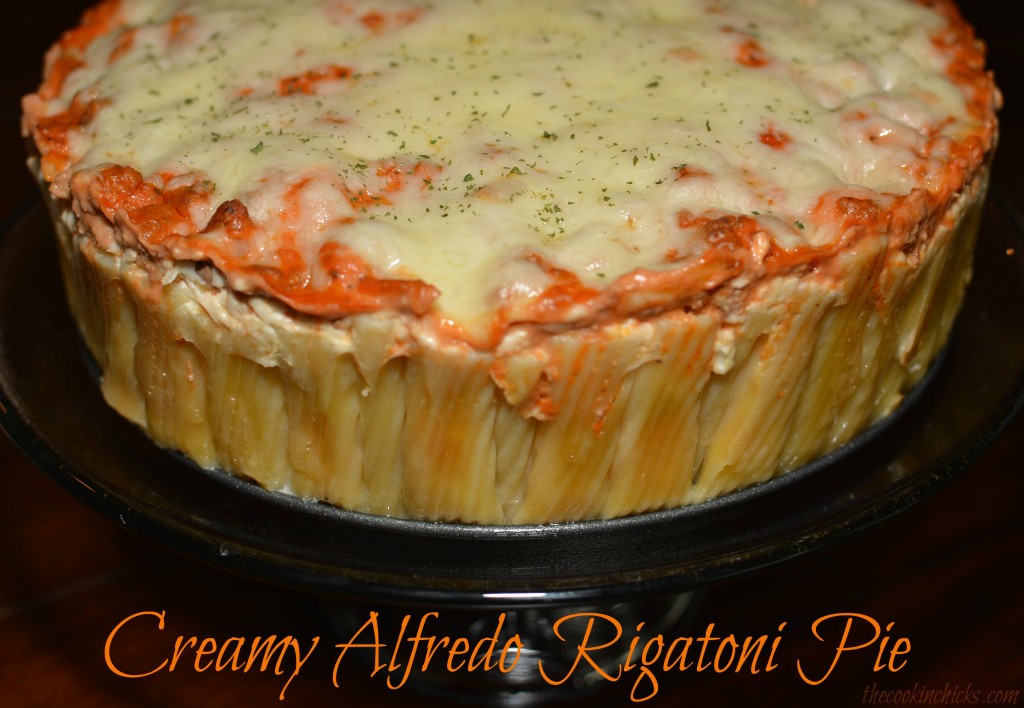 Ingredients:
1 lb Rigatoni
2 cups Alfredo sauce
1 cup tomato sauce
1/2 cup water
1 tablespoon olive oil
1 lb ground turkey or beef
1 cup Parmesan cheese, shredded
1 container cottage cheese
1 egg
1 1/2 cups mozzarella cheese, shredded
Directions:
Grease a spring form pan and preheat oven to 400.
In a pot of boiling water, cook the Rigatoni about 1-2 minutes earlier than al dente.
Drain water and add in the 1 tablespoon olive oil to prevent sticking.
Stir in the 1 cup Parmesan cheese and toss to coat pasta evenly. Set aside.
In a skillet, cook the beef/turkey until no longer pink.
Add in the Alfredo sauce, tomato sauce, and water.
Allow to simmer for about 15 minutes.
In a small dish, combine the cottage cheese with the egg.
To assemble "pie", stack the pasta standing up. Be sure to fill entire spring form pan.
Spread cottage cheese mixture on top of pasta. Use fork to gently press mixture into the noodles.
Spread sauce on top of the cottage cheese mixture evenly.
Bake in oven for about 15 minutes, removing to add the mozzarella cheese.
Place pan back into oven for about 15-20 minutes, or until bubbly and cheese is melted.
Remove pan from oven and allow to cool for 10 minutes.
Remove sides of spring form pan carefully and cut desired size pieces. Enjoy!!