This morning I was craving chocolate. I went through the pantry and found a big bag of chocolate chips. Normally, I would rip open that bag and go to town eating handfuls….I know, it sounds terrible, but trust me, its delicious!! However, this morning I felt like baking. I am watching an extra little boy on top of my three kids, so I figured I needed to do something in which four kids, five years old and younger could help. I went through some recipe books and found this version of the cookie. It turned out yummy and all four kids went crazy over them!!!
Ingredients:
3/4 cup butter
1/4 cup shortening
1 cup packed brown sugar
1/2 cup granulated sugar
3/4 tsp baking soda
1/2 tsp salt
2 eggs
1 tsp vanilla
2 1/2 cups flour
2 1/2 cups chocolate chips
1 cup walnuts (optional)
Directions:
Preheat oven to 375. In a mixing bowl, beat the butter and shortening. Add in the brown sugar, granulated sugar, baking soda, and salt. Beat until all is combined. Beat in eggs and vanilla until combined. Add in flour slowly, beating until thoroughly mixed. Add in chocolate chips and walnuts, stir.
Drop dough by rounded teaspoons about two inches apart on an ungreased cookie sheet. Bake for about 8-9 minutes or until edges are light brown. Transfer to a cooling rack!! Enjoy!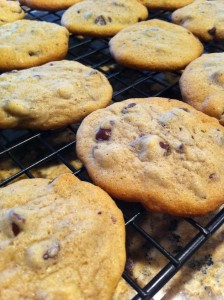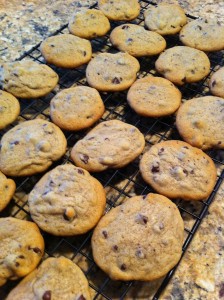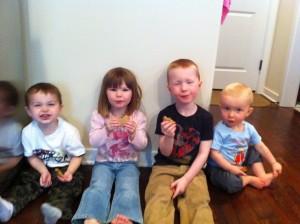 I couldn't get all kids to smile at once, but these cookies got eaten up quite quickly, ; )