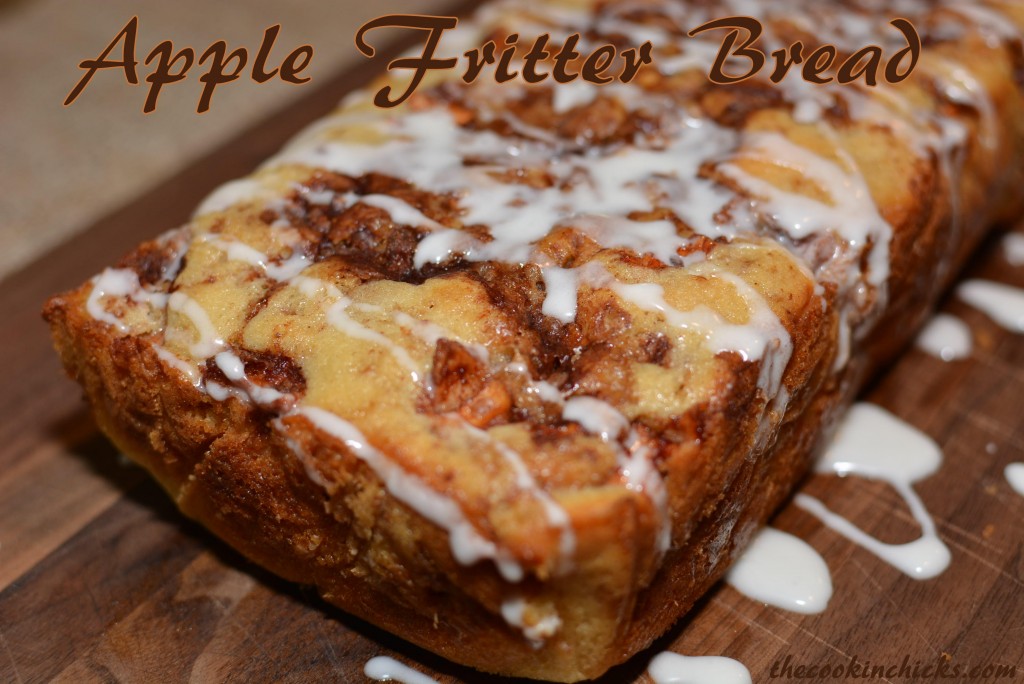 Now that apple season is here, I have been buying lots of apples to keep in the house. My kids LOVE eating sliced apples with peanut butter, and I love throwing them in my morning smoothies. Last week, I bought a huge bag of apples since they were on sale, and by the end of the week, we only had two left. I decided to set those aside and make a yummy, new recipe with them. Since my hubby loves apple fritters, I wanted to try this bread out. Not only was it packed with flavor, but it literally tasted just like a fritter, only in bread form. The bread is a cross between cake and apple fritters. You could enjoy a slice with your morning cup of coffee, or as a sweet treat later in the day. With Fall among us, this bread is a must try, 🙂
Ingredients:
1/3 cup brown sugar
1 tsp ground cinnamon
2/3 cup white sugar
1/2 cup butter, softened
2 eggs
1 1/2 tsp vanilla extract
1 1/2 cups flour
1 3/4 tsp baking powder
1/2 cup milk
2 apples, peeled and chopped
2 tbsp sugar
1 tsp ground cinnamon
1/2 cup powdered sugar
3 tbsp milk
Directions:
Preheat oven to 350 and grease a 9×5 inch loaf pan (or you can use a muffin tray).
In a small bowl, combine the brown sugar and ground cinnamon. Set aside.
In a different bowl, mix the sugar and butter together using an electric mixer.
Once creamy, add in the eggs and vanilla extract.
Slowly add in the flour and baking powder.
Add in the milk. Set aside.
In a small bowl, add the chopped apples with the 2 tbsp sugar and 1 tsp ground cinnamon.
Pour half the batter into the loaf pan.
Add half the apple mixture on top of the batter, followed by half the sugar/cinnamon mixture (from step #2).
Pour remaining batter into loaf pan, followed by remaining apples, then sugar cinnamon mixture.
Bake in preheated oven for about 55-60 minutes, or less if using muffin tray.
Once baked, remove from oven and allow to cool for about 25 minutes.
Combine the powdered sugar and milk together to create a glaze.
Drizzle glaze over bread and slice into desired size pieces.
Enjoy!!
Recipe adapted from: The Baking Chocola Tess