A few nights ago, my husband and I decided we were in the mood for a panini. I typically always keep a loaf of Focaccia bread in my freezer for such occasions, but other than that, I typically need to go to the store for the remaining ingredients. We decided to look around our pantry and see if we could create something new. We opted for tuna melts, using our panini press. The tuna turned out so yummy, I would have to say that this recipe is my new go to recipe for tuna salad. It was full of flavor and a definite winner.
Ingredients:
1 package or can (6 oz) tuna (drain water or oil)
1/3 cup cottage cheese
2 tbsp mayonnaise
1/4 purple onion, finely chopped
1 tbsp lemon juice
1 tsp Dijon mustard
1 loaf Focaccia bread
Sliced Cheese, any type desired (we used American)
Directions:
In a bowl, combine on ingredients minus the bread. Cut loaf into "sandwiches". You should be able to get about 4 sandwiches per loaf.
Spoon tuna mixture onto the bread. Place one slice of cheese on top of tuna and cover to create sandwich. Preheat your
panini press
or griddle. Place sandwich on to press and close lid. Allow to cook for about 4-5 minutes, or until cheese is melted and sandwich is toasted. *If using a griddle or pan, cook on each side for a few minutes, to toast evenly.
Serve!!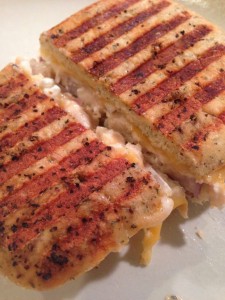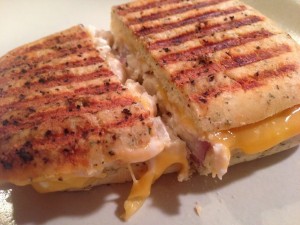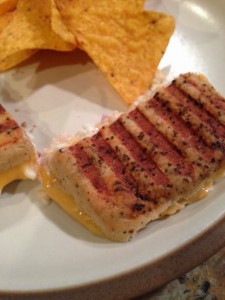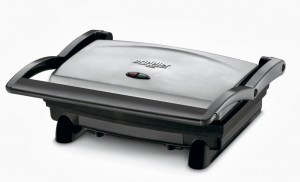 This is the Panini Press I have, click
here
to view it!!