Each weekend, my hubby smokes some type of meat for the family. It can vary from ribs, to pork shoulder, brisket, etc. Last weekend, pork was on sale at our local grocery store so we stocked up!! He smoked it all day and by dinnertime, it smelled and looked fabulous! We used the meat in tacos, but you could use it in quesadillas, sandwiches, by itself, etc.
The whole family, kids included,  loved these tacos and we were able to take the leftover meat and put it in the freezer for another meal down the road!!
Hope you enjoy!!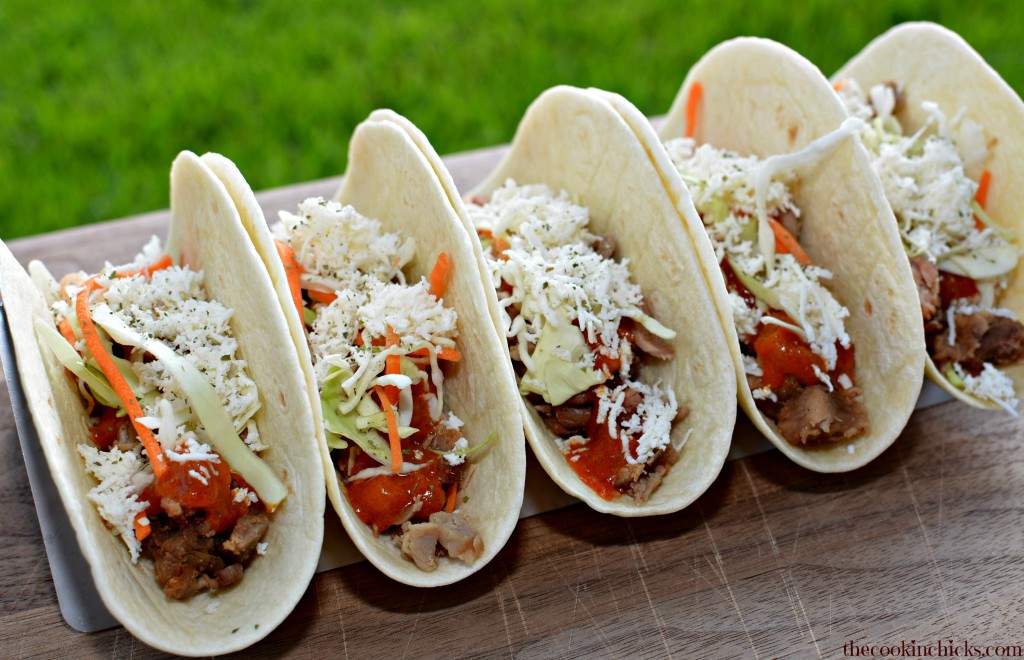 Ingredients:
Pork Shoulder (ours was 7lbs)
Chupacabra rub or any other dry rub desired
Tortillas
Cabbage Slaw
BBQ sauce of choice
Mexican cheese, shredded
Directions:
Spread dry rub over entire piece of meat.
Place meat on smoker and cook at 180 degrees for 3 hours.
After 3 hours, turn temperature up to 225 degrees and allow meat to smoke until internal temperature reaches 190 degrees.
Once 190 degrees, remove from heat and allow to sit on counter for about 30 minutes.
Using knives, forks, or bear paws (I love using these for meats), shred or chop meat.
Serve in tortilla shells with some cabbage slaw, cheese, and BBQ sauce on top!