For Fathers day a few months ago, we gave my hubby a smoker. Although he has used it to smoke ribs, chicken, and jalapenos, we had held off on the brisket until he learned all the tricks and techniques to smoking meats! For my birthday dinner last weekend, my parents came up and brought beef brisket, baked potatoes, and corn on the cob!! My hubby smoked the meat all day and the only seasoning used was salt and pepper. By dinner time, it was ready to devour and it was amazing! Literally melt in your mouth, packed with flavor, and incredibly tender! That evening we enjoyed it sliced with some barbeque sauce on top, but the next evening, we chopped it up, added some more sauce, and ate it on hamburger buns!
My hubby has a Pit Boss smoker, which was definitely one of the more affordable smokers we came across when doing our research. It can smoke and also grill if desired, runs on wood pellets, and has a digital temperature control! Highly recommend a Pit Boss if in the market for a smoker/grill!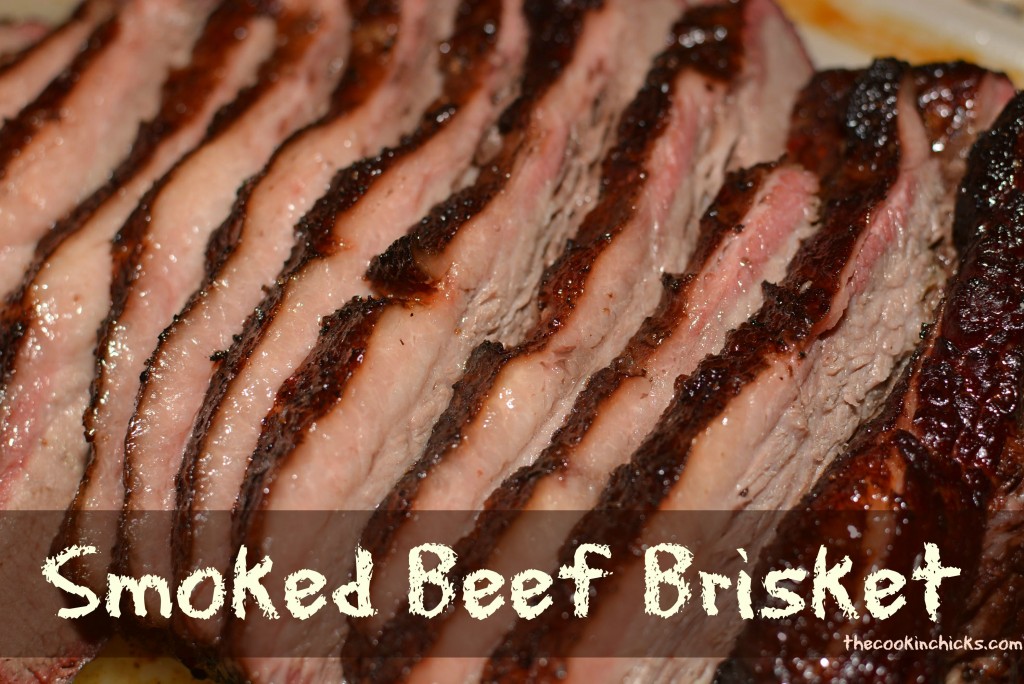 Ingredients:
6-8 lb brisket
Salt/Pepper/ Rub of choice
BBQ sauce if desired
Directions:
Coat brisket with salt/pepper, or rub of choice.
Wrap brisket in plastic wrap and place in refrigerator for about 12 hours to marinate.
Start grill on smoke and allow plenty of time for cooking.
After grill has ignited, place brisket fat side up and smoke for 4 hours.
After about 4 hours, turn temperature up to 250 degrees. *Be sure to use a digital thermometer probe to track temps.
When meat reaches a temperature of 180, remove brisket from grill to wrap in foil.
Place meat back onto grill until temperature reaches 195-205 degrees.
Remove meat from grill and allow to sit on counter for about 30 minutes prior to slicing.
Enjoy!!
Recipe adapted from: Traeger