Believe it or not, I had never made Quinoa, never tasted it, etc. I had heard great things about it, but never bought any to try. I had mentioned my interest briefly to my husband one evening. He was in charge of the Costco run the next day and when he returned, he had bought a Costco sized bag of Quinoa to try. Good hubby, right? Anyhow, I threw some things together and attempted my first recipe using it, and it was a success. I could not believe how flavorful this dish was, and how healthy it was! My kids loved it as well and plowed through their plates!! I highly recommend this dinner. You can even add in a little sausage or chicken if you desire!!
Ingredients:
1 1/2 cups Quinoa, rinsed
3 tsp canola oil
1 onion, chopped
1 cup frozen corn
1 can (15 oz) black beans, drained and rinsed
2 cups cherry tomatoes, quartered
2 tsp ground cumin
1 tsp chili powder
6-8 tbsp lime juice
1 cup Feta cheese
1/2 cup fresh cilantro, chopped

Directions:
Bring 2 1/2 cups water to a boil.
Stir in Quinoa and 1/2 tsp salt.
Reduce heat to low, cover, and simmer for about 18 minutes, or until water is evaporated.
Remove from heat and allow to sit for 10 minutes.
Heat the oil in a large skillet and cook the onion until tender, about 6 minutes.
Add the corn in and cook an additional 2 minutes.
Add the beans and cook an additional 3 minutes.
Transfer mixture to a bowl.
Add in the Quinoa, tomatoes, cumin, chili powder, and lime juice.
Toss until well mixed.
Add in Feta cheese and cilantro.
Serve!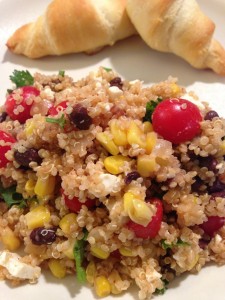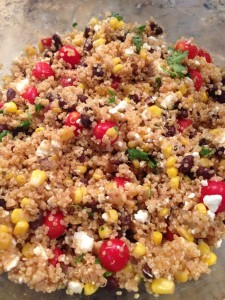 [AdSense-A]