As I have mentioned before, my family buys the big bag of Quinoa from Costco. We love to eat Quinoa whenever we can, so we go through lots of it. Last night, I made these tacos for the family. The kids ate these without tortillas, so more like a casserole. The hubby and I enjoyed these like we would a taco, and it was amazing! My hubby said that this is his most favorite Quinoa dish we have had yet. Quite impressive huh??
Ingredients:
2 cups cooked Quinoa
1 tbsp olive oil
1 onion, diced
5 garlic cloves, minced
1 cup vegetable broth (you can use chicken broth if desired)
1 can diced tomatoes w/ green chilies, undrained (14.5 oz)
2 tsp chili powder
1 tsp ground cumin
1 tsp paprika
A shake or two of Cayenne Pepper
Salt/Pepper to taste
2 can (15 oz) black beans, drained and rinsed
1 cup corn
1/2 cup chopped cilantro
1 avocado, diced
Sour Cream/Cheese/Tortillas
Directions:
Heat oil in a saucepan. Add in onion and allow to cook for about 3 minutes. Add in garlic and saute for 30 seconds. Slowly add broth, tomatoes, cooked Quinoa, and seasonings. Allow to simmer for about 10 minutes, or until liquid is gone. Add in black beans and corn. Allow to cook for an additional 5 minutes. Serve in tortillas with cilantro, avocado, and any other desired topping.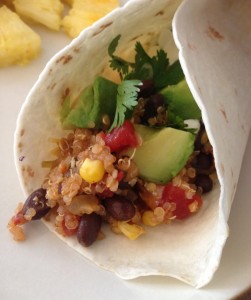 Recipe adapted from Cooking Classy