Oh boy, even just writing this post is making me want to run to the kitchen and grab the bag of these and plow through them. Yes, I am craving one even at 7:45 am!! These are amazing!! They are literally my three favorite things, all in one. My husband and I had one last night and were both in love with them. When you read the directions, you will most likely laugh at how easy this recipe is, but trust me when I say, you NEED to try these!! Yum!!!
Ingredients:
One package Oreos (I used regular, you could use double stuffed or peanut butter if desired)
Creamy Peanut Butter
1 package brownie mix (and ingredients needed to make the mix)
Muffin cup liners
Directions:
Take a muffin tin and line them with muffin cups. Take one Oreo and spread a layer of peanut butter on top. Take another Oreo and press it on top of the peanut butter layer, creating an Oreo sandwich. Spread another layer of peanut butter on top and place "Oreo sandwich" in muffin cup. Continue process until all 12 muffins cups have Oreo's inside. In a bowl, make the brownie mix according to the box directions. Scoop about 1 tbsp of brownie batter on top of Oreo. Bake in a preheated oven (350) for about 18-20 minutes. Enjoy! *These are best served warm!
I was able to make about 16 brownie cups with one batch.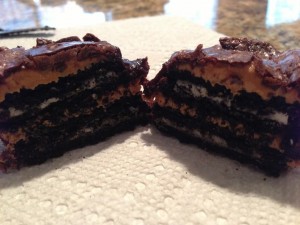 Amazing huh?? Yum!!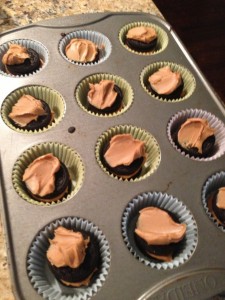 All ready for the brownie batter
Straight out of the oven!!