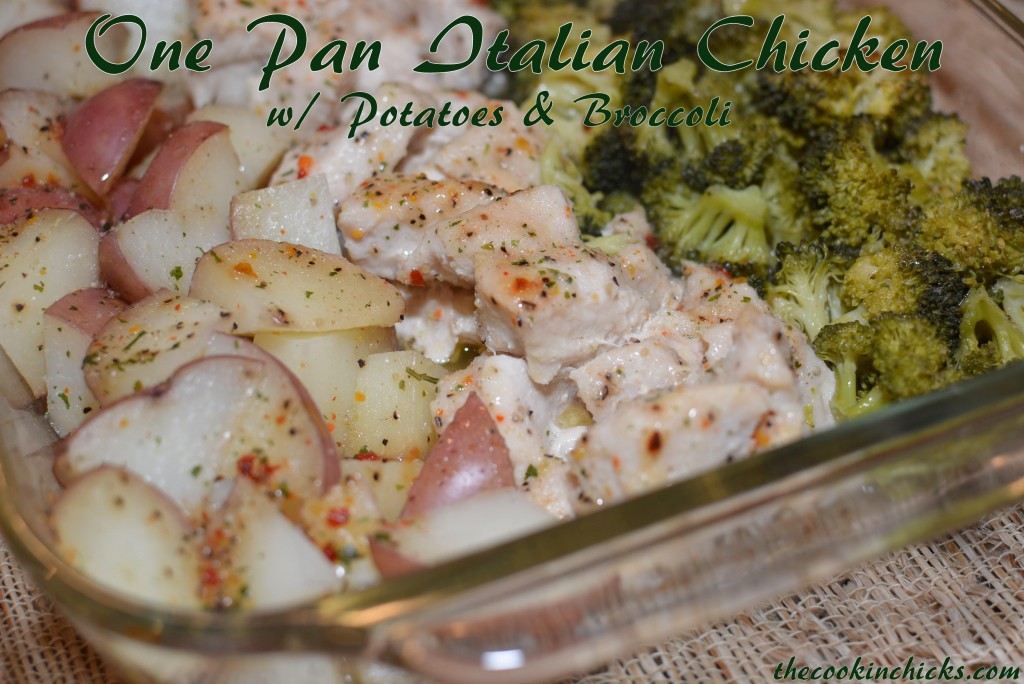 Two weeks ago, we posted our One Pan Ranch Chicken w/ Green Beans and Potatoes. It was such a huge hit with everyone and the feedback was great. After playing around with a few other combinations, this one came about and was delicious! The broccoli turned out perfectly and was packed with flavor, the chicken was moist and tender, and the potatoes were great! If you are looking for a simple dinner without several dishes to clean up, look no further! It is literally one pan, and the entire dinner done all at the same time! Pop this in the oven and have plenty of time to move on to other things in your day! Even my three year old loved this, so I know you all will too, 🙂
Ingredients:
2 lbs boneless chicken breasts, cut into smaller pieces
1 packet Italian Season mix
7-8 red potatoes, cut into smaller pieces
Broccoli (I used fresh but frozen works too) *Use as much as needed, I used about 2 large heads of broccoli
1/2 cup butter, melted
Garlic Powder
Directions:
In a 9×13 baking pan, place the cut up potatoes to one side.
In the middle of the pan, place the cut up chicken pieces.
On the other side of the pan, place the cut up broccoli.
Sprinkle garlic powder and Italian seasoning over entire pan making sure to coat evenly.
Melt the butter and pour over entire pan.
Cover pan with foil and bake in a preheated oven, 350, for about an hour.
Remove foil and serve warm!!