I have a confession to make. I.AM.OBSESSED.WITH.MUDDY.BUDDIES (aka puppy chow). When I say obsessed, I mean, don't bring that stuff within a 10 miles radius of me unless you want me to eat it all. Yes, 10 miles, maybe even more since I am definitely willing to drive far distances to get my hands on it, he-he!! Something about chocolate, peanut butter, crunchy cereal, me thinking its only 5 calories per bag, powdered sugar, etc. Anyhow, I saw a recipe from Dinner, Dishes, & Dessert for Puppy Chow bars and fell in love. I changed the recipe to make it more like the puppy chow I make at home, since as I mentioned, I am a bit obsessed. : )
These were SO tasty and much easier to eat in "bar" form. I left mine as a clumpy bar, and didn't push the cereal down to the point it broke into pieces. However you choose to make these, you'll love the end result!! YUM!!
Ingredients:
5 cups Corn Chex cereal (I just used store brand)
2 cups chocolate chips (semi-sweet is my favorite)
1 cup peanut butter
1 tsp vanilla extract
2 large marshmallows (these just help hold it more as a bar, if you don't have on hand, its not a big deal)
Powdered Sugar
Directions:
In a large bowl, pour cereal in.Set aside.
In a microwave safe bowl, mix chocolate chips, peanut butter, vanilla, and marshmallows  Microwave in 45 second increments until chocolate mixture is smooth and melted.
Pour chocolate over cereal and mix until coated.
Pour into an 8×8 dish.
Push mixture down firmly if you want it to be more of a "bar", or you can leave it thick and "chunky" like I did.
Sprinkle desired amount of powdered sugar on top.
Either place in fridge to set up firm, or leave in an air tight container, room temperature, for a more soft bar.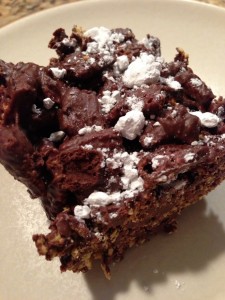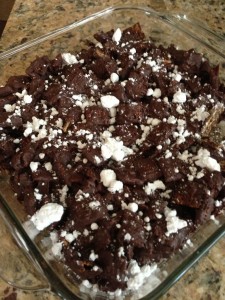 [AdSense-A]