For the past year or so, every time I went on Pinterest, I would see a recipe called "Mississippi Roast"! I would click into it, tell myself that it looked yummy, but end up passing it by without pinning it or feeling like I should try it. Why?? Because I grew up with my mom making a version of her own pot roast that was (and is) AMAZING!! It is the one meal I request each and every birthday for dinner, and nothing can compete with it!!
A few weeks ago, my mom and I were browsing through Costco and I decided to buy a two pack of roasts. I got home, packaged them up, and tossed them in the freezer. Fast forward to this past weekend, I pulled one out and had every intention of making mom's pot roast, however, I was missing a few of the needed ingredients! As I was quickly searching through the pantry, I realized I did have all the ingredients for the Mississippi roast. I put everything together in about 5 minutes, and the family and I spent the day at the pumpkin patch. We got home late afternoon and the house smelled amazing!!
I shredded the beef, poured the gravy from the slow cooker back over the meat, and added in some new pepperoncini prior to serving. My hubby and kids went crazy over this! Seriously, like plate scraping good! Now, it is not better than my mom's pot roast, BUT it is definitely an equal tie! The next night, we took the leftover meat and put it on rolls to make sandwiches. This roast is packed with flavor, so simple to make, and very family friendly. Whether you serve it by itself, over rice, pasta, potatoes, or on rolls…..don't pass this one up, its a must try!!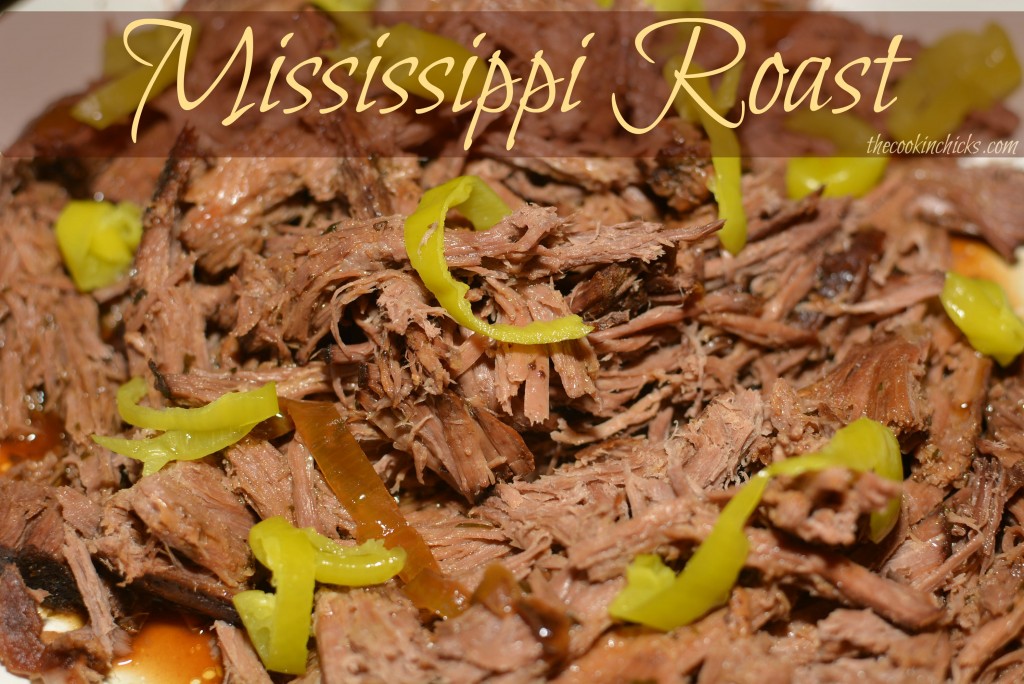 Ingredients:
1/4 cup water
3 pound chuck roast
1 oz packet dry ranch dressing mix
1 oz packet au jus gravy mix
3 tbsp. butter
1/2 cup sliced pepperoncini
Directions:
Pour water onto bottom of slow cooker.
Add the roast on top.
Sprinkle ranch and au jus on top of roast evenly.
Place butter on top of roast.
Add pepperoncini on and around roast.
Put lid on slow cooker and cook on low for 7-8 hours, high for about 4-5.
Shred and serve with gravy!