These Mini Cinnamon Banana Muffins make the perfect breakfast, snack, or sweet treat! Moist, flavorful, and simple to prepare!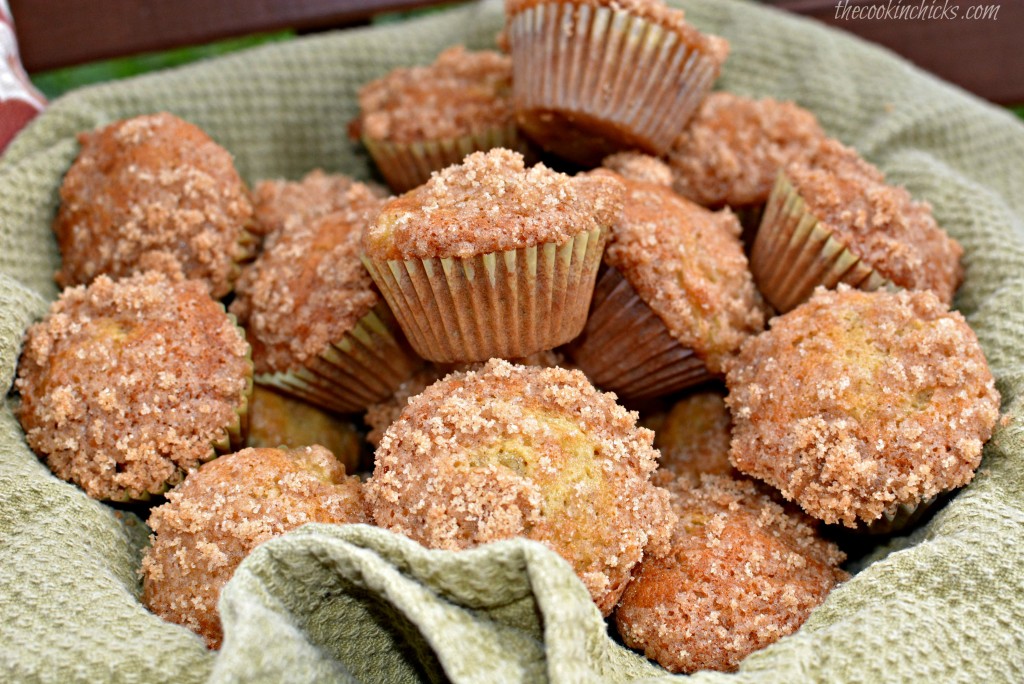 Last week, my husband had a new employee starting at work and what better way to welcome them to the job, than with muffins, right?!?!
I was able to use up the bananas that had been sitting on my counter a bit too long, and the kiddos enjoyed a few of these as their afternoon snack! Win win!!
Are your kids like mine where they go in stages of loving bananas and disliking them? Some weeks, I can hardly keep them in the house, other weeks, its as though bananas are the nastiest thing and my kids want nothing to do with them, haha!
Each time the "dislike bananas" phase comes around, I end up putting the extras in my freezer to use at a later date. If I don't keep track, I tend to have over 10 bananas in my freezer at a time! Thats where recipes like these come into play! I am able to clear a bit of space from my freezer, and make a treat the entire family (or coworkers in this case), will enjoy!
These make great breakfasts, snacks, treats, and they are great to freeze and pull out for a later occasion!! If you prefer regular sized muffins, these can be adapted. Simply add a bit more time to the cook time and you're set.
My favorite part of these is the cinnamon topping. It takes the flavorful muffin and transforms it into a combination that will have your taste buds thanking you. Paired with a cup of coffee or glass of cold milk, what more can you ask for, right?!
If you love bananas, you'll love these other favorites:
Enjoy and be sure to let me know what you think in the comment section below!!

These Mini Cinnamon Banana Muffins are packed with flavor making them a great treat anytime of the day! Print the recipe below!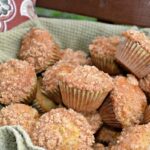 Print Recipe
Mini Cinnamon Banana Muffins
These mini muffins make the perfect breakfast, snack, or even afternoon/evening treat! Serve them now or freeze them for later!
Ingredients
1 1/2

cups

flour

1

teaspoon

baking soda

1

teaspoon

baking powder

1/2

teaspoon

salt

3

bananas, mashed

3/4

cup

sugar

1

egg

1/3

cup

butter, melted

1/3

cup

brown sugar

2

tablespoon

flour

1/4

teaspoon

ground cinnamon

1

tablespoon

butter
Instructions
Preheat oven to 375 and grease/line a mini muffin tray.

In a medium bowl, combine the flour, baking soda, baking powder, and salt.

In a separate bowl, combine the bananas, sugar, egg, and melted butter.

Stir the banana mixture into the dry mixture and mix until just combined.

Spoon batter into prepared muffin cups, about 2/3 full.

In a small bowl, mix together the brown sugar, flour, and cinnamon.

Using two forks, cut in the 1 tbsp. butter to the cinnamon mixture until mixture resembles coarse cornmeal.

Sprinkle topping over the muffin cups.

Place muffin tray in preheated oven and bake for 10-12 minutes.

Remove tray from oven and allow to cool for 1-2 minutes before removing from tray!
Notes
*You can also make these into full size muffins, just adjust bake time to 18 minutes.

Nutrition
Calories:
109
kcal
|
Carbohydrates:
19
g
|
Protein:
1
g
|
Fat:
3
g
|
Saturated Fat:
2
g
|
Polyunsaturated Fat:
1
g
|
Monounsaturated Fat:
1
g
|
Trans Fat:
1
g
|
Cholesterol:
15
mg
|
Sodium:
142
mg
|
Potassium:
70
mg
|
Fiber:
1
g
|
Sugar:
11
g
|
Vitamin A:
113
IU
|
Vitamin C:
1
mg
|
Calcium:
17
mg
|
Iron:
1
mg