I had some frozen pork chops in the freezer and wanted to try a new recipe. I came across this one on allrecipe.com and the reviews were high on it so I thought I would give it a try. I really loved the flavor it had but my husband wants me to do half the onion next time. I thought It was good with a whole one but for him I will do half!
Ingredients
6 pork chops
1/4 teaspoon seasoned

salt

1/4 teaspoon freshly ground black pepper
1

onion

, chopped
2 cups fresh sliced mushrooms
1 (10.75 ounce) can natural cream of mushroom soup
1 tablespoon cornstarch
Directions
Preheat oven to 375 degrees F (190 degrees C).

Rinse pork chops, pat dry, and season with seasoned salt and pepper. Place them in a 9×13-inch baking dish. Combine onion, mushrooms, and soup in a separate small bowl. Mix together and spoon over chops.

Cover and bake in preheated oven for 45 minutes. Uncover and bake for 15 more minutes. (Note: Time could be less or more depending on thickness of chops.) Pork chops are done with their internal temperature has reached 160 degrees F (70 degrees C).

Pour sauce into a medium pot and bring to a simmer. Whisk together cornstarch and 1/2 cup of sauce in a small bowl. Whisk into pot and simmer until thickened, about 2 minutes longer. Serve with pork chops.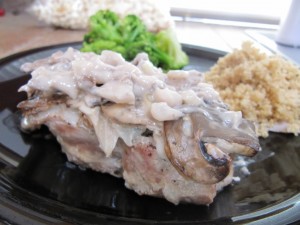 The picture dosen't look as good as it taste! 🙂