Don't you love a meal where you dump the ingredients in, don't think of it all day, and can dish it out onto your plate to eat it come dinnertime? Me too! My family gobbled this up last night, and my husband asked to take the leftovers for lunch today. Yes, you read that right….he "asked" to take leftovers haha!!
Ingredients:
1 lb boneless, skinless chicken breasts (thawed or frozen)
1 can cream of chicken soup
1 onion, chopped
Chicken Broth
1 package buttermilk biscuits (I used Pillsbury)
Direction:
In your slow cooker, place a liner bag or spray bottom.
Place chicken, cream of chicken soup, and onion inside.
Pour in chicken broth to halfway cover the chicken.
Place lid on crockpot and allow to cook on low 7-8 hours, high 4-5.
Once chicken is cooked, shred with a fork.
About 30 minutes prior to being done, take your biscuit dough and break it into chunks into your crockpot.
Close lid and cook another 30 minutes or so. Serve!!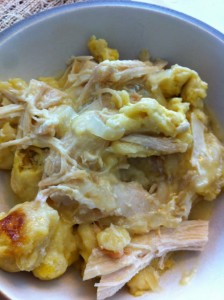 [AdSense-A]