This Copycat Crunchwrap Supreme recipe is simple to make, packed with flavor, and so much better than the original! Filled with taco meat, nacho cheese, sour cream, lettuce, shredded cheese, and a tostada shell to give it that signature crunch!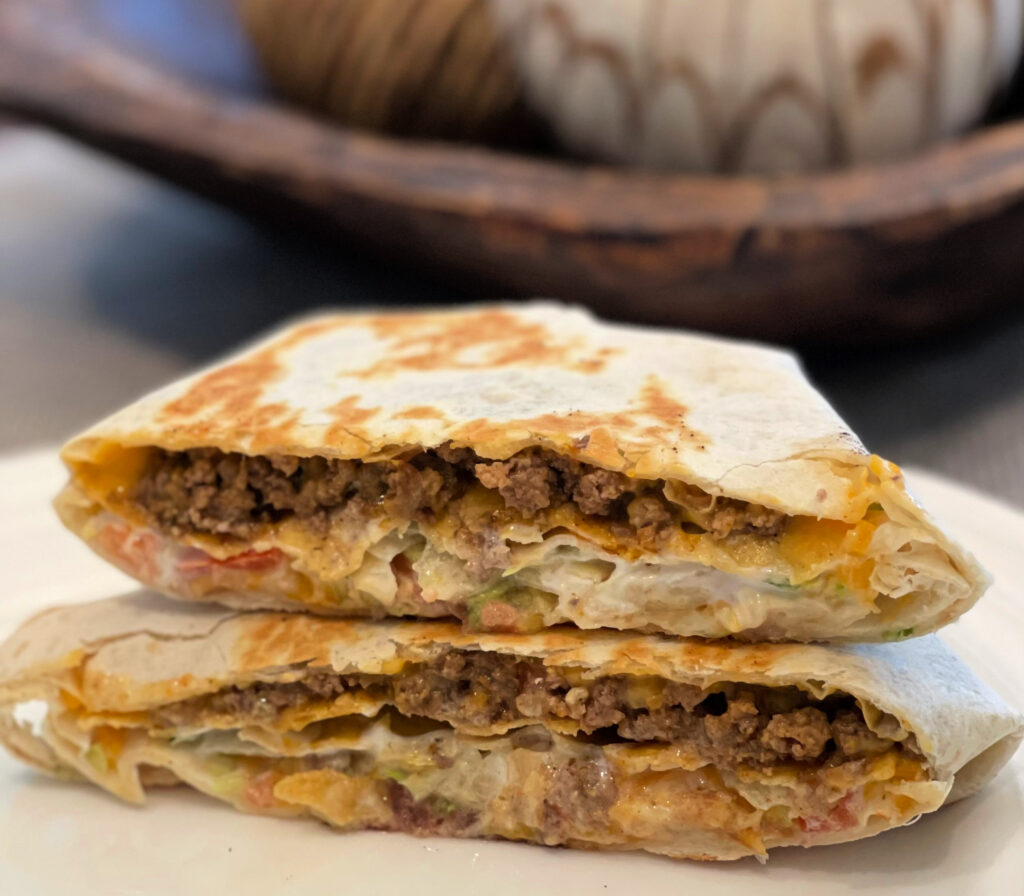 I must confess that I love Taco Bell. My family doesn't go there very often, but when we do, I order either their Crunchwrap Supreme or Mexican Pizza. Their Crunchwrap Supremes are called Supreme because they are loaded with lots of cheesy, crunchy, delicious flavors including sour cream, lettuce, and beef. If you have not had one before, I highly recommend giving it a try!
Since you can make these at home using this handy recipe, you can adjust the ingredients to fit your preferences. Use your own homemade taco seasoning, or candied jalapenos! You can even use some salsa chicken in place of the ground beef.
What is a Crunchwrap Supreme?
With seasoned beef, nacho cheese sauce, lettuce, tomatoes, and a crunchy tostada shell for extra loud chewability, the Crunchwrap is a tried-and-true classic recipe from Taco Bell! Something about the soft outside shell, followed by the crispy tostada shell that makes everyone go back for more!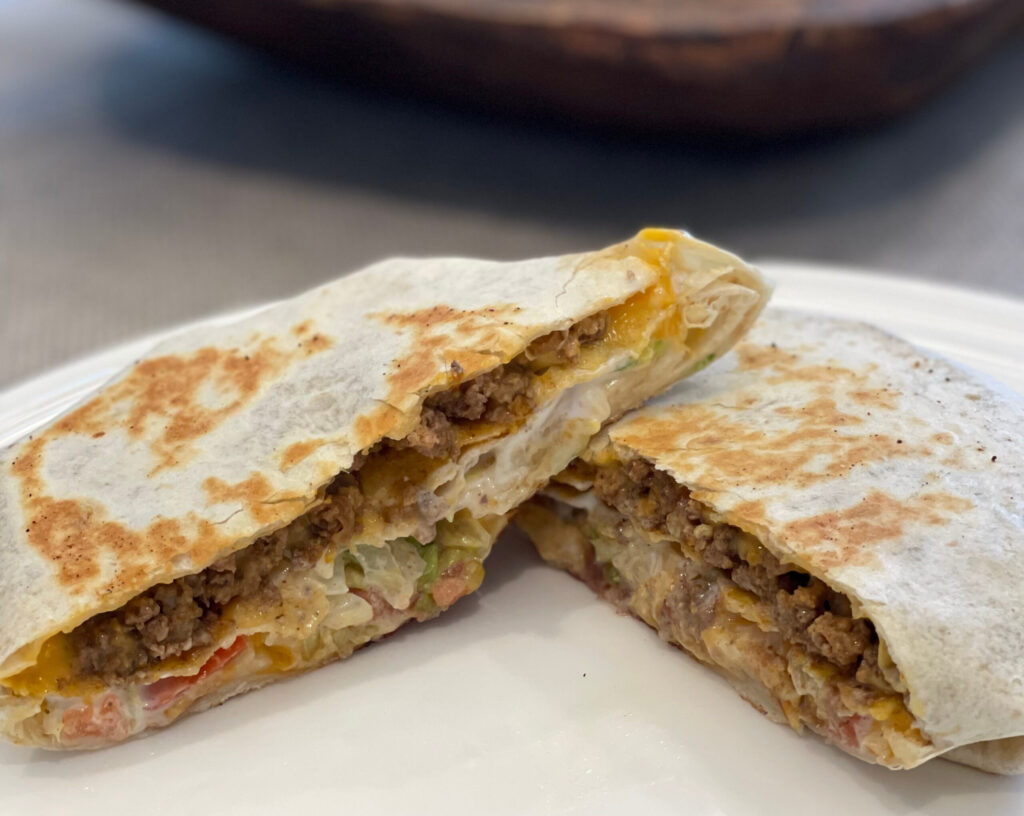 Ingredients Needed:
This Copycat Crunchwrap Supreme is easy to make at home in just a few steps and they're great to use up leftover taco fillings of any kind!
Ground Beef– I prefer to use 80/20 ground beef. Fat is flavor, so going leaner just means a bit less flavor. You can even cook your beef with some diced onions or green chiles for added flavor.
Taco Seasoning– Use your favorite store-bought seasoning or opt for homemade.
Tortillas– Burrito size works best in this recipe since you will be stuffing it with lots of tasty ingredients and a tostada shell.
Tostada Shells -Tostada shells are flat, crispy corn tortillas. You'll find these at the grocery store near the other taco shells.
Sour Cream– Feel free to use reduced fat to save on calories a bit.
Lettuce– shredded, I buy a small bag of shredded lettuce as its quick and easy to use.
Tomato– diced
Mexican Cheese– I like to use a shredded Mexican blend for these crunch wraps, but you could use cheddar, pepper jack, or even Monterey jack cheeses.
Nacho Cheese– feel free to use store bought, but if you're feeling up to it, try my homemade white queso in this! So good and the extras can be served with some chips as an appetizer.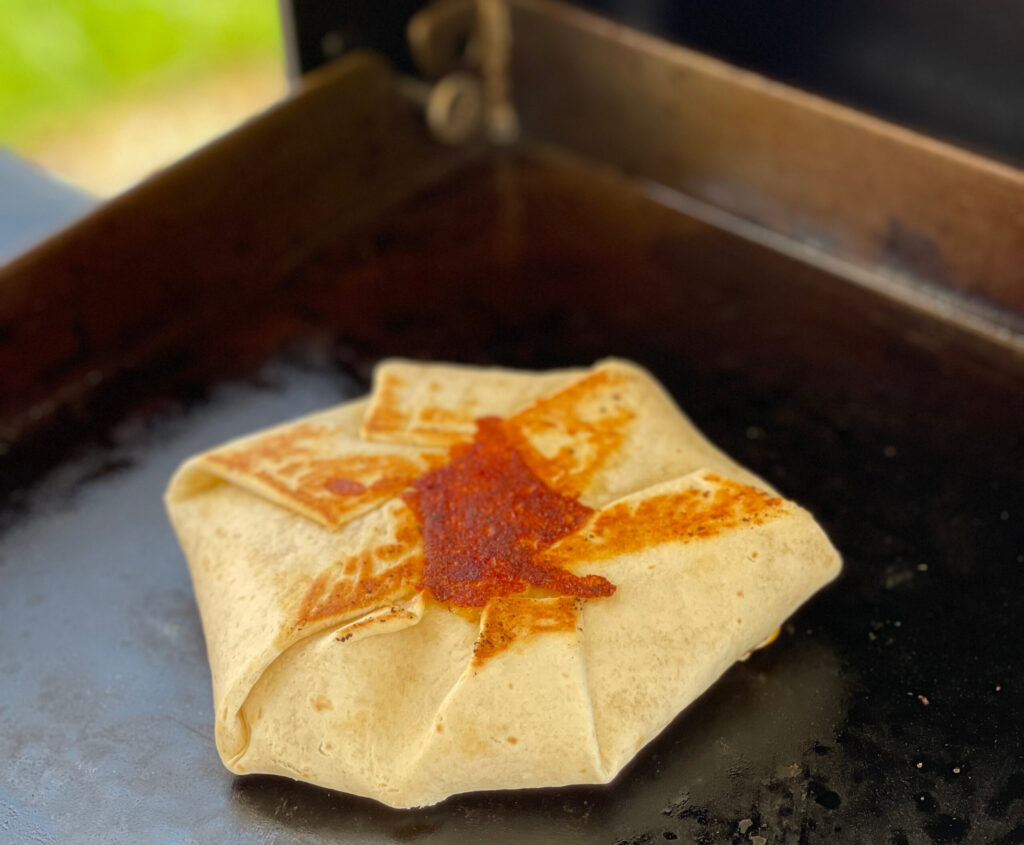 How to make a Copycat Crunchwrap Supreme
First, make the meat mixture. Then drain the grease from the pan.
Next, heat the tortillas in the microwave as well as the nacho cheese sauce.
Assemble the crunch wrap by layering a tortilla with meat, nacho cheese, a tostada, sour cream, lettuce, tomatoes, shredded cheese, and then top with a tortilla.
Fold up the edges of the tortilla and cook on each side for about a minute.
Serve immediately with toppings of your choice.
*For complete recipe instructions, see recipe card below
Recipe Variations and Substitutions
Feel free to add additional ingredients to fit your desired tastes. From refried beans, to jalapenos, olives, and/or diced peppers!
Want to use chicken instead of beef? That is a great alternative! Chorizo works great too!
If you're feeding a large crowd, this is a great recipe to make on a large griddle such as a Blackstone!
Once the Crunchwrap is ready to serve, feel free to add additional sour cream on top, salsa, diced avocado, more tomatoes, etc. The possibilities are endless!
Storage Tips
Make-Ahead: I love to prep all the ingredients over the weekend when I have extra time and then make crunchwraps throughout the week whenever I have a craving.
Storage: Prep the ingredients and they'll stay good in the refrigerator for up to a week. Assemble when you're ready to enjoy! Because they have fresh veggies and sour cream, they're best if enjoyed fresh. Leftovers can be reheated (the lettuce will not be crisp) in the microwave.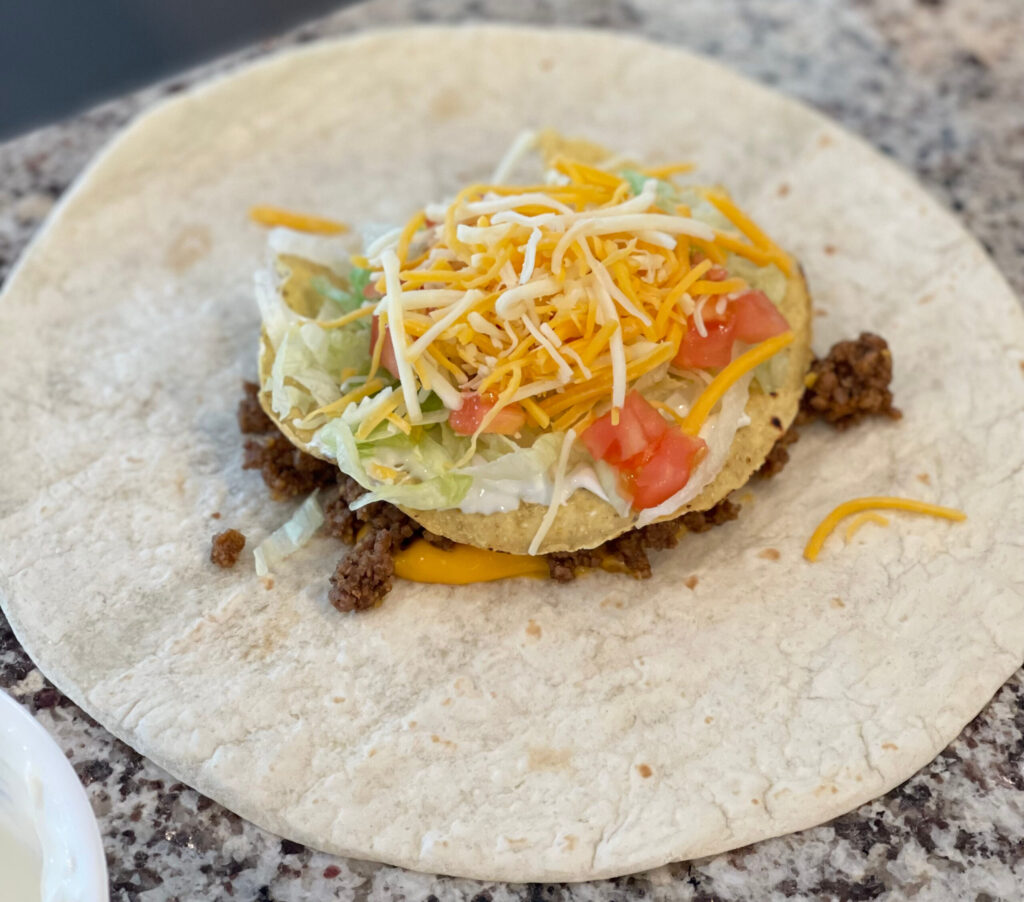 More Copycat Recipes to try
Copycat Taco Bell Mexican Pizza – quick and easy, tastes even better than the original
Chick Fil A Copycat Sauce– easy to make and the perfect addition to burgers, chicken, fries, and more
Better Than Takeout Chicken Fried Rice– same great flavor as a restaurant made conveniently at home
Clone of the Cinnabon– forget waiting in line, make a pan of these ooey gooey cinnamon rolls anytime that craving hits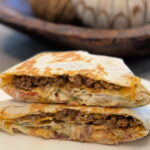 Print Recipe
Taco Bell Crunchwrap Supreme Recipe
This Copycat Crunchwrap Supreme recipe is simple to make, packed with flavor, and so much better than the original! Filled with taco meat, nacho cheese, sour cream, lettuce, shredded cheese, and a tostada shell to give it that signature crunch!
Ingredients
1

lb

ground beef

1

packet

taco seasoning

*or 3 tablespoon homemade

6

burrito sized flour tortillas

6

tostada shells

1

cup

sour cream

2

cups

lettuce

*shredded

1

tomato

*diced

1

cup

Mexican Cheese

*shredded

1

cup

Nacho Cheese
Instructions
In a skillet or on a griddle, cook beef until no longer pink. Drain fat.

Stir in the taco seasoning according to packet directions (adding the water).

Warm up nacho sauce for about 20-30 seconds, set aside.

Warm up the flour tortillas for about 30 seconds so they are easier to work with.

Place one tortilla on a flat surface and spread a few tablespoons of nacho cheese in the middle.

Place about 1/2 cup cooked taco meat on top of nacho cheese.

Next, place a tostada shell, some sour cream, lettuce, tomato, and a bit of shredded cheese on top.

To fold the Crunchwrap, start with the bottom of the tortilla and fold up the edge to the center. Keep doing that until you work your way around the entire tortilla.

Spray a skillet or cooking surface with some cooking spray/oil and place the crunchwrap seam side down on the heated surface.

Cook 2-3 minutes and flip over to the other side repeating process until all crunchwraps are golden brown in color.

Remove from hot surface and serve immediately.
Nutrition
Calories:
585
kcal
|
Carbohydrates:
54
g
|
Protein:
20
g
|
Fat:
32
g
|
Saturated Fat:
9
g
|
Polyunsaturated Fat:
7
g
|
Monounsaturated Fat:
12
g
|
Trans Fat:
1
g
|
Cholesterol:
54
mg
|
Sodium:
1126
mg
|
Potassium:
451
mg
|
Fiber:
6
g
|
Sugar:
4
g
|
Vitamin A:
838
IU
|
Vitamin C:
6
mg
|
Calcium:
130
mg
|
Iron:
4
mg